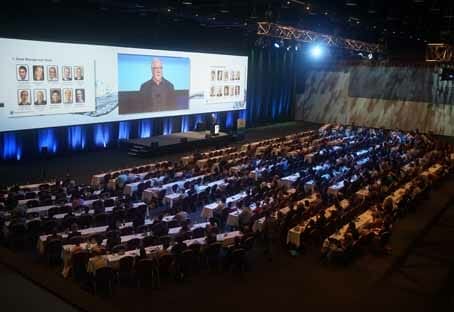 Bright sunshine, golden sands, warm waters, like-minded company and great education… what's not to enjoy about an autumnal Australian Vision Conference on the Gold Coast.
There's no getting away from feeling that you're on holiday when you hit the Gold Coast – even for a conference. And, with the exhibition centre just a couple of blocks back from the beach it could be tempting to slip on over for a dip in those sparkling waters mid-session… if it wasn't for the great line up of speakers as well as an enthusiastic array of exhibitors on hand to show off the latest and greatest in eye care.
AVC has become a great reason for a family holiday, set as it is, in the school term break from 10–12 April with the enticement of a 'Dreamworld dinner for the fearless and faint-hearted' on the Saturday evening. In the halls of the exhibition centre, there were little kids running up and down, playing on equipment, teens slipping in to sessions to pass messages to mum or dad and partners meeting up for a quick catch up mid-way through the day. A delightfully relaxed, family-friendly vibe, for sure.
Almost 500 delegates packed into AVC's conference room to hear the likes of Professor Brien Holden OAM speak about his Institute's commitment to harnessing the rising global incidence of myopia, which he says is rapidly becoming the number one cause of blindness in the world. Professor Holden described "a person with myopia is anyone who is ≥ 0.50 dioptres or more. A person with high myopia is ≤ –5 dioptres". He said in Australia about 31 per cent of our young people are myopic. In Taiwan that statistic is 83 per cent and a randomised study of young men going into the Korean army service had identified that around 96 per cent of them were myopic.
AVC gives us the opportunity to discuss different and new ideas in research, innovation and how we can take on new approaches and make a difference
"Our summary of what was happening in 2010 was that 28 per cent of the world was myopic and there were 1.9 million myopes. We projected out to 2050… there will be five billion myopes on the planet. Now if you can't make a decent practice out of five billion myopes, something is wrong somewhere! We're talking 52 per cent of the whole world is myopic."
Professor Holden said "the problem is there is an association between high myopia and blindness" and that "it is well known now that people with glaucoma, retinal pathology and cataract are at much higher risk of blindness if they are myopics… This is something we can do something about in optometry and it's something that ophthalmology is only just coming to grips with, that to prevent loss of vision with myopia is going to require a much bigger effort than AMD (age-related macular degeneration) because there will be many more people affected."
Professor Holden said optometrists must be rigorous with any young child who has a dioptre of myopia. He said studies had identified the vision of some children with myopia going up one dioptre each year and "we don't know why". "It's a massive change in the world and there is a massive associated cost."
He said what was unknown by many was that myopia is the number one cause of blindness in Japan and the number one cause of new cases of blindness in the Chinese city of Shanghai.
Professor Holden said there are two ways to control myopia – to delay the onset and to slow the progression. He said the early years of a child's life – when they're six, seven or eight years of age, were the years when myopia progressed the fastest. "If you were able to cut the rate of myopia by 50 per cent, starting at one dioptre myopia, we would end up with 90 per cent less people with high myopia," he said.
Genetics played only a small part of myopia and the environment played a much greater role, which meant that children should be encouraged to spend more time outdoors. Professor Holden reviewed one study in which 571 children were sent out to play for 80 minutes a day extra. "The kids who were myopic who went out to play increased myopia by 30 per cent less than the kids who didn't go out to play. The kids who were not myopic, 17.6 per cent became myopic if they weren't in the 'out to play' group, and if they were (in that 'out to play' group), half that number became myopic. So you have a very good management tool, which has evidence behind it that you can present to parents and kids – get them outside," said Professor Holden.
He said no-one was "flogging myopia control because the evidence is not quite strong enough". However, he said research had showed that myopia progression of a seven-year-old child could be slowed by 55 per cent by fitting them with executive bifocal spectacles. Additionally, he said Ortho K works: "There is around a 40–50 per cent reduction in the rate of progress of myopia in an Ortho K child or person… but the effect decreases over time." He said the Brien Holden Vision Institute had patented peripheral plus contact lenses and was licensing them to any company in the world that wanted to make them. "They should be fitted on every myopic child you come across," said Professor Holden.
Google Glass will be Back, Better than Before
Andrew Hogan, Tasmanian optometrist and presenter of the ABC's program Nerdzilla presented his impressions of Google Glass, which has quietly been pulled back from the market while Tony Fadell, "father of the iPod" takes a new look at this wearable technology's potential for the future. Wearing his own Google Glass headpiece, Mr. Hogan demonstrated the more interesting features of Glass, including caption functionality, which enables those who are hearing impaired to receive verbal messages in text, a translation service which enables the user to focus their Glass attention on a sign or piece of information for automatic translation into a different language, and a zoom function so that people with vision impairment can view text, images or a scene in front of them at a dimension to suit.
Mr. Hogan said despite the negative noise surrounding the withdrawal of Google Glass from the market (it was supposed to be commercialised in 2014 having been trialled by 'Google Explorers' who paid $1,500 for the experience) there was definitely a future for this device. "They're going to come back and when they do, it's going to be really interesting," he told a very attentive, wide-eyed audience.
He said the accuracy of Glass's voice activation, compared to Apple's Siri app, for instance, had impressed him, however the quality of the Glass camera had presented the biggest surprise because it was equivalent to smartphones. "It's amazing to have a camera on your head that is looking at what you are looking at. They're really immersive because you're actually looking at what the person (filming) is looking at… this sort of stuff is going to change everything".
Mr. Hogan said he believes the major areas requiring improvement were battery life "in my mind, probably the biggest hurdle they've got to overcome", and the ability for users to view videos, photos or sites such as Facebook. "The device is good at producing content (for taking and uploading photos and videos etc)… as opposed to watching videos or photos,"
he said.
Alcon Launches Air Optix Colors
At an early Alcon breakfast on day two of AVC, delegates were introduced to the first Air Optix Colors – Rxable colour silicone hydrogel contact lenses. In her presentation, professional training manager Helen Gleave highlighted the opportunity for these lenses to be presented as a beauty product that would help patients to express themselves. She said, in Australia, AU$773 million is spent each year on beauty products and that three out of five patients showed interest in colour contact lenses.
Ms. Gleave said the three-in-one colour technology used for Alcon's newest colour contact lenses blended with the natural eye colour to create a natural look and this colour was printed into the matrix of the lens so that it would not come off or affect the surface of the eye. She said the new silicone hydrogel contact lenses had a DK/T of 138, demonstrating that incorporation of colour did not impact oxygen transmissibility.
Speaking at the breakfast, Malaysian optometrist and President of his country's Optical Society said the new contact lens had presented "a breakthrough in delivering coloured contact lenses" for his 16 practices because they created "the most beautiful natural looking eyes". He said in Asia "colour is in demand" and "beauty is a big thing". Additionally he said, optometrists could confidently prescribe Air Optix because their breathability meant the eyes remained healthy and white… "the plasma surface technology is able to maintain comfort through out the day", said Mr. Chan.
A Content Rich Conference
These were just three of the highlights of a content packed AVC, which also included fascinating presentations in paediatric ocular conditions by Drs. Nelofar Deen and Sheehan Shar; clinical research behind dry eye management using IPL by Professor Jennifer Craig; and a fascinating insight into some complex cases of glaucoma management by Associate Professor Graham Lee. Optometrist Margaret Lam spoke about therapeutics and contact lenses as well as the use of contact lenses for practice and patient growth; and Professor Erica Fletcher gave an insightful update on research into the treatment of dry age-related macular degeneration. Dr. Stephen Vincent spoke about retinal pathology, OCT and low vision while Dr. Robert Bourke presented his response to a disturbing question relating to diabetic retinopathy: why do we still see third world results in first world ophthalmology?
Optometrists who attended AVC, including Helen Summers from the Northern Territory, were complimentary about the conference program. "It makes you reflect: Am I up to date with my thinking, my technology, my skills? Am I keeping up with innovative processes? Are my staff, professional and unprofessional, up-to-date with their skills, innovation and clinical research? Because it's not just you – it's the optometrists and your team working with you that are key to your practice success and delivering the best business outcomes and care for your patients. I have full-time Flinders (University) students in my practice and they challenge me with the latest approaches and research to eye health. A conference such as AVC gives us the opportunity to discuss different and new ideas in research, innovation and how we can take on new approaches and make a difference in our practice.
"The other important part of AVC is the opportunity to meet face-to-face with the trade exhibitors, which is probably more important to those in regional and remote areas than the city practitioners who have easier access to their trade supporters," Ms. Summers said. "The difficult part is to get the most out of the education program as well as try to make contact with the suppliers in the breaks, and to socialise! It was a very worthwhile conference."
Kylie Gough, who owns Eyecare Plus at Nambucca Heads and Macksville on the NSW north coast, and has small children, said AVC was well organised and convenient for her to attend.
"I hadn't been to AVC for a couple of years due to completing therapeutics in 2014. Prior to this, I attended AVC for a few years, and before that I would go to Southern Regional Congress annually – mostly because you could obtain the majority of continued professional development points at either conference. Now I find AVC more convenient to get to, and it is very well run. I took advantage of the complimentary creche for the first time this year. My two and three-year-olds enjoyed it and they were extremely well-catered for by the conference centre."
She said a highlight of AVC was "the opportunity to catch up with old work colleagues and university friends,
to see what was new with suppliers and exhibitors".
Marika MacKenzie, Communications Manager at Optometry Queensland / Northern Territory said the association was happy with the number of delegates who attended the conference, especially in light of "competition in the CPD market in South East Queensland". She said Optometry Queensland / Northern Territory was already looking at more ways to "reinvigorate AVC" including a possible change in venue. "Within the next month, we'll be making our final decisions – we'll be sure to let you know when we do!"