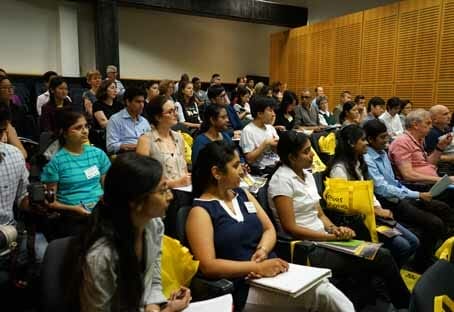 Young Australia's commitment to discovery was evident at a recent event at University of New South Wales when 10 PhD students from the School of Optometry and Vision Science took the opportunity to showcase their current research projects into ocular disease.
The ocular health of future generations is in good hands if the PhD and MSc students from University of New South Wales who presented their research from 31 March to 1 April have anything to do with it.
The event was attended by alumni, staff and students of the School of Optometry and Vision Sciences and officially opened by the school's Deputy Head Dr. Isabelle Jalbert and Post Graduate Research Director Dr. Blanka Golebiowski.
PhD student Angelica Ly received the first prize accolade for her research into the multimodal markers of macular degeneration. Ms. Ly, who is supervised by Professor Michael Kalloniatis and Dr. Lisa Nivision-Smith from the Centre for Eye Health, is undertaking a thesis which ultimately aims to "see the widespread dissemination of a standardised testing protocol, a valid classification scheme and evidence-based guidelines on the interpretation of advanced imaging in AMD" (age-related macular degeneration).
In her abstract, Ms. Ly wrote: "Sub-retinal pathology is a hallmark of AMD and innovative retinal imaging modalities hold the promise to unequivocally identify early disease states. However, a uniform testing paradigm and classification scheme that incorporates multimodal imaging has not been established, which has detrimental consequences on patient management."
Ms. Ly's research project will "apply multi-modal imaging and a computational approach using multi-spectral pattern recognition to develop a rigid, statistically valid classification of age related macular degeneration images".
Glaucoma Research
Other PhD researchers who presented at the event, such as Jack Phu and Nayuta Yoshioka for instance, are researching glaucoma. Working under the supervision of Professor Michael Kalloniatis and Dr. Barbara Zangerl, Mr. Yoshioka is investigating "how clinical diagnosis of glaucoma is confounded by structure-function discordance and the impact of different combinations of clinical tests and continued medical education on the diagnostic accuracy". In the second part this project, Mr. Yoshioka will investigate a new concept for testing visual field which may present a better discriminator for glaucoma, thus improving the structure-function concordance.
Recognising that early detection is key to preventing irreversible vision loss in diseases such as glaucoma, Mr. Phu will examine spatiotemporal characteristics of perimetric testing in ocular disease, and how modification of these perimeters might facilitate early detection of diseased states.
Dry eye is a disease that can significantly reduce quality of life and Archana Boga, working under the supervision of Dr. Golebiowski and Professor Fiona Stapleton is hoping to shed more light on the disease with a project that explores the affect hormones have on ocular comfort. Ms. Boga, who is completing her MSc in Optometry at the UNSW will explore the link between oestrogen and the pathophysiology of dry eye in women. She aims to do this by monitoring ocular health symptoms over a complete menstrual cycle, exploring how this pattern changes in an oral contraceptive group and also among in vitro fertilisation subjects. "Clarifying the role of oestrogen in causing dry eye will be very significant as it will be one of the very few human studies conducted in this area," writes Ms. Boga.
Other topics of interest were contact lens discomfort and hygiene; the correlation of electrophysiological testing with more common structural and functional testing for diseases of the macula; novel treatments for bacterial keratitis; and the relatively unexplored impact of changes in uveal melanocyte populations.
Impressive, exciting and no doubt, promising for future generations.