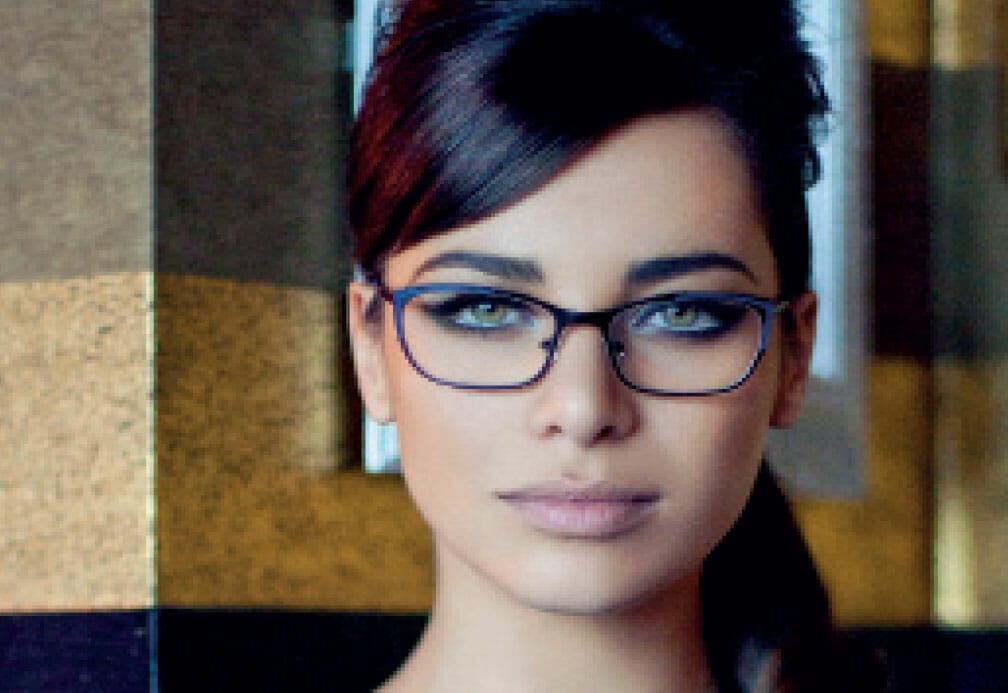 Growing up with a successful artist as a mother, and a father who founded an optical store that would grow to become the single largest retail optical store in Europe, was there ever really any doubt that Caron Kraitt would one day become a successful optical designer?Fusing her artistic heritage with a love of fashion, and her early career as an optical dispenser in her father's store, has borne fruit with the new collections from J K London and Jai Kudo.
The Jai Kudo and J K London collections are designed in London by an in-house design team, led by Caron Kraitt. Caron has over 20 year's optical experience and has designed a wide range of award-winning optical collections that have sold all over the world. She spoke with mivision, about what makes this brand so special.
"All Jai Kudo and J K London frames combine optical precision – ensuring perfect fit, comfort and wearability – with the very latest fashion criteria and trends from the catwalk and the street, guaranteeing a contemporary aesthetic.
"Ultimately, when you choose a Jai Kudo or J K London frame you can be sure you're getting superior design, quality materials and construction; and ultimate wearability."
JK London appeals to young, urban, streetwise individuals
How did J K London and Jai Kudo start – what is your role in the collections?
"Jai Kudo and J K London are from Concept Eyewear, which was established in the UK in 1999 and released its first eyewear collection in 2001. Since that time we have grown to become a premier independent manufacturer and distributor of premium and mainstream eyewear to independent optical retailers and chains throughout Europe and the world, supplying superior quality designer frames – both own-brand and under license – to over 30 countries.
"Our sister company, Jai Kudo Lenses, supplies high quality ophthalmic lenses to independent optical retailers and chains across the UK and France, and boasts one of the largest stock ranges of prescription lenses in the UK, as well as the Wideview range of industry-leading freeform progressives.
"My father, Raymond Crofton, the late founder of Jai Kudo, was directly involved in the optical industry for over 40 years and was the first person ever to import optical frames from the Far East into the UK. Prior to starting Jai Kudo, he founded The 20/20 Optical Store in Central London, which grew to become the largest single retail optical store in Europe.
"When he died a couple of years ago, my husband Steve Kraitt and I took over leadership of the companies. I've been directly involved in the design of every collection of Jai Kudo and J K London frames since their inception. I now head the design department, overseeing the entire design and development process for every collection that Concept Eyewear produces, for in-house brands and those under licence."
Do you have a typical customer?
"Jai Kudo and J K London frames appeal to a very broad range of consumers. In terms of age, we have wearers as young as 18 and as old as 65. Jai Kudo appeals more to professionals or to those wearers who require something a little more elegant or sophisticated, while J K London appeals to young, urban, streetwise individuals."
How did you get into eyewear design?
"I spent my formative years in the optical industry as an optical dispenser at my father's independent Central London store: The 20/20 Optical Store. During this time, I learnt the difference between a well-made frame – which was designed with an understanding of optical principles and human features, and which utilised quality construction and materials – and a not-so-well-made frame.
"I also gained hugely valuable experience dealing with people of all shapes and sizes and from all walks of life; acquiring a deep understanding of their optical requirements and the universal demands that people make when it comes to their eyewear. Ultimately, I learnt what makes a frame wearable, comfortable, optically correct and perfectly balanced. To this, I have been able to add by own artistic flair – my mother is a successful painter – and my love of fashion.
"My eyewear designs have sold internationally for the past 15 years. I'm proud that Jai Kudo won 'Best New Product' two years running – in 2006 and 2007 – at the prestigious Vision Expo East in New York City, USA. We were also pleased that J K London was featured on Season Four of Britain's Next Top Model, to coincide with the launch of the debut collection in 2008."
Where do you seek inspiration for your J K London and Jai Kudo designs?
"Inspiration comes from everywhere, including (but not limited to): jewellery and watches, architecture, automotive design, eyewear from past generations, art and nature, contemporary fashion accessories and textiles, and of course the trends and styles on the catwalks of Europe and the streets of London."
How do you maintain a consistent style for Jai Kudo and J K London?
"In many ways, both collections are simply an extension of my own style and thinking. I favour contemporary designs using smart, modern materials. And I like to integrate conceptual ideas into my designs, but they must also always be highly wearable and highly sellable."
Where are the J K London and Jai Kudo collections made?
"All Concept Eyewear collections adopt the CNC production process to ensure quality, precision and consistency. (CNC stands for 'computer numerical control', and is a process that uses computers to control machine tools.) We have long-standing relationships with some of the best eyewear manufacturers and suppliers in the Far East, Italy and Japan, and we use some of the finest materials available, including superior quality acetates from Mazzucchelli in Italy."
Do you make a sunglass range?
"While sunglasses are not our primary focus, we have launched two high fashion sunglass ranges for Jai Kudo, one high fashion sunglass range for J K London, one retro-inspired sunglass collection for Podium and one high-end sunglass collection for Hardy Amies as part of the Hardy Amies Signature Series: limited edition, individually numbered sunglasses, handmade in Japan."
What do you think will be the new big trend in eyewear?
"We are seeing a great deal of modern eyewear adopting a retro-inspired flare, and we are also expecting to see a return to brighter colours, increased use of patterns, and more classic glamour in eyewear design."
What have you got planned for J K London and Jai Kudo for the future in terms of design?
"Jai Kudo and J K London will continue to release collections inspired by the moment and infused with a London aesthetic."
Jai Kudo and J K London will be distributed in Australia by VMD Eyewear from July 1st 2015. For details contact: (AUS) 07 5594 9845