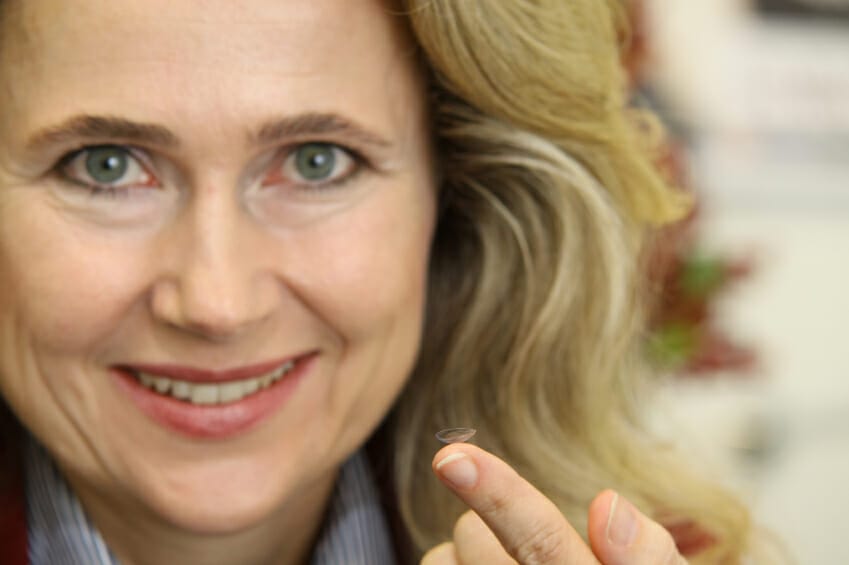 Optometrists in Australia are eagerly awaiting access to a new contact lens for the correction of presbyopia.
The Extended Depth of Focus (EDOF) contact lens, developed by Brien Holden Vision Pty Ltd. (BHV) corrects for people in need of vision at distance, for computers and close up. Described by Professor Brien Holden, CEO of Brien Holden Vision Institute, as 'the birth of a new technology', it received clearance by the U.S. Food and Drug Administration (FDA) in April 2015, and is expected to help meet the vision needs of a growing population of presbyopes.
With over one billion people around the world currently affected by presbyopia and that number expected to increase to three billion by 2050, Jim Kokkinakis from Sydney's The Eye Practice, said presbyopia is the most prevalent eye condition that an eyecare practitioner will encounter. Solutions currently available are both a compromise and inconvenient for many patients.
"In over 30 years of practice I have tried virtually every multifocal contact lens option on the market. What is true is that when a specific solution can be found for the discerning patient it is an outstanding success. The reality is though that in today's digital age the presbyope struggles with contact lenses. Firstly dry eyes frequently causes drop out due to discomfort. Secondly even with good comfort, drop out still occurs due to unsatisfactory vision correction," said Mr. Kokkinakis.
Mr. Papas said there were definite opportunities to market the lens in Australia…
He said, "a true extended wear, extended reading range, contact lens that would also allow uninhibited distance vision in all light levels would be a boon for the patient and the industry as a whole".
The Vice President of the Australian College of Optometry, Jim Papas, said "if the EDOF contact lens technology does what it says it does, it will significantly improve the success rate and growth of multifocal contact lenses by improving quality of vision". He cautioned that "in the way that presbyopic contact lenses work there are a number of variables which can affect their success such as pupil size and illumination".
Mr. Papas said there were definite opportunities to market the lens in Australia.
"In Australia with an ageing population the growth of the presbyopic contact lens market is going to be significant. For existing contact lens wearers becoming presbyopic is an issue. The ability to transition into a contact lens which can provide good near and intermediate vision will reduce the dropout rate and improve continuity of wear.
"The other potential growth is in new presbyopic contact lens wearers who are able to achieve good near vision whilst at work. This will provide growth in new wearers for the industry.
"Another potential opportunity would be in application of myopia control for children which could see a new segment of contact lens wear and has a large growth potential especially in Asia," added Mr. Papas.
Professor Holden confirmed that other EDOF lenses are being tested for their ability to control the rate of progress of myopia in children at risk, which he described as "an extremely important current concern in eye care".
Dr. Kah Ooi Tan who is CEO of BHV Innovation Pte Ltd., the Singapore based BHV company responsible for the worldwide marketing of EDOF products, especially in Asia, said, "Early indications are that the EDOF lenses designed for myopia control are effective in reducing the rate of progress of myopia, and because of the Extended Depth of Focus technology, they provide excellent vision."
Wide Range of Distances
BHV's new generation of EDOF contact lenses uses higher order aberrations to optimise retinal image quality over a wide range of distances from far to near while minimising ghosting and haloes. Invented by one the Institute's top scientists, Dr. Ravi Bakaraju, the EDOF contact lenses perform relatively independent of a patient's natural aberrations and variation in pupil size and are designed to meet the vision needs
of emerging prebyopes, middle aged and older people.
"Many claims are made that multifocal lenses provide simultaneous vision at various visual distances but often this comes at the cost of reduced contrast, increased ghosting and compromised overall vision satisfaction," said Dr. Bakaraju. "These shortcomings are often exacerbated with low illumination levels. Such visual compromises have been associated with an increase in patient dropout rate and lack of confidence in fitting by practitioners."
Claiming the EDOF lens as "a landmark for the Brien Holden Vision Institute", Professor Holden said this new technology "provides clear vision from distance to near while minimising ghosting or double imaging. This is a vital step forward in quality vision for presbyopes," he said, adding that a substantial part of the profits from EDOF lenses, which will be available in the US by the end of 2015 will be donated "to fund our work at a time when both science and humanitarian development funds are drying up".
Mr. Kokkinakis said he is eager to try the lenses. "The new EDOF from the Brien Holden Vision Institute promises to add another tool to our armamentarium to significantly increase the penetration of contact lenses in the optical market. This is something that has not occurred in decades even though we have had so many technological advances. I for one am eagerly waiting to try this new innovative product in my own clinical setting."