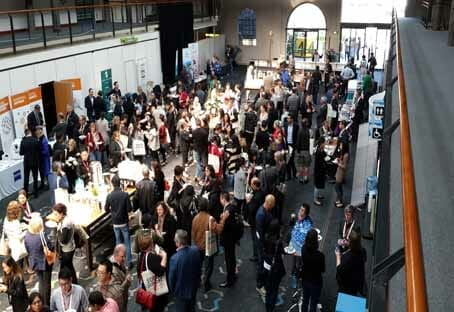 A sold out Super Sunday saw 500 optometrists pour into the historic locomotive workshop buildings at Eveleigh in Sydney where they heard the latest findings on eye health – from the challenges associated with eye testing children who have learning difficulties, through to the impact of eye disease on driving, ocular side effects of systemic drugs and insights into keratoconus and corneal diseases.
As Andrew McKinnon, CEO of Optometry New South Wales, marched through the exhibition space ringing his bell, 500 eager optometrists disappeared into two lecture rooms, eager to acquire knowledge from experts in their field that would assist in their day-to-day practice and help them communicate with patients.
Optometrist Lesley Galloway from Oatley Optical in Sydney's south was excited to be part of the crowd. "It's excellent, so much new information is presented at events like Super Sunday." She said that as well as clinical updates which assist in practice, the in-depth discussion on stories that have been presented in the broader media enable her to communicate with authority when patients ask her for the details.
News on the bionic eye was one example of a recent media story that Ms. Galloway was keen to follow up at Super Sunday and she wasn't disappointed.
In his take-home messages, he said all central retinal artery occlusions are due to giant cell arteritis until proven otherwise; so refer urgently..
Speaker Lauren Ayton from Centre for Eye Research Australia delivered a lecture on vision restoration using bionic eyes, along the way describing bionic eye technology from Bionic Vision Australia, how it works and what it will look like – both as a device and from the patients' perspective. She said the bionic eye had been developed for people with retinitis pigmentosa, however, in the future, it could potentially be implanted in people with age-related macular degeneration. She said while the current technology gave patients small gains in vision, the future of artificial vision was exciting.
Dr. Simon Chen on Retinal Change
Dr. Simon Chen, always a hot favourite at optometry conferences, delivered a presentation on retinal manifestations of systemic disease in primary care, presenting a number of case studies, each backed up with strong take-home messages.
Dr. Chen highlighted the need for optometrists to take retinal change extremely seriously, and where necessary refer on, because they could be indicative of life changing or ending disease.
In his take-home messages, he said "all central retinal artery occlusions are due to giant cell arteritis until proven otherwise; so refer urgently". Similarly he said retinal emboli and arterial occlusions should be referred urgently because they are associated with increased cardiovascular mortality and morbidity. Additionally, he said carotid doppler ultrasound and cardiac echo may identify a treatable source of emboli.
Speaking of hypertension, Dr. Chen said the retina is unique in that it allows the impact of hypertension on blood vessels to be viewed directly. He said hypertension was a major risk factor for stroke, heart attack, vascular disease and kidney disease, and could lead to hypertensive retinopathy and diabetic retinopathy among other retinal diseases. Dr. Chen advised optometrists to show patients images of their retinal changes because in doing so they may turn an "abstract condition" into a "concrete condition" in the patient's mind. This would encourage the patient to take action. He advised optometrists to check the blood pressure of any patient with retinal vascular changes – or encourage their patients to have their blood pressure checked – and said clinically validated blood pressure monitors were available for as little as AU$50.
Dr. Chen spoke about the ability to detect the presence of other diseases and conditions by looking at the retina, including leukaemia, severe anaemia, multiple myeloma, HIV retinopathy, carbon monoxide poisoning, hypertensive retinopathy and diabetic retinopathy. Speaking of leukaemia, he said optometrists should consider this disease in any patient with unexplained retinal haemorrhages or retinal venous tortuosity and refer them for a full blood count and / or a bone marrow biopsy.
Dr. Joanne Wood on Driving Safety
Joanne Wood, Professor in the School of Optometry and Vision Science at Queensland University of Technology, spoke on the impact of eye diseases on driving, and followed that up with a presentation on night driving. In her early presentation, she discussed the impact of cataracts, age-related macular degeneration and glaucoma on motor vehicle crash risk. Professor Wood said 30 per cent of older adults have significant cataract in at least one eye and by 2021 there will be 2.7 million older Australians with significant cataract. She said research had shown that 25 per cent of cataract patients continue to drive despite failing to meet licensing standards.
Professor Wood said "contrast sensitivity was a really good indicator of crash risk" and that research had shown that in Australia cataract surgery reduced crash risk by 13 per cent. A simulation model based on US data suggested that early cataract surgery rather than current practice reduces crash risk by 21 per cent, leading to a net saving of 16 per cent when surgery costs were balanced against crash costs, with 5 per cent increase in quality adjusted life years.
Professor Wood spoke about crash risk in relation to people with macular degeneration and said the research was equivocal, and required further exploration as more and more people would develop the disease.
She said an increased risk of state-recorded crashes among people with glaucoma was evidenced by studies showing drivers involved in an injurious crash were 3.6 times more likely to have glaucoma, and glaucoma patients were six times more likely to have a crash than controls. However, she noted that the extent and optimum predictor tests varied between studies.
Professor Wood concluded optometrists have an important role in driving safety by providing vision and eye health assessment that tested high contrast visual acuity; contrast sensitivity, visual fields (outside 300 but central fields were likely to be most relevant especially inferior fields); and binocular vision including motility to exclude diplopia.
She said providing advice regarding refraction correction for driving was important, as was educating patients on visual changes and how they impact driving. She cautioned optometrists to always maintain good records of advice provided and to refer on if necessary.
Dr. John Males on Keratoconus and Corneal Ectasias
Ophthalmologist Dr. John Males spoke to an intrigued audience about kerataconus and corneal ectasias, emphasising that parents of young patients in particular were often distraught by diagnosis and needed to be reassured and given hope.
He said keratoconus is a refractive problem that should be solved conservatively with spectacles, soft or hard contact lenses, and only sometimes with surgery to stop progression and correct refractive error.
Speaking of collagen cross linking, Dr. Males said it strengthened corneal biomechanics, returning corneal hysteresis to near normal levels and increasing stiffness measures to well above normal.
Dr. Males said when performing cross linking to halt keratoconus, he had moved away from the Dresden Protocol which involved treating the eye for 30 minutes with Roboflavin followed by 30 minutes of Ultraviolet A exposure; preferring instead to proceed with 30 minutes of Roboflavin followed by nine minutes of UVA, as the results are equivalent and the procedure is more comfortable for the patient.
He said epithelium on cross linking, which was thought to be more comfortable for the patient and came with reduced risk of infection, does not work and so "at this time we need to remove the epithelium". Dr. Males said complications with cross linking were rare, however, he stressed the importance of appropriate use of drops and follow up treatment until the epithelium had healed. He said very long-term outcomes for cross linking were unknown at this stage. "We won't know until the future, but I'm not too worried," he said.
Dr. Males went on to discuss corneal rings for keratoconus saying, "they have a place, but a fairly small place in the treatment of keratoconus". While a low maintenance procedure, he said they were additive rather than subtractive; offered modest vision improvements and the results were variable, with abberations an issue.
Dr. Males discussed topography guided laser surface ablation combined with collagen cross linking, which is showing great promise for those with mild to moderate keratoconus.
Dr. Males went on to speak about corneal transplants. He said 1,300 corneal transplants are performed in Australia per year and 80,000 worldwide; the most common indications being keratoconus and corneal endothelium decompensation. Dr. Males spoke about Deep Anterior Lamellar Keratoplasty (DALK), highlighting the better structural integrity of this procedure and the lower risk of rejection (as compared to Penetrating Keratoplasty) being the main advantages.
Stephen Leslie on Testing Children with Learning Difficulties
Perth based ophthalmic medicines prescriber Stephen Leslie, spoke about the challenges associated with testing children with learning difficulties. He said it was important to differentiate between the child who had problems learning to read due to developmental issues and the child who had difficulty reading due to physical problems. He said, "parents and governments think it is a good idea to teach children to read earlier and earlier, these days in preschool often before they are developmentally ready". Additionally, he said "boys mature slower than girls at this age, with boys five times more likely to have learning difficulties than girls".
He said "to learn to read a child had to be physically and developmentally ready to learn to recognise and remember a visual shape and symbol and to accurately and consistently connect it to an auditory symbol" making it possible to match a letter with its sound and name. "Some children just aren't developmentally ready to learn to read and parents or teachers put this down to vision problems," he said, adding that children who have a history of persistent glue ear, grommets and /or tonsil issues are at risk of late development of speech; difficulties learning letter sound and symbol matching.
Mr. Leslie said visual dysfunctions, such as blurred vision, due to astigmatism, hyperopia, binocular vision dysfunction and ocular pathology can impede development of visual processing abilities and should be treated as early as possible. He cited research which found children (aged 8) with hyperopia (bilateral > +3D, unilateral > +1.25 D) had statistically lower school test results than non-hyperopes.
Mr. Lesley said while not all optometrists felt comfortable testing children, particularly those with learning difficulties, it was about feeling comfortable referring on to someone else with more expertise and experience if required. "The standard of care is not dependent on what an average optometrist (your colleagues) would do in testing a child. It is dependent on the level of care a parent can expect from an optometrist who examines their child's 'eye'," he said.
Networking at the Trade Expo
A small number of exhibitors were on hand at Optometry New South Wales, among them Eyecare Plus, Provision, Opticare, Optimed and Designs for Vision.
Philip Rose, National Business Development Manager at Eyecare Plus, said the Super Sunday format works well for his organisation. "The cost of being present in this one-day format is much less than the multi day format, and the space rental charged is much more affordable than at the bigger events.
Additionally, he said, with only one day to make contact, the people who met with him on the Eyecare Plus stand came with purpose and intent. "We had interest from young and more experienced optometrists… Deciding to join Eyecare Plus, or any business support group, is never a quick decision, so for us being at an event like Super Sunday is about planting the seed and starting a conversation, ready for follow up. It is certainly well worth our time being there."
Euan McDonald-Madden, Marketing Manager at Provision, said Super Sunday always presents a fantastic opportunity for ProVision. "As well as speaking with all current members, a number of new members approached ProVision and expressed strong interest in coming aboard. We look forward to bringing on new members into the ProVision membership from this opportunity," he said.