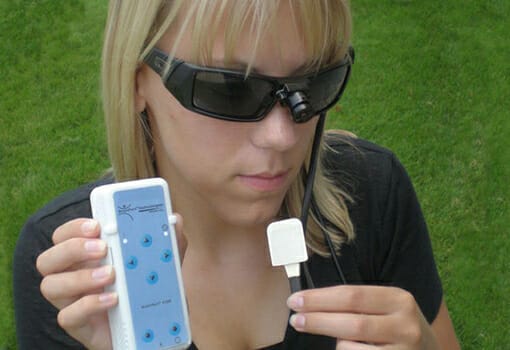 Millions of people who are severely vision impaired may be assisted to see using a device that helps them process visual images with their tongue, following its approval in the United States by the Federal Drugs Administration.
The BrainPort V100 is a battery-powered device that includes a video camera mounted on a pair of glasses and a small, flat intra-oral device containing a series of electrodes that the user holds against their tongue. Software converts the image captured by the video camera in to "gentle" electrical signals, which according to the developers, BrainPort Technologies, feel like "moving bubble-like patterns on their tongue". With ttraining, users learn to interpret these patterns as the shape, size, location and motion of objects in their environment.
On its website, BrainPort Technologies states that the BrainPort V100 is intended to augment rather than replace other assistive technologies such as the white cane or dog guide.
"Medical device innovations like this have the potential to help millions of people," said William Maisel, M.D., M.P.H., deputy director for science and chief scientist in the FDA's Center for Devices and Radiological Health. "It is important we continue advancing device technology to help blind Americans live better, more independent lives."
Medical device innovations like this have the potential to help millions of people…
The FDA reviewed the data for the BrainPortV100 through the de novo premarket review pathway, a regulatory pathway for some low- to moderate-risk medical devices that are not substantially equivalent to an already legally-marketed device.
Clinical data supporting the safety and effectiveness of the BrainPort V100 included several assessments, such as object recognition and word identification, as well as oral health exams to determine risks associated with holding the intra-oral device in the mouth. Studies showed that 69 per cent of the 74 subjects who completed one year of training with the device were successful at the object recognition test. Some patients reported burning, stinging or metallic taste associated with the intra-oral device. There were no serious device-related adverse events.