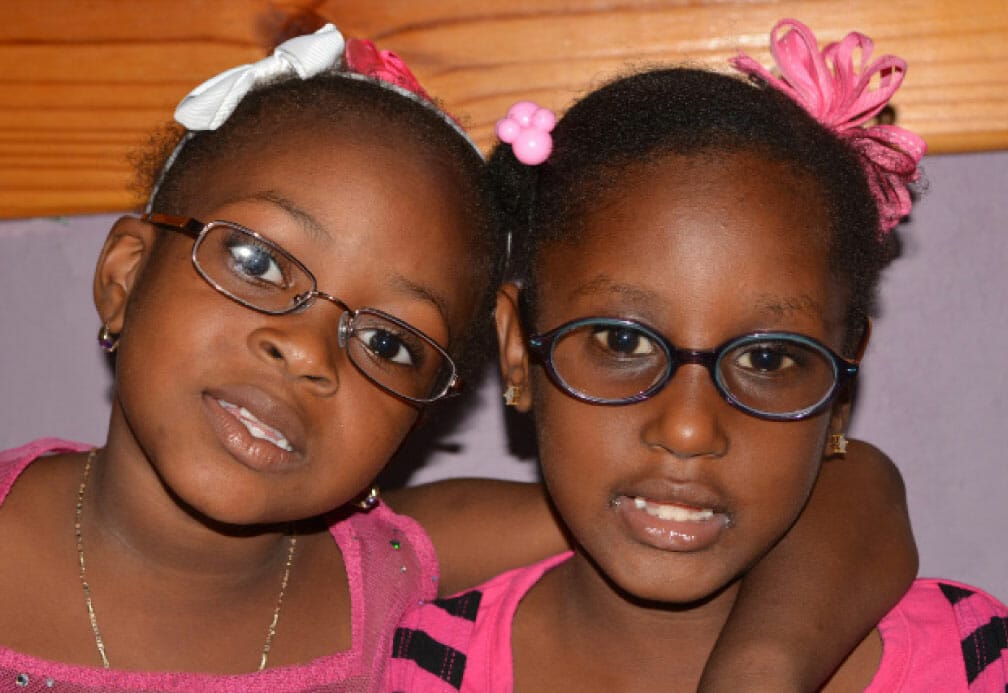 Eye care professionals, their staff, patients, industry partners and students of optometry are asked to turn their attention to the 600 million people around the world who are needlessly vision impaired.
Now in its ninth year, the World Sight Day Challenge, coordinated by Optometry Giving Sight (OGS), raises funds throughout September and October.
OGS is currently raising funds to support the establishment of the first school of optometry in Haiti, which aims to accept its first students in 2016. Haiti currently has three optometrists to care for the eye health of its 11 million people.
Annie and Sonia (pictured) are two of 1,500 children who have benefitted from a recent screening program in Cap Haitian, Haiti. Poor vision made it very difficult for the sisters to see the teachers' writing on the blackboard. They were identified as having astigmatism and referred to the Vision Plus Clinic, part funded by Optometry Giving Sight, for a full examination and to obtain glasses. "Thank you for helping my daughters see the world," a grateful Mrs. Charles said after her six-year-old daughter, Sonia, put on her first pair of glasses.
"Participation in the Challenge is fun and easy to do," said Clive Miller, CEO of Optometry Giving Sight. "Whether you choose to write a cheque, purchase a wristband, become a monthly donor, run a practice promotion such as 'I Care and Share', or get involved in fundraising, this is the time when the global optometric profession and industry rally together to ensure that all people can gain access to the vision care they need."
Mr. Miller said that fundraising activities in the practice, office or school are always a highlight of the campaign. Last year saw practitioners shaving their heads; practice staff proudly wearing their t-shirts throughout October; companies finding creating ways to engage their staff and management (having the boss wash a staff member's car is always worth paying for!); patients happily joining in the fun, and students trying to win the coveted Global Fundraising School of the Year Award.
"Being part of the World Sight Day Challenge in the way we do has created a really great work place culture. It is something we all feel passionate about and enjoy doing," said Jonathan Lewis, Managing Director at General Optical.
"World Sight Day is an excellent opportunity for my patients and our local community to learn more about vision loss worldwide and support our fundraising efforts", said optometrist and practice owner Paul McCarthy (from Paul McCarthy Optometrist in Drummoyne NSW).
Optometry Giving Sight funds the development of sustainable eye and vision care projects in communities where these do not currently exist. How donations can help:
• $50 can help provide a study kit to an optometry student
• $100 can help provide 20 people with access to an eye exam and glasses
• $300 can help to provide a child size trial frame for a community based vision centre
• $1,200 could pay a month's salary for an optometrist to see up to 40 patients a day
To donate, or pledge your participation by selecting one of the bronze, silver, gold or platinum award levels, visit www.givingsight.org or call 1300 88 10 73. Optometry Giving Sight has t-shirts for purchase, wristbands and material to help you promote your involvement in the practice, at work or at your school.