Purpose is about living and working at the intersection of your talents, passions and strengths in service of the greater good. It's about having a life with a goal to do good and leaving the world a better place because you existed. So where do you start?
Purpose is all about taking a chance at doing what you really, truly love. With our children, rather than asking what they want to be when they grow up, these days we're encouraged to ask them what they love to do right now… then help them create a business or vocation from that. As adults, while we're asking our kids this question, surely we must be asking it of ourselves too?
A clear purpose is like an anchor. It brings you back to your core, to your heart (not your head). It helps you make mindful choices. It keeps you motivated to continue your life's work, even when the going gets tough. It helps you say no to the wrong kind of work (even if the money would be very helpful). It helps you attract the best circumstances, the best resources and the best people. Purpose, acted on diligently by a conscious leader, also generates prosperity, not just for you but for all you touch.
If you truly want to understand the power of purpose, listen to Martin Luther King's spine chilling 'I have a dream' speech from 1963. Or consider the purpose that drove Alexander Graham Bell to invent a device (the telephone) that would help hearing impaired people… or the purpose that drove JK Rowling to keep on with her Harry Potter books after more than 30 knockbacks from publishing houses. None of these individuals were driven by money or power. Rather they were driven by a deep internal purpose to use their talents for the greater good. They were driven by meaning and the commitment to serve.
Too many business and life partnerships fail because of a lack of shared purpose or because of misaligned purpose and vision
Purpose Vs. Vision
Purpose is different from vision.
Purpose (why): a statement of why your company exists and how your business makes a difference (sometimes referred to as a mission).
Vision (what): a statement of what the world will look like when your purpose is realised.
Reflect on Your Past
Finding your purpose in business and practice will take time, but it needn't be difficult. Working with this model will help you to sit back, reflect on your role or the direction of your practice and affirm that you're on track or help you reinvent your practice from the ground up.
You've no doubt spent years acquiring skills, talents, qualifications, experience and knowledge and building your networks and contacts. During this time you've developed a healthy array of beliefs, values and issues you're passionate about. The most useful place to start then, is to review your past and the periods of your life when you felt most alive and were doing things you loved. While it might be tempting to wipe the slate clean and start over, your history is often the very solid platform on which to base a new purpose and to rebuild your practice.
What to Do?
I thoroughly recommend you take 30 minutes a day to consider the following questions. Start a 'purpose journal' and write down your answers, addressing just one question a day. Build on this purpose questioning by dipping into other resources – talks, papers, books, videos – to supplement your thinking. Next, find a purpose 'buddy' – a qualified adviser, counsellor, mentor, or join a community such as Slow School to discuss and share your work. The objective is to develop a purpose statement of say five to 15 words that clearly articulates your big 'why'.
Ask yourself:
1. Am I content with where my life is heading?
2. What would I like to change?
3. If I could do anything in the world, what would it be?
4. What do I have the most fun doing?
5. What makes me lose all track of time?
6. What makes me feel happy and fulfilled?
7. What does success look like to me?
8. What abilities and talents have I been blessed with?
9. What do people most often ask me for help with?
10. What talents would I continue to use even if I wasn't being paid?
11. What activities have I participated in that brought me most joy? Why?
12. What have been my most enjoyable jobs? Why?
13. What challenges have I had to overcome? What have I learned from them?
14. What lessons have I learned from life?
15. What insights have I gained from them?
16. What changes or new ideas could I bring into the world?
17. What is broken in the world that I really want to fix?
18. Why would I want to fix it and how?
19. Why is that important to me?…Why is that important?…Why is that important…Why is that important … keep asking this and record all the answers. Make sure your answers drill down to your personal story – most whys come back to this.
Consult your business partner
If you're in a business partnership, or are a team member of a larger business, the questions can make for very meaningful dialogue. If you're contemplating a business partnership, this would be a great exercise for each of you to complete before you dive headlong into it. Too many business and life partnerships fail because of a lack of shared purpose or because of misaligned purpose and vision.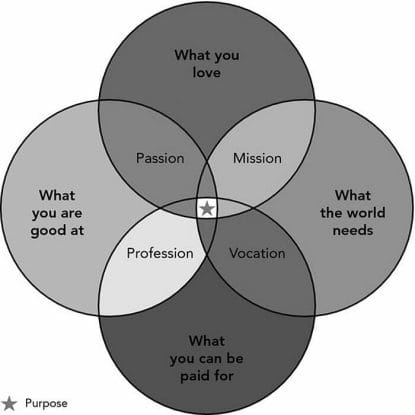 Find Your Purpose
From your answers, review and highlight the words that stand out. List the most powerful words for you, then craft them into a purpose statement of five to 15 words, which can be shortened to a one-line statement. Don't worry too much about actual words. Tell it straight because the final works will come once you truly feel your purpose – physically, mentally, emotionally and spiritually.
I feel so blessed that I found the courage to take the purpose journey. While I've paid a financial cost, it's also been the most valuable investment I've ever made in myself, my future, my son and the people I'm passionate about helping.
So if you're grappling with this notion of purpose. I encourage you wholeheartedly to make a commitment to the journey… And please note you do not need to run away from home or close the doors on your practice to find your purpose. You can start where you are right now, with what you have.
My final question to you is this: How much do you want it? If you want it badly enough you'll go there. One thing is for sure: action precedes clarity, every time, and yes, it will get messy!
Carolyn Tate is a marketer with a passion to reinvent capitalism, business and marketing so that it makes a positive contribution to humanity and the planet. She is the Victorian Leader for Conscious Capitalism, the founder of The Slow School of Business and her company is a Certified B Corporation. She loves to write, speak, educate and build conscious business communities that are both purpose-driven and prosperous. Carolyn has written four books. Her most recent is Conscious Marketing, available at http://carolyntate.co/off-the-shelf/