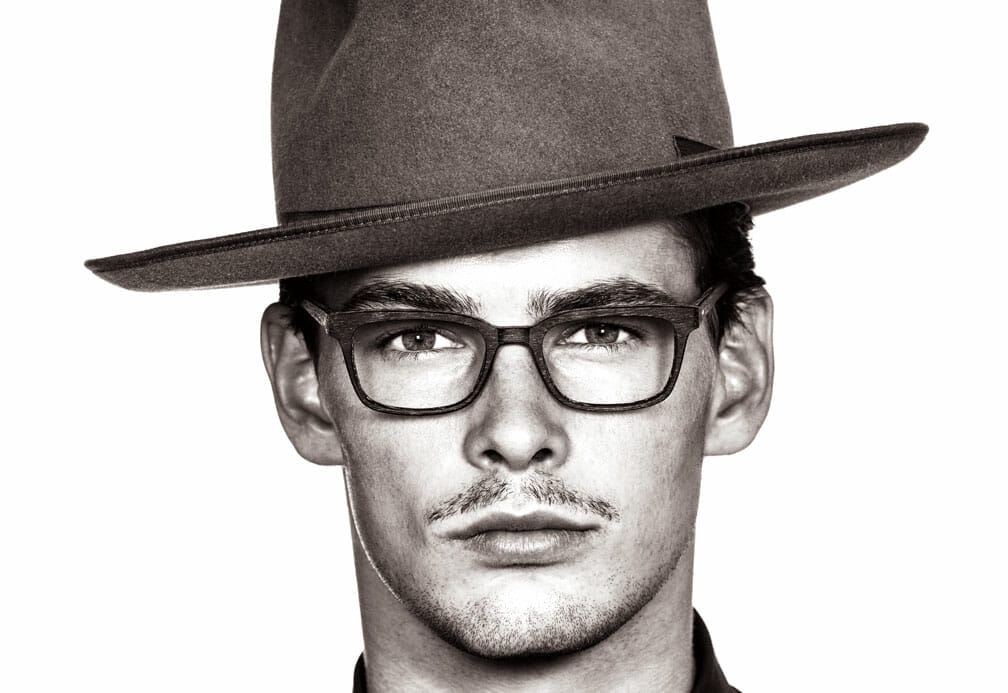 Carter Bond is a brand that was a long time in the making, but well worth the wait. Created by Australian eyewear icon Jonathan Hennessy Sceats, it is inspired by industrial architecture and characterised by artistic wood finishes. The brand name, 'Carter Bond', is an entirely different story again…
"The name 'Carter Bond' comes from an amusing time," iconic Australian eyewear designer Jono Hennessy says with a mischievous laugh. "I spent a lot of time in London in the 80s. Whenever my friends were planning a night out we'd talk about meeting up with Carter Bond – it was a signal that we were going to get into trouble. It was usually a really late night."
Intrigued, I wanted to delve more into those Carter Bond nights but had to pull back – I've got a story to write…
Carter Bond – the brand – is a serious business, satisfying the needs of an increasingly design conscious global market. Jono chose to create this entirely new brand rather than add to his existing, much loved Jono Hennessy collection because it affords him the freedom to take on a new direction.
"I used to have a couple of warehouses in (the inner city Sydney suburb) Surry Hills – and I was influenced by the architectural, industrial elements that surrounded me… the wood and metal used in those warehouses sparked my interest.
"My new frames are much like the furniture people are designing – for instance tables with wooden legs and wood tops that have been washed in a blue colour; and combinations of laminated woods with different tones that show through the layers.
"The new dipped plywood look we've introduced into this collection is really brilliant. We've got frames that are light green coloured ply on top with a natural ply tone on the bottom – really cool.
"Carter Bond lets me do this – it lets me really play with new colours, new materials."
A Hand-made Process
While several eyewear companies have been crafting frames from wood for a few years now, for Carter Bond Jono opted to use wood looking acetate that's laser cut and scratched.
Jono said there are advantages and disadvantages that come with using acetate with a wood finish.
"Wood acetate is virtually the same as normal acetate to work with – especially when it comes to making sure the inside bridge and temple tips are smooth.
"You've got to get the whole skill down, the timing and the heating and how long the acetate dries for – all the technical aspects – it takes some time. To get the initial prototype through it takes at least a month, then another five months to make the frames.
"More and more machines are used in eyewear manufacturing, but in the end it is still a hand-made process. There's still a guy who is expert in running the machine – he's watching the eye shape being cut and he's pulling it out, making adjustments… temples are thinned and rounded by hand, you can't get away
from that.
"I sit down with the toolmaker and we'll hand file the frame together… frame design is a balance thing, so a changed lens shape in a frame means a change elsewhere – you're talking about a couple of millimetres at the most, but detail is important and it's something you get used to."
Tip for Independents:'Australian Designed' is a Great Story
Jono is passionate about supporting Australian independent optometrists with his uniquely Australian brand.
"Brands like mine, and other Australian brands – like Sunday Somewhere, Graz, Paul Taylor and Niloca offer independent optometrists the opportunity to stock and sell a product that is unique to the world," said Jono.
"Rather than being designed to suit the style of a major fashion label, our frames are designed by people who only design and make frames… people who are incredibly passionate about their craft and about creating a frame that benefits the patient.
"And we all have our unique stories to tell about how we design, what our designs stand for and where our frames are made. Independent optometrists can take advantage of this when engaging with customers.
"It's so important for independent eyewear designers to support independent optometrists and vice versa. Together we can promote the value of independent local eyewear to our Australian consumers."
Eye on Design
One thing Jono is not afraid to do is push the boundaries of design. You could say, it's in his blood; Jono's father was an optometrist. He opened the sophisticated 'Filmer Sceats' practice in Martin Place in 1925, a destination where the eccentric city crowd would have their colourful perspex frames made to measure.
"Eyewear is a constant battle between wanting to design the unusual and the commercial," said Jono. "The unusual of course limits a designer's market, whereas commercial puts pressure on price and distribution".
Going too early with a new look "can be a big problem," not that Jono's letting this stop him with Carter Bond.
"With women's eyewear right now it's all straight lines, a bit 70s, the patterns are unusual. In France women are liking metal temples and a bit more technology but the fronts need to be more unusual… With men it's more about fit, and a particular look. Panto with the keyhole bridge is phenomenal right now.
"But I'm going back to really big heavy acetate frames for men and I'll be interested to see how they go – because at the moment everyone's going thin… Onassis type frames, I want men to wear them with a light green tint or light brown tint in the optical lens. This is going against the trend.
"For women, I'm coming out with smaller shapes in Carter Bond in the half wood – going totally away from cats eye – it's a squarish look that might be slightly uplifting in the corners; still that great old fashioned retro look – probably 50s, but no cats eye and introducing those great colours.
"When everyone's doing one thing, I go in the other direction – I'm going early but I don't care… Fashion is not really what the industry is running on now, its running on design, people aren't saying when they buy a frame, 'I'm wearing a particular big brand name', they're looking at the individual piece and saying 'that's fantastic' because it's unique. You pick it up and you go 'wow'."