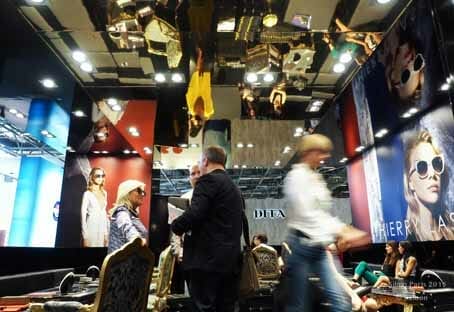 If Woodstock was three days of peace, love and music, then Silmo is the fashion eyewear equivalent, with an extra day for more fashion and more fun.
Silmo is quite simply an overwhelming exposition. Over 34,000 professionals, encompassing one hundred nationalities, visited almost nine hundred exhibitors covering 33,000m2 of exhibition space, in two massive halls. Those are serious numbers.
It takes a long time to get around the two massive halls – a press colleague logged us walking 8km a day. You're on the go from start to finish.
The only way to really see the ranges and order frames is to make appointments. We had to plan well and be selective. The demand is high, with some of the most popular exhibitors booked out for the duration of the show, with numerous representatives occupied all day.
Interesting materials and tones include copper and bronze with retro, signature round shapes, curl-side temples and cool clip-on sunglasses..
As the organisers state, the 'new look' Silmo aimed at being more relevant for today's market. It's billed as the 'largest flagship store' for optics and eyewear.
It certainly delivered; there was flair and glamour, style and variety and no shortage of technology.
It's a sociable event… It's big budget, and it generates big sales.
There were many excellent displays, some massive in scale and others impressive in theme; from the sublime to the ridiculous and everything in between. While one stand would be a statement in minimalism, right next-door one might find an avant-garde explosion of colour and presentation.
In general I prefer minimalism and subtlety but also enjoy the weird and the wonderful. I wasn't disappointed; in fact I was blown away by it all. The Australian suppliers, designers, manufacturers and agents pretty much covered the full spectrum.
Australia's Sunday Somewhere managed to achieve a stylish, understated, almost Scandinavian look and did it very well. They focus on their philosophy and an interesting, varied range of frames and sunglasses. Interesting materials and tones include copper and bronze with retro, signature round shapes, curl-side temples and cool clip-on sunglasses. They're a cool bunch, doing a great job, with offices in the UK and LA. They do a significant share of their business outside of Australia.
As we know Australia has a relatively small population when compared to the likes of Europe, Asia and the USA.
Expanding horizons was thus a common theme among the Aussie exhibitors and designers present at Silmo.
Manufacturing Evolution
Interestingly, many frame manufacturers have moved manufacturing operations from Europe to China and Japan.
German Hans Stepper, a respected frame designer, who's been at it since the 1960s, now lives in Southern China. He can thus keep a close eye on quality of both his traditional Stepper range and just launched Zeiss Eyewear. Hans shared much interesting information with me.
All the designers were emphatic that standards were equal to or better than what they could do in Europe. Japan has been a pioneering leader in titanium spectacle frames over the past two decades. All agreed that it's simply a reality of today's world.
I'll elaborate on some of the technical aspects in mizone, in this edition of mivision.
Caroline Abram, represented in Australia by Frames Etcetera, was one very stylish brand and both Caroline and her graphic designer colleague Lea Gomez have incredible panache in their design and presentation. Their outstanding range of accessories that helped build the brand was also quite something.
It was good to get some hands-on exposure to this side of the eye business. What struck me was the quality of the beta-titanium, laser-cut stainless steel and some of the superb acrylics we now see. Modern technology has allowed for some spectacular finishes. Processes such as moulding, milling, lacquering, sintering and laminating creates beautiful form, finish, structure and detail in the frames.
3D printing allows for hollow, lace-like 'cages' to be created. I saw some cool prototypes at ic! Berlin.
3D printing is often associated with poor quality and finish and oft regarded as gimmicky. That however seems be changing.
It's no longer so much about 3D printing but rather 3D scanning. I saw at least two systems that scan the face and head and create a 3D model of the person. This can then be used to create the ultimate in bespoke eyewear where the curvature, pantoscopic angle, bridge fit, size, shape – basically everything – can be customised. I see this as a potential game changer. Monoqool and Mykita showed some sophisticated scanning systems that created very accurate 3D digital files.
Whether this is then 3D printed in plastic or metal, moulded or milled, will depend on the quality, price, and finish required. There were a number of staff at said manufacturers' wearing bespoke examples of frames generated by such 3D technology. Fantastic stuff.
Savvy practitioners should keep a close eye on this rapidly evolving, bespoke spectacle frame technology.
Big, Bold and Retro
There's definitely a swing toward larger frames and retro styles. Like the 2014 show, black is less evident. Larger, wider and deeper frames with a more 'retro' look seemed more prominent. I dined with Oliver Goldsmith, another legend in spectacle frames. It was an entertaining evening. He reckons he now has over 600 'retro' designs in his catalogue. His designs from decades ago are now experiencing a renaissance. Oliver is somewhat cynical about anyone under the age of fifty being able to call his or her designs retro! He's a real character and had us rolling with laughter. His designs and styles remain typical of his brand. Although not widely available Downunder, I saw first hand how many loyal fans he has; wearers of Oliver Goldsmith frames absolutely love them. I reckon such iconic, rarely found frames are an excellent point of difference for independent practices.
Like Goldsmith is to the UK and Stepper is to German spectacle design, Jono Hennessy Sceats is part of the fabric of Australasian frame design and manufacture. He's going stronger than ever with a growing international business and had some really nice eye wear on display. His Zeffer, 'modern alchemy' titanium and HDCA range includes some cool, matt-metallic finishes, angular shapes and large sunnies. His Jono Special Edition celebrates '90 years as eyewear artisans'; yet another multigenerational family business. His Carter Bond range included some wood-like finishes that appear very realistic even to the point of having grain and depth.
That was another trend I noted at Silmo, with numerous manufacturers showing off a variety of cool wooden frames.
Minimalism
I love Danish design and was lucky to find something new that I was mad about. I'll soon have a fantastic pair of novel carbon-fibre titanium Fleye frames. I was really taken by the style, feel and eternal lightness of being that these frames invoked. They looked cool too and for me that's a bonus! I was surprised Fleye didn't win their category for innovative design at the Silmo D'Or awards…
Keep an eye out for Tavat. They propose an interesting business plan involving collaboration. They remain exclusive to partnered suppliers and are not available online. A special feature of their sunglass lenses is the incorporation of melanin pigment, designed to filter out the damaging high-energy visible light we increasingly hear about these days. Tavat has close links to the famous Penn Design University.
I note quite a few frame designers have roots in the disciplines of architecture, aeronautical and automotive design and engineering.
Australian frame designer Colin Redmond, and his dispensing optician wife Josie own Victoria based Niloca eyewear. Colin came from a career in automotive design at Audi headquarters in Ingolstadt. They have some way cool stuff. I particularly liked a frame that reminded me of the cowling around car instruments being quite wide at the top rim while narrower toward the bottom of the fame. It would be ideal for high prescriptions but cool for regular use too. They had some interesting matt finishes and plenty of colour too. We had a good chat about design challenges. Like others I spoke to, he prefers to hand-draw designs and only brings in CAD/CAM for production.
I had interesting interviews with top international designers Blake Kuwahara, Ora Ito and Hans Stepper, who will feature in mivision editions during 2016.
The well-know Australian Wymond family represent Morel and Ora Ito, the funky, WOOW range and fabulous Face a Face. WOOW had a groovy 1960s psychedelic display. Cool, funky, colourful and chic.
Maybe another era of peace, love and music would be a good thing for this planet but certainly look out for groovy colours, retro shapes and funky eyewear. I think we'll see a continuing swing to larger frames. I'd say currently it's about right. The last decade or two of overly small and shallow frames was not always ideal. They caused fitting and progressive lens issues for many.
There seemed to be less rimless frames around. Even rimless leaders, Lindberg, were showing more of their fine-rimmed and composite frames.
Their superb n.o.w range, a frame I wear daily, features a grooved lens that in the past created a fine whitish ring just inside the frame rim. These grooves are now being coloured to either match the frame colour and blend in, or create a highlight.
Ic! Berlin retain their über cool 'made in Berlin' style. Their unique hinge design and super-fine laser cut stainless-steel look is well known. Traditionally darker in colour, they've introduced new beautifully lacquered colours in soft pastels as well as brighter more solid colours. Their new 'matte' front surface sunglass lenses also caught my eye. Max Neubauer kindly showed me around at ic! Berlin and at stylish designer Anne et Valentine. I enjoyed seeing her rather nice, just launched range for children and the younger generation.
As we know Aviators are back.
There were quite a few exhibitors showing traditional aviator shapes, as well as the also-popular larger, squarer versions. The tortoiseshell look also seems to be making a comeback – I saw some very nice examples in a variety of styles.
Glaucoma sufferer Bono of U2 fame, Revo and Brien Holden Vision Institute have teamed up. Revo will donate AU$10 for every pair of sunglasses sold, with the aim of preventing vision impairment and blindness in more than five million people by 2020.
Direction
There's a significant shift in the frame fashion scene, with marked technological evolution. This means more people will be considering an upgrade into the latest eyewear, so be prepared and get a piece of the action.
Every independent practitioner should make a point of attending Silmo, sooner rather than later. There were a fair few Aussies and Kiwis in attendance this year, some suggesting well over a hundred.
If you are looking for a point of difference or simply to go and do some buying, with the widest variety of frames you will ever see, then Silmo is the place to be.
Très Magnifique.
Alan P Saks MCOptom(UK) Dip.Optom(NZ) FCLS(NZ) FAAO(USA) is a third generation optometrist based in Auckland, New Zealand and a regular contributor to mivision. Alan travelled to Paris to attend Silmo as a representative of mivision.