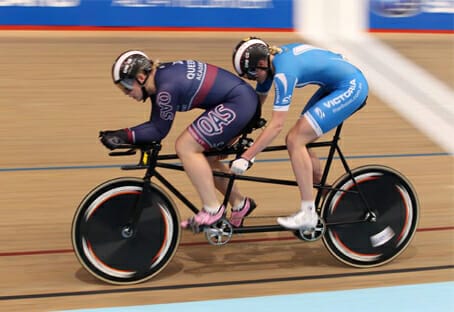 Vision 2020 Director and Paralympic medallist Dr. Jessica Gallagher is to represent Australia at the Union Cycliste Internationale (UCI) Paracycling Track World Championships in Italy this month.
Dr. Gallagher, who is legally blind as a result of cone dystrophy, has won several medals at international competition level. At the 2010 Vancouver Winter Paralympics she became the first Australian female to win a medal at a Winter Paralympic Games, finishing third in the Women's Slalom alongside guide Eric Bickerton. She won a silver medal in the long jump and a bronze medal in the javelin at the 2011 IPC Athletics World Championships in Christchurch, New Zealand; and another bronze medal for alpine skiing at the 2014 Sochi Winter Paralympics in the Giant Slalom with guide Christian Geiger.
Dr. Gallagher said qualifying for the UCI World Championships was a huge relief as
it takes her another step towards fulfilling her long-term goal of winning medals at both the summer and winter Paralympics. She was on track to do this in long jump until the event was dropped from the Rio competition schedule.
"Each host city gets to choose the events they schedule and so when long jump was dropped from 2016 Rio Paralympics, I needed to look at other options. I had always been interested in cycling, so after Sochi, I was looking around for an alternative event. As fate happens, the Paralympic cycling Victorian Institute of Sport Cycling coach saw me lifting weights at the gym and asked if I'd be interested in riding a tandem bike, my first time riding he paired me with Shane Kelly on the front as my pilot. I absolutely fell in love with cycling from the first ride. I was hooked – I loved the speed, the adrenalin rush."
qualifying… takes her another step towards fulfilling her long term goal of winning medals at both the summer and winter Paralympics
At the UCI competition in March, Dr. Gallagher will ride behind her pilot Maddie Janssen, an up and coming able-bodied cyclist who is aiming to represent Australia as an individual rider in the future at the 2016 Olympic Games in Rio. She said finding the perfect pilot for tandem riding was a unique challenge but having partnered with Janssen, she was feeling confident. "My partner has to be an incredible athlete because her input on the velodrome, in steering and pedalling, is critical to my success."
Handing Over Control
Dr. Gallagher said switching to paracycling from alpine skiing was remarkably easy, despite the fact that it requires handing much of the control over to her pilot. "When I'm skiing I feel through my feet and I have a pilot who skis seven to 10 metres in front of me, being my eyes, guiding me down the mountain. We travel at 100km/h and the ground we are skiing over is very relatively unstable.
"On the velodrome, we can hit speeds of 70km/h, I'm attached to a person whose pedal stroke is absolutely in synch with mine and we are riding in a stable environment. So, despite having to let someone else take control of where I am going, I perceive it as easier than perhaps someone normally would. Because of my skiing background it is an easier sport to compete in."
Dr. Gallagher said she has high hopes for the UCI competition.
"Track cycling is a small event – there are so many quota spots the Australian team will receive because there are only so many athletes you can fit on the velodrome at any one time – so it is quite difficult to make the team. The selection times are high and you really have to be a prospective medallist to be selected. Maddie and I are incredible excited, it's a huge accomplishment for both of us to be going to Italy and we are certainly aiming to bring home some medals!"