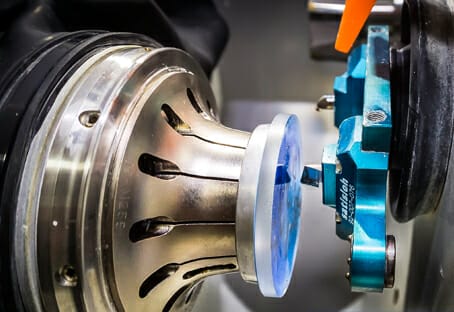 Talk to any Australian – individual or business – and they'll all tell you they prefer to support Australian manufactured products. Yet in a highly competitive globalised economy, the cost of doing so can be high.mivision spoke to Australian owned lens laboratories – the few that are left – to find out why you can still afford to go local.
Lens manufacturing in Australia has been in a state of transition for many years. Lower tariffs, changing technologies and the outsourcing of tasks to low-cost economies have significantly affected the industry. According to the experts, the only way forward is by embracing innovation and developing products to
suit niche markets.
In the late 1990s, thanks to SOLA, Australia was a world leader in lens manufacturing. Today there are five
small Australian owned laboratories: Opticare, headquartered in Sydney and CR Surfacing, in Victoria,
Bonastar (Sydney), Shaan (Brisbane) and Hastings (Port Macquarie).
Talk to any of these Australian owned labs and you hear a passion in their voice – a passion for supporting the local economy, for supporting local optometry and for delivering the very best vision to Australian people. Even at their own expense.
Generally speaking, when you choose an independent Australian owned lab, there are no currency fluctuation risks, it's easier, faster and there are no 'lost in translation' moments
Opticare
George and Michael Nasser at Opticare recently went out on a limb to invest AU$3 million in Optotech machinery – state-of-the-art German technology that does everything in-house from generating the lens through to, polishing, laser engraving, blocking and even multicoating. "We could have gone overseas but we chose to bite the bullet and invest in upgrading our own equipment," George said to me.
Opticare's turnaround for a progressive freeform without multicoating is 24 hours, with multicoating, it's 48 hours, and add another day on top for fitting. Any way you look at it, it's fast.
George and Michael have expanded their services over the years with lens design now a key component. "Our Infinity 3D Series is a lens software design program that I designed to enable optometrists to really tailor lenses to suit each patient's vision needs," said George. "We found the first evolution of the program gave the optometrist too much freedom – requiring them to create their own configurations. I've now refined the program to give six vision options – Driver, Outdoor, Multiview, Indoor, iZone and Reader – which makes the optometrist's job
much easier."
As well as refining its lens program, Opticare has developed Ocelot – an "all in one" practice management solution to help its Australian customers manage and grow their practices. Practitioners can use the system to place and track orders, and to monitor every aspect of the business from customer service (including appointment scheduling and capturing patient information) through to managing the examination room, stock control, lens marketing and billing / GST.
George said providing highly technical advice is something Opticare has become renowned for. "As lenses become increasingly technical, optometrists value being able to pick up the phone to discuss a particular patient's vision needs and how we can best cater to those needs by tailoring a lens design. I am trained as an optometrist and that enables me to really understand lens requirements from the patient's perspective."
CR Surfacing
CR Surfacing Laboratories, headquartered in Melbourne, was established in 1976 and has offices in Adelaide and Christchurch New Zealand. Slama Optical Tasmania is the company's exclusive supply partner and they have technical representatives to cover all states and territories of Australia and the North and South islands of New Zealand.
Over the years the company has invested significantly in surfacing equipment, most recently in Optotech and Satisloh digital surfacing machines and an MEI Bisphera XDD TBA fully automatic lens edging system.
CR Surfacing Laboratories offers integrated ordering through optometrists' practice management software, as well as order tracking within the CR Surfacing laboratory system.
Shaan
Shaan, based in Brisbane, grinds conventional lenses, and edges, fits and applies back surface hard coats to lenses while outsourcing digital designs and multi-coats to an overseas lab. Managing Director Aaron McColl says it's a combination that suits his business model and has found a great deal of success with customers.
"There's no doubt that it is more costly to manufacture lenses onshore but it does enable a very fast turnaround. We can still deliver same day turnaround for a majority of lenses but in most cases that's a turnaround that optometrists and customers don't expect or even want," he said.
Shaan's typical lens turnaround for multicoat lenses produced offshore and fitted in Brisbane is four to five days while fitted stock lenses take 24 hours and fitted conventional grind lenses take 48 hours.
Aaron said business is growing organically. "The feedback we get is that being a small company, with just 16 employees, we are easy to deal with – there's no bureaucracy, no red tape or bull crap. You can pick up the phone and talk to the boss anytime you like. The quality of our work these days is excellent. And we're faster than most.
"Generally speaking, when you choose an independent Australian owned lab, there are no currency fluctuation risks, it's easier, faster and there are no 'lost in translation' moments. Aussie lab technicians take every job on its merits so usually the lenses will be flatter and thinner than the ones you get from the robotic button pushers overseas," said Aaron.
Hastings Optical Supplies
Hastings Optical Supplies was once the lab for Baker Payne Webb. When those stores were sold to OPSM over 18 months ago, Matt Martin took on the lab. From a tiny space in Port Macquarie, he grinds, multi-coats and edges lenses supplied by Younger and Essilor for small to medium practices.
"There's no big lens lab mentality here," said Matt. We've built the business on speed and personalised service, so we give our customers all the options when it comes to lens design, material, corridor length etc."
Turnaround is typically one day for standard grinds with a hard coat, and two days for multicoats, and prices
are competitive.
Hastings uses a Satisloh Freeform generator for lens grinding. "We also have hard coating, multi coating and mirror coating in house, and three edging machines – which enable rimless drilling and nylons etc." Lenses come with 12-month warranty and multi focal lenses are covered for non-tolerant adaptation issues.
Bonastar
Bonastar, based in Sydney has 20 Australian trained staff, including qualified dispensers on board. The company promises customers "a balanced price, consistent product and reliable delivery". Bonastar turns stock lenses around within one to two business days while grind Rx lenses take five business days. Emily Xu, General Manager, says Wednesday is the best day to place orders for a fast turnaround and all product comes with a 12-month warranty. The lab is fitted out with Nidex equipment – a Nidex SE-9090 Supra system edger; an ICE-1000 intelligent blocker; an LEX -1000 lens edger for high base curve sunglasses, ME-1000 + RD-100 3D imaged lens edger and designer for rimless orders.
Australian Based, Globally Owned Labs
Hoya
Hoya operates its main lab 24/7 from Thailand and has an Australian lab, based in Sydney as well as fitting labs in New South Wales, Victoria, Queensland, South Australia, Western Australia and New Zealand.
The Sydney-based lab is focused on the premium end of the lens market, producing freeform lenses and anti-reflection coating including diamond finish.
Turn-around time from Sydney is much the same as it is from Hoya's Thailand lab with two to three days for a stock job fitted and four to six days for a grind and fit. Whether a job is sent to Thailand or to Hoya's local lab is determined by Hoya's production mix, and while orders received any time of the week will be instantly processed in Thailand, orders received locally are subject to weekend down-time.
Hoya has plans to invest in a more extensive freeform production line to increase its local capacity, favouring Thailand for more high volume conventional lenses.
Essilor
Essilor has the widest network of laboratories in Australia, with over 250 employees across all States. Essilor's Sydney laboratory grinds, tints, coats, edges and fits Essilor, Nikon and OSA lenses (the exception being 1.74 index lenses, which are produced overseas due to the very specific equipment required for the coating). The other State labs, including Brisbane, Melbourne, Adelaide, Perth and Hobart, offer edging and fitting services, and stock a comprehensive range of FSV.
Jobs are routed to labs depending on specifications and lab loadings, with some of the orders dispatched to Thailand (or Japan for Nikon lenses) then returned directly to the lab in the ordering optometrist's State for fitting, allowing quick and consistent service.
Essilor's Sydney lab is fully updated with digital surfacing equipment.