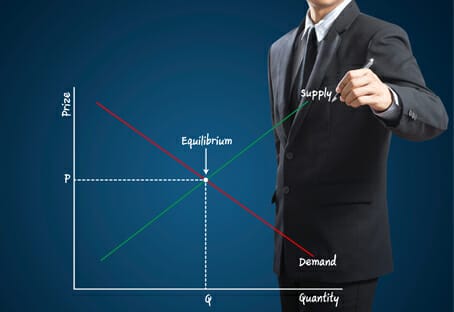 Optometry Australia, the NZ Association of Optometrists and private practitioners say we have enough optometrists to take us into the future. Specsavers and OPSM beg to differ. As universities continue to pump out graduates under the Government's demand driven approach to optometry education, what will be the ramifications for graduates, more experienced optometrists, employers and the economy as a whole?
By 2036 Australia's population is projected to be 32.4 million people.1 Our eye health will be serviced by 7,264 equivalent full time optometrists (EFTO).2 That's one optometrist for every 4,460 people.
Right now, Australia's population stands at approximately 24 million.3 We have 4,983 optometrists, or one optometrist for every 4,816 people.
In New Zealand, with a population of almost 4.7 million, there are currently 652 registered optometrists practising or one optometrist per 7,208 people. Around 50 new graduates emerge from Auckland University's School of Optometry each year.
our goal is to ensure there should be a role for every optometrist who graduates…
Mr. Callum Milburn, President of the New Zealand Association of Optometrists, says the country's eye care needs will be "adequately met over the next 5–10 years; bearing in mind that there will be optometrists leaving the profession whose places will be filled by the steady supply of new graduates".
A paper entitled 'Optometric Supply and Demand in Australia 2011–2036', published in Clinical and Experimental stated that this year, 2016 will be the turning point in the supply vs. demand of optometrists in Australia with graduates emerging from Australia's new optometry schools at Deakin and Flinders Universities.4 The paper predicted "substantial surpluses in all states and territories except Queensland, Tasmania and Northern Territory".
Paper Raises Questions
Peter Larsen, Optometry Director at Specsavers, said a review of the paper by Deloitte Access Economics found flaws in some of the assumptions made and, as a result, has questioned the findings.
"Like Optometry Australia, our goal is to ensure there should be a role for every optometrist who graduates and for every optometrist who wants to practise. But like every scaled employer of optometrists and every optometry franchise, we also need to make sure that the market and the public is not left high and dry in 20 years' time," said Mr. Larsen.
"It's important that we put the assumptions underpinning the paper under the microscope. With a growing population and an ageing population, we know that demand for eye care services will continue to rise. In addition, scope of practice has expanded and is likely to continue to expand, while ophthalmology is being encouraged to employ the services of more optometrists to help cope with its ever-growing waiting lists.
"We asked the health workforce team of experts at Deloitte Access Economics to review the 'Optometric Supply and Demand in Australia: 2011–2036' research paper. Their response identified what they called 'six fatal flaws' in the assumptions. The most fundamental of these relates to the starting point for the modelling, which assumes that an oversupply already exists in Australia's optometry workforce.
"This means that for all the demand scenarios the paper assumes that the required number of equivalent full time optometrists (EFTOs) in 2011 is below that of the number of EFTOs that were working in 2011. This goes against independent research by Health Workforce Australia (HWA) and the Department of Employment (2015), both of which indicate workforce shortage as the start point in 2011. At the same time, it is understood there was zero per cent unemployment of graduating optometrists in 2011, hardly an indicator of over-supply.
"Another point worth making is that the research paper was all based upon 'assumptions', rather than using real-world data on the work undertaken by real optometrists. Alongside their critique, Deloitte Access Economics asked us to open our data up to them which we agreed to do. With our Australian optometry team accounting for almost 20 per cent of the current total optometry workforce, this showed a very different reality in terms of actual average hours worked. The research paper reports a total weighting of 1.11 to convert the total number of male optometrists to EFTOs, which implies that the number of EFTOs for men is higher than the total headcount. This is highly questionable, since it implies that male optometrists exceed full time hours by 11 per cent – so that the impact of part-time workers is offset by people working in excess of 42.2 hours per week, on average, in a 37.5-hour week.
"Real world data on the hours worked by Specsavers male employees' shows that the conversion factor should be 0.95, equivalent to an average of 36.2 hours per week, which aligns more closely with the HWA (2014) estimate of 39.6 hours in 2011.
"The assumption made by Healy et al (2015) is thus clearly too high, does not accord with real world data and overstates supply. This factor alone represents a 16 per cent overstatement of (males') supply," Mr. Larsen concluded.
No Guarantees of Work
When it comes to filling employment, the picture painted by Specsavers and OPSM is quite different from that painted by independent optometry.
Mr. Larsen says already there are not enough young optometrists to go around.
"At this point in time, the number of grads coming through is fluctuating. The 2015 graduate cohort was 328, including the 50 students who graduated from Auckland Uni as well as the Deakin July 2015 graduating group. Of this total, around 130 (40 per cent) chose to join Specsavers and the other 200 went to other practices–with really healthy competition for signatures among all the employer groups, franchises and independents."
Mr. Larsen said 62 Specsavers stores who had asked for a 2015 graduate were left empty-handed because there were not enough to go round. "In order to fill those gaps, we have an ongoing need to go out into the market and recruit experienced currently-employed optometrists from competitors. We've done that and we will continue to do that, but wouldn't it be better for all if we had enough graduates to fill annual requirements for market growth and rising demand? The optometry schools, we believe, can fill that need as most have scope for growth in their student intakes." Mr. Larsen said the fact that this year optometry schools will collectively graduate 55 students fewer than they did in 2015, will have a significant impact.
"This is all the more alarming when you consider the growth in professional optics. In 2007 the total value of the Australian professional optics market was commonly agreed to be around the AU$750 million mark and it has more than doubled since then. Our own sales in Australia were AU$708 million in 2014/15 and we have grown significantly again in the current financial year. We all need to accept that market growth is real, that demand for eye care services is continuing to grow too – and that there will be increased competition for the signatures of graduating optometrists as the years go on. A quick look at Medicare's own data shows that demand for eye care services continued to grow in 2015."
Independent optometrist Margaret Lam says she has no shortage of graduates applying for roles within her four boutique practices in Sydney. As a guest lecturer at University of New South Wales School of Vision Sciences, and with practices that offer speciality contact lens care, it could be that she has the upper hand when it comes to attracting students who want to experience a variety in the type of patient and conditions they see and work with patients who have high expectations of establishing a long-term relationship and highly personalised care.
However, Andrew McKinnon, CEO of Optometry New South Wales, says anecdotal evidence he receives from independents across the state indicates that optometry has finally caught up with other professions in the world, meaning that graduates are no longer guaranteed a job as they walk out of university.
"There is no question that there will be an oversupply of optometrists in the next few years. We've got big classes coming through from the universities and no churn in the market," said Mr. McKinnon.
"We are one of the last professions to have had a guaranteed job for graduates to move into. Lawyers, teachers, doctors for instance haven't been in this position for several years. But the operation of market forces has brought us to this point. When I speak to students, I explain to them that this means it's no longer good enough to come out with solid qualifications. You have to be bloody good – you have to build on the skills you get at university so that you stand ahead of the rest."
Ms. Lam fears that although a looming over-supply of optometrists will encourage a higher level of specialisation among some, it may also will lead to a disheartened profession, and may eventually lead to lower quality patient services.
"If you want an appointment with an optometrist you can literally get an appointment on the spot within five minutes of calling around within any locality within metropolitan Sydney – there is a huge number of optometry doors that are not at full capacity. I think some businesses are not sustainable long term just because of the number of doors offering optometry care right now."
Creating Desperation
Ms. Lam predicts that an oversupply of optometry doors would eventually create desperation in the market in terms of the lengths people will go to to retain patients. "If we look to the UK and the US, where there has been corporate pressure on optometry for many years, we see that the independent practices that have survived have been those that have become very niche – very specialised in particular areas. Practice owners need to be mindful to think outside the square. If they become too focused on the need to immediately cover short-term costs – paying the wages / mortgage / lease / food/ school fees and so on then this can be a concern in the very near future. For this reason, they will go to any extreme to retain patients. It's a dangerous position, which leads to unsustainable pricing structures and takes optometrists' focus away from best care principles."
She said employees will also feel the pressure, as they increasingly become aware of optometrists in the market who would be happy to work for less.
"Of course competition for employment is a huge incentive to upskill but not everyone is going to do that, especially when they are already feeling disenchanted about the way the profession is going. Instead, they may decide to drop out, retire or switch to a job outside of optometry that is perceived to be less about seeing patients as dollars. So we will lose experienced optical professionals, some of whom are the best in field – behavioural optometrists, those with low vision training, contact lens training, those who co-manage care for glaucoma – extraordinary service providers will be lost."
Ms. Lam predicts those more experienced optometrists will move on to other professions – such as working with ophthalmologists, as assistants in orthoptics roles, and as sales representatives for optometric and pharmaceutical suppliers. However on the upside, she said, we could see more moving into co-managed care settings.
"I think we will see a lot of growth in the area of co-management with ophthalmologists, which is a great collaboration. It provides opportunity for optimal patient outcomes and establishing good professional relationships with ophthalmologists. However, students need to be prepared for this. The University of NSW School of Vision Sciences does a great job of preparing optometrists for this future. The question is, do other universities do the same? Are the new universities set up to provide optometrists who are extremely able and competent to handle more complex problems or are they set up to turn out refractionists?"
Going Forward
Specsavers currently employs 925 optometrists. Over the last year the organisation has opened 19 stores and expanded more than 60, which has involved additional consulting rooms and optometry recruitment.
Mr. Larsen said the organisation will continue to grow in both regional and metro Australia and New Zealand by taking on a mix of graduate and experienced recruits. "It's hard to say exactly how many optometrists we need coming through the universities. However, it is clear that the optical market continues to grow, as does the national population – and that's apart from other major factors such as the ageing population, which increases demand on optometric service. For our part at Specsavers, we have publicly stated that we need a net gain of at least 250 optometrists a year for the next five years to try and keep up with rising demand."
Similarly, OPSM has strong plans for growth. Anthea Muir, President Optical Retail Australia & New Zealand at Luxottica, told mivision "OPSM and Laubman & Pank currently have over 1,000 optometrists and wish to double the number within the next five years".
Ms. Muir said "there is a continual shortage of optometrists in regional Australia and New Zealand, therefore
not all Aussies and Kiwis have easy access to high quality eye care.
"Many optometrists choose to not practise full time due to family commitments, practice management requirements or further education. This means that more optometry graduates are required to fulfil practice needs. We will continue to open stores in both metropolitan and regional areas as we grow our corporate and franchise practices, and this will also increase demand on optometry graduates.
"We employ a large number of optometrists with therapeutic qualifications and we encourage further professional development in areas such as orthokeratology and sports vision, which provides our patients with even more services at our stores. We will continue to encourage our optometrists to complete their therapeutic qualification."
Driving Demand for Optometry
Ms. Muir says OPSM and Laubman & Pank are committed to encouraging customers to have regular eye tests at least every two years and annually for patients with medical indications, contact lens wearers or those people over 40 years. Currently this frequency is not bring reached and as OPSM and Laubman & Pank endeavour for patients to take greater care of their eyes, more optometry resources will be required.
At Optometry Australia, CEO Genevieve Quilty is also working to build awareness of the need for eyecare, particularly in regional and remote Australia. "Given our workforce projections, Optometry Australia is also working on a series of projects to increase demand for optometric services, particularly in communities where demand for eye health care is lower than expected; or to address undersupply of optometric services in some rural communities."
Ms. Quilty said one project aims to improve the subsidised spectacle schemes in the states and territories to remove a known barrier to accessing optometric care in Aboriginal and Torres Strait Islander communities. Another has involved the development of clear referral pathways for patients to see an optometrist first prior to referral to the Victorian Eye and Ear Hospital, which faces long waiting lists.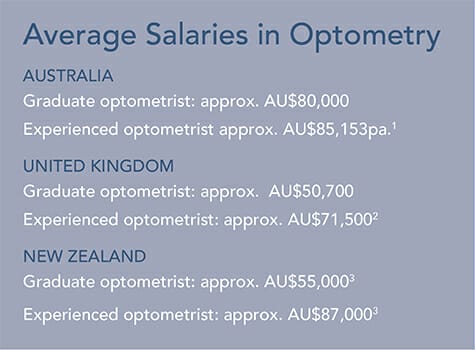 1. www.payscale.com/research/AU/Job=Optometrist/Salary
2. www.optometry.auckland.ac.nz/en/about/our-courses/undergraduate-study/fu-admission-and-enrolment/
fu-guidelines-for-international-students.html
3. www.payscale.com/research/NZ/Industry=Optometrist's_Office/Salary
Salaries Indicative of Market Health
Across all professions, salaries are an indication of the health of the market. Within optometry, the view on what current salaries indicate differ.
"There is certainly no downward pressure on wages currently," said Mr. Larsen. "In fact, optometry graduate starting salaries continue to climb year-on-year and are very high when compared to other professional codes.
"While graduating medical student starting salaries were on average AUD$60,000 in 2014 (Graduate Careers Australia – Graduate Salaries 2014 Report), competitive activity to recruit graduating optometry students has pushed optometry starting salaries higher and higher. The only comparable health profession for such high starting salaries is dentistry, which the Graduate Careers 2014 Report assessed at AUD$75,000. It assessed optometry at AUD$70,000 in 2014.
"Although Graduate Careers Australia has not yet published its 2015 report, our own experience shows that starting salaries have risen still further – the Specsavers February 2016 graduate intake package in Australia ranges from a minimum of $75,000 for inner-Metro roles, while in regional Australia it is considerably more than. This points to under-supply of graduates as opposed to over-supply. If we were looking at over-supply, starting salaries would be falling rather than rising."
Looking at Graduate Careers Australia reporting back through the years, it would appear that salaries for optometry graduates have, in fact, barely moved over the past five years, other than a blip in 2012. Average salaries for optometry graduates were $70,000 in 2011, rising to $79,000 in 2012; before falling back to $70,000 in 2013 and in 2014.5
Kiwi optometrist Alan Saks believes corporate organisations that sponsor university courses will influence student intakes at some universities as well as graduate salaries. "The corporates want MORE optoms in the market as it drives down the salaries. That's why some say the corporates start and finance a course that pumps out 'quickie optometrists'. Within a few years the graduates flood the market, salaries drop and then the corporates pull much of their funding of the educational facilities they started (so I am told). The cost of financing the uni courses is quickly recouped by the savings in salary. So it depends on who you ask!"
References
1. Australian Bureau of Statistics 3236.0 – Household and Family Projections, Australia, 2011 to 2036, updated 19/03/2015
2. Ernest Healy, Patricia M Kiely, Dharma Arunachalam, Optometry supply and demand in Australia 2011–2036. Clinical and Experimental Optometry 98.3 May 2015
3. www.abs.gov.au/ausstats/abs@.nsf/0/1647509ef7e25faaca2568a900154b63?opendocument
4. Ernest Healy, Patricia M Kiely, Dharma Arunachalam, Optometry supply and demand in Australia 2011- -2036. Clinical and Experimental Optometry 98.3 May 2015
5. www.optometry.org.au/blog-news/2014/8/20/graduate-wages-drop-first-time-in-decade/