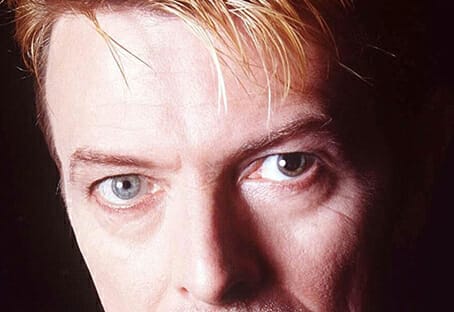 David Bowie was a singer, songwriter, multi-instrumentalist, record producer, painter, and actor… a glam rocker, a rebel and a Starman. Millions of people were intrigued by Bowie's incredible capacity to constantly change his image and musical direction… millions were fascinated by his 'seemingly' different coloured eyes…
David Bowie was born David Robert Jones in Brixton on 8 January, 1947.
Inspired by London West End jazz he took up saxophone lessons at the age of 13, and was soon introduced to the world of pop and mod, playing with his first band aged 15. Having embarked on a professional career in music in 1963, by 1966, the aspiring musician had changed his name to David Bowie. Bowie appointed a manager and in 1969 his legendary 'Space Oddity' hit the charts, peaking at number five in the UK.
During a long and experimental career, Bowie sold an estimated 140 million records worldwide, he was awarded nine platinum album certifications, 11 gold and eight silver in the UK, and in the US received five platinum and seven gold certifications.
Anisocoria can be physiologic or can be caused by a variety of disorders to the nervous system
Unusual Eyes
Described by Rob Sheffield from Rolling Stone magazine as "the greatest rock star who ever fell to this or any other world", for years people have been intrigued by Bowie's eyes.
Many believe that Bowie lived with a predominantly hereditary condition known as heterochromia, a condition which causes two eyes of one person to be different colours. More common in cats and dogs, heterochromia has affected many famous people including such as Mila Kunis, Keifer Sutherland, Jane Seymour, Christopher Walken, Dan Aykroyd and Michael Flatley.
In fact David Bowie's eyes were the same colour. To any observer they appeared different because of a condition known as anisocoria, which is characterised by different pupil sizes.
Bowie's anisocoria came about as a result of a teenage love interest that went wrong.
Some years ago, Bowie told the story to his biographer Mark Spitz.
"When I was 14 I fell in love with a girl. I was crazy about her.
"Only trouble was, my best mate (George Underwood) had a bit of a soft spot for her too, but I was the winner. I moved in before he'd even made up his mind about how to approach her.
"Next day I was at school boasting to my mate about what a Casanova I was and he became terribly annoyed. In fact he threw a punch at me.
"It caught me in the eye and I stumbled against a wall and onto my knees. At first he thought I was kidding. It wasn't a very hard punch but obviously caught me at a rather odd angle."
Underwood later revealed that his fingernail had caught Bowie in the eye. When the singer ended up in hospital, his doctors noticed the muscles of his left eye were badly torn, preventing the pupil from dilating or contracting. The result was anisocoria.
What is Anisocoria?
Normally the size of the pupil is the same in each eye, with both eyes dilating or constricting together.
People with anisocoria have pupils – the hole at the centre of the iris – of different sizes. The pupil consists of two smooth muscles:
1. The circular sphincter pupillae which is stimulated by parasympathetic fibres that travel with the oculomotor nerve, and when activated constrict the pupil.
2. The radial muscle group, called the dilator pupillae, which is stimulated by sympathetic nerves from the superior cervical ganglion. When activated this causes the pupil to dilate.
Anisocoria can be physiologic or can be caused by a variety of disorders to the nervous system.
Physiologic anisocoria affects approximately 20 per cent of the population and the amount of anisocoria can vary from day-to-day and can even switch eyes.
Anisocoria can also be a symptom of a serious eye disorder, including third nerve cranial nerve palsy and Horner's syndrome. Both are nervous system disorders that can occur when nerves that travel to the eye are damaged by a stroke, tumour or trauma. Anisocoria can also result from a viral infection, syphilis, surgical damage, and /or another condition affecting the pupil called Adie's tonic pupil.
Reference
www.aao.org/eye-health/diseases/what-is-anisocoria
Bowie noted that despite being a harmless condition, anisocoria affected his self-esteem. "For quite a while I was very embarrassed about it. Although I could see very well out of the eye, it made me self-conscious."
The fight wasn't the end of Bowie's friendship with Underwood. The two stayed life-long friends. Underwood became a graphic artist and designed some of Bowie's most iconic covers including The Rise and Fall of Ziggy Stardust and The Spiders from Mars.