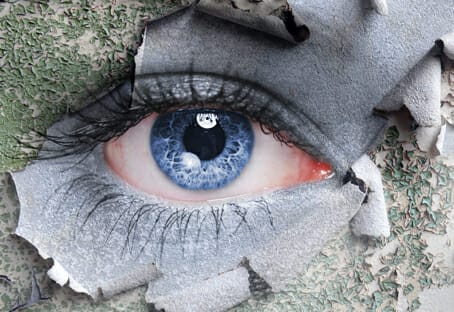 A seasonal pattern associated with dry eye suggests that different mechanisms may underlie dry eye in winter versus spring months. This may lead to different approaches to treatment that include environmental manipulation, according to researchers in the United States.
Dry eye disease is a common disease which causes discomfort with burning sensations and dryness of the eyes. It affects people's ability to see clearly, read comfortably, work productively, drive safely and interact socially. Dry eye can adversely affect quality of life and can lead to infection, scarring and permanent vision loss.
In Australia, approximately 20 per cent of our adult population suffers from dry eyes with research suggesting that up to 48 per cent of office workers could experience dry eyes, due to their long exposure to airconditioning and computer screens.1
Clinical optometrist and dry eye researcher Dr. Julie Albietz, from the Queensland University of Technology Health Clinics and the School of Optometry and Vision Sciences, says the disease "is primarily suffered by females, the elderly, individuals with autoimmune collagen vascular diseases, contact lens wearers, those using glaucoma eye drop medications and those who have recently undergone eye surgery."2
dry eye has a seasonal
pattern and suggests that different mechanisms may underlie dry eye in winter versus spring months
The Blue Mountains Eye Study described the prevalence of self-reported dry eye syndrome and associations with systemic and ocular factors in an older Australian population.
Participants of the Extension Blue Mountains Eye Study, aged 50 or older (mean age 60.8 years, n = 1,174) completed a comprehensive eye examination and dry eye questionnaire. At least one dry eye symptom was reported by 57.5 per cent of participants, with 16.6 per cent reporting moderate to severe symptoms, more frequent in women (age-adjusted odds ratio [OR] 1.5, 95 per cent confidence interval [CI] 1.1-2.2). Three or more symptoms were reported by 15.3 per cent of participants, also more frequent in women (age-adjusted OR 1.7, CI 1.2-2.4). No age-related trends or significant ocular associations were observed. After adjusting for age and sex, systemic factors significantly associated with dry eye syndrome included history of arthritis, asthma, gout, use of corticosteroids, antidepressants and hormone replacement therapy. In this older population, dry eye syndrome was common and has associations with female gender and systemic diseases.3
Seasonal Association
Ocular allergy is a common cause of dry eye. While dust mites, pet dander and mould are often the cause of perennial allergic conjunctivitis, seasonal allergic conjunctivitis is most often triggered by pollen and typically spikes during the spring and summer months. During winter, seasonal allergic conjunctivitis is most likely due to environmental factors such as low humidity, heating and air conditioning systems.
A large retrospective study, conducted in America and published in Ophthalmology April 2015, found that "air pollution and atmospheric pressure were the two most influential risk factors for dry eye".4 The study reported results of health care data collected from 3.41 million visits to a Veteran Affairs eye clinic from 5 July 2006 to 4 July 2011, which was integrated with environmental data from the National Climatic Data Center and the National Aeronautics and Space Administration.
The researchers found that 17.4 per cent of veterans (95 per cent CI: 16.16 per cent to 18.64 per cent) were diagnosed with dry eye and found clear evidence of a seasonal pattern, with the greatest period prevalence of dry eye in winter and spring (18.7±0.98 per cent and 18.5±4.16 per cent, respectively) and least prevalence in summer (15.3±0.82 per cent).
Additionally, they determined a greater monthly variation in the occurrence of dry eye during spring compared with winter months, reporting a standard error of the mean of 4.16 per cent in spring versus 0.98 per cent in winter. They found that in the United States, dry eye mostly occurred in April (20.9±0.14 per cent).
The study authors wrote, "the observed seasonal pattern suggests that outdoor conditions, such as allergen exposure, explain approximately 3 per cent of dry eye variability. Therefore, the remaining dry eye burden is likely owing to other factors, including indoor environment, demographics, and comorbid conditions."
Further exploration determined a strong seasonal pattern of dry eye and allergy index, with low outdoor allergy indices in winter and high allergy indices in spring.
"We hypothesise that low indoor humidity during winter months (owing to heating in the absence of a humidifier) may be a potential factor underlying the increased winter prevalence of DE in the United States. Conversely, increased outdoor pollen concentrations in spring likely contribute to the elevated spring prevalence," they wrote.
They reported that multivariable analysis considering meteorological conditions, season, and allergy index on dry eye prevalence, showed that "seasonality had the strongest association with dry eye, with prevalence during peak seasons (winter–spring) being 3.7 per cent higher in the United States".
Diagnosis
According to George Koukides of TearLab Australia, with 30 per cent of the population showing some signs of dry eye, this disease is often under diagnosed and usually misdiagnosed.
Thorough eye examinations, beginning with patient discussion and a survey or questionnaire, along with traditional diagnostic tools – fluorescein dye with a cobalt-blue slit lamp assessment, lissamine green and phenol red thread – are the most common ways that optometrists go about diagnosing the disease. New advanced technologies can provide greater insights and reduce the risk of misdiagnosis.
Additionally, they enable an optometrist to grade levels of dry eye severity, and in doing so, better understand the patient's condition at diagnosis then monitor and measure the results of treatment.
These new tests are also effective tools when communicating with and educating patients about their ocular condition, their tear osmolarity and strategies for dry eye disease management.
The TearLab Osmolarity System is a technology that quickly and reliably measures osmolarity of tear samples and categorises the severity of the results. Using nanoliter volumes of tear fluid collected directly from the eyelid margin, this system confirms findings of a slit-lamp examination, provides a baseline of disease severity and tracks the progress of treatment.
Treating Dry Eye
There are a multitude of treatments used to relieve discomfort associated with dry eye, depending on its cause and severity. Mild cases of dry eye, caused by computer use, reading, schoolwork and other environmental causes; can mostly be managed with frequent use of artificial tears or other lubricating eye drops, such as Thera Tears (Contact Lens Centre), Optrex (Eyelogic), Refresh (Allergan), Systane (Alcon), Tears Again (bio Revive), Albalon (Allergan), Zaditen (Novartis); eyeMist (Murine); Systane (Alcon); Hyloforte (AFT Pharmaceuticals); and Lacrisert (Bausch + Lomb).
For more sustained relief of Meibomian Gland Dysfunction, the most common cause of dry eye, routine manual meibomian gland expression or using the LipiFlow device has proven to provide relief, and Intense Pulsed Light treatment can have a cumulative effect.
Additionally, patients may be advised to wear wraparound glasses or sunglasses to slow tear evaporation from the eye surfaces. An air cleaner to filter dust and other particles will help prevent dry eyes and a humidifier may help by adding moisture to the air.
Going Forward
As dry eye becomes more prevalent, many argue there is a need – and indeed an opportunity – to establish more dedicated dry eye centres. Staffed by optometrists who are devoted to co-managing their patients with other health professionals from start to finish, these centres invest in the very best diagnostic tools, and contribute to, and keep abreast of evolving research into dry eye disease. For those who choose not to go down this path, dedicated dry eye centres present the perfect opportunity to refer on, in the interest of achieving the very best ocular health for dry eye patients.

References
1. www.myvmc.com/diseases/dry-eye-syndrome-keratoconjunctivitis-sicca
2. www.qut.edu.au/health/about/news/news?news-id=80158
3. www.ncbi.nlm.nih.gov/pubmed/12786773
4. www.aaojournal.org/article/S0161-6420%2815%2900128-1/fulltext