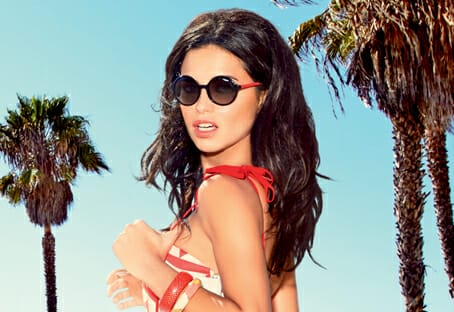 Vogue is a name synonymous with high-end fashion. Vogue Eyewear makes fashion optical and sunglasses accessible for everyday consumers, with sun and optical frames for women at entry-level prices.
Vogue Eyewear launched in 1973 to interpret the latest fashion trends and to offer consumers a beautiful accessory to complement their constantly evolving wardrobe. Colour, light bijoux and smart detailing on the temples are characteristic of this stylish brand.
Acquired by Luxottica in 1990, Brand and Business Manager for Vogue Eyewear Asia Pacific, Christelle Perraux, says Vogue eyewear appeals to fashion loving women from all walks of life and all ages (18–60 plus years). Often, over time, this global brand's followers indulge their interest in creating different looks by accumulating a collection of frames to complement their wardrobe on any day of the week.
"The Vogue Eyewear consumer values fashion and looks for a frame or sunglass that is on trend at an affordable price point," said Ms. Perraux. "We offer those customers a large assortment of products in a variety of shapes and styles – including metals and acetates."
multi-dimensional, in-your-face styles that reflect those unforgettable and energetic years of the 70s and 80s
She described the most recent collection as "focused on the Vogue Eyewear archive from the 80s (with) a cheeky take on a whole host of directional silhouettes".
More specifically, detailing such as colourful enamels are applied to a mix of premium acetates and metals to recreate "multi-dimensional, in-your-face styles that reflect those unforgettable and energetic years of the 70s and 80s," said Ms. Perraux.
Three Segments
There are three segments in the Vogue Eyewear Collection:
In Vogue
The In Vogue collection is all about fashionable colours and shapes with minimal detailing that are on trend now. Styles within this collection feature bi-layered tones, wavy, floral effects as temple detail. This collection is Vogue Eyewear's entry price point.
Casual Chic
Vogue Eyewear's Casual Chic collection features easy to wear harmonious shapes with discreet details on the temples. The colour palette of the Casual Chic collection is contemporary and muted in tone. Texture on the temples comes in the form of colour bands, jagged wave effects and 3D braiding.
Timeless
The Timeless collection appeals to more fashion forward customers.
The styles are both elegant and eye catching, enriched with Swarovski elements on the temple that add a touch of elegance. Timeless is the
most expensive of Vogue Eyewear's segments, yet is still affordably priced.
Maintaining Consistency
Ms. Perraux said maintaining consistency of design across the optical and sun collections is important for Vogue Eyewear. "For example, in the Light and Shine eyewear the optical and sun both feature thin profiles and sleek design that contrasts with a vibrant colour palette.
"Another example is the internal patterns of the Texture Collection, which we launched in 2015. Prints used in both the sunglass and optical frames were all inspired by our three Vogue Eyewear muses, the Brazilian model Adriana Lima, Indian actress Deepika Padukone and Chinese actress Liu Shishi," she said.
Vogue Eyewear's Texture Collection is inspired by the culture of each Muse, translating the rich diversity of their local traditions and global fashions into unique eyewear styles. The exotic and tropical blooms define the two styles autographed by Adriana Lima; the filigree of the lustrous aqua green of Indian Jade decorates one style dedicated to Deepika Padukone, and delicate blossoms inspire the two styles signed by Liu Shishi.
Evolving Styles
The global eyewear market is highly competitive so for Vogue Eyewear to stay in front, it's essential to constantly evolve shapes, styles and colours while appealing to a broad audience. Along with drawing inspiration from Vogue Eyewear's Muses, the brand looks to special occasions and global trends for inspiration.
The recent launch of Embrace, for example, was timed for Valentine's Day. This colourful sunglass collection is decorated with a unique infinity-heart on the temple, and enhanced with exquisite hand set Swarovski crystals. Easy to fit, and incredibly flattering, Ms. Perraux said these special edition frames also come with a dedicated case, to deliver the complete gift package.
In terms of frame shape, Ms. Perraux said round is the big eyewear trend of the moment and will continue into the future. "We have seen round in a variety of eyewear brands translated into both sunglasses and optical. We have used the oversized round shape in a variety of Vogue Eyewear sunglasses. Most recently we have seen this in model VO5036S, featured in Adriana Lima's campaign, which is made of super light, flexible nylon fibre. It features slender, linear temples in contrasting colours, while transparent perspex details and cool gradient lenses redefine fashionable style for women who love to play with colour and light.
Practical Too
Most sunglasses in the Vogue Eyewear range are prescriptable, allowing customers to easily have their prescription fitted in fashionable sunglass frames. Additionally, Vogue Eyewear's plano sun lenses offer category two or three UV protection and some frames are available with polarised lenses – just perfect for the sunny Australian environment.
Contact: Luxottica Account Manager