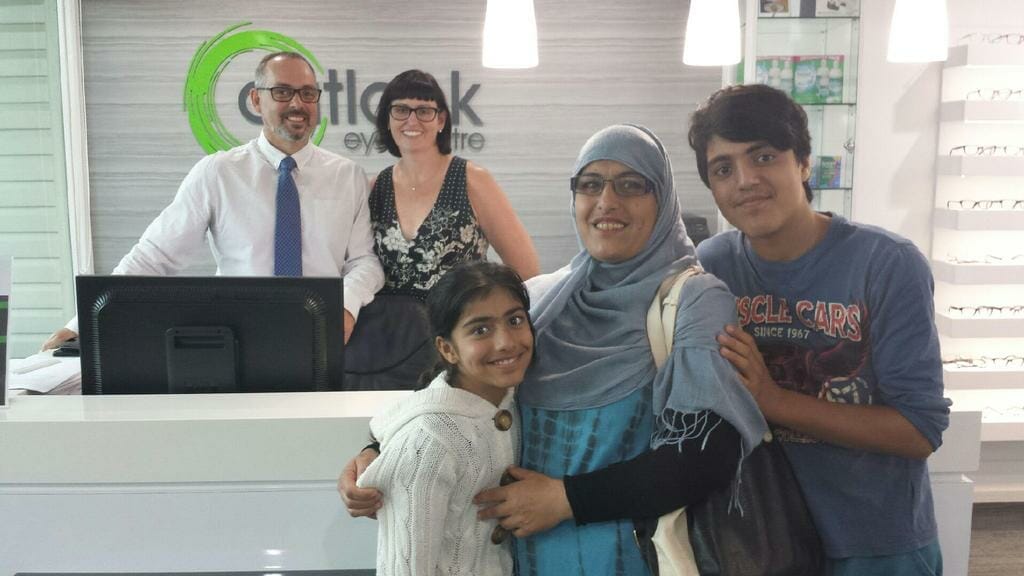 Refugees and people with a mental illness are the first to be targeted with a comprehensive eye health screening initiative being implemented by Essilor Vision Foundation.
The program commenced at Mercy Community Services in South Street and Toowoomba Clubhouse in Russell Street on 11 April and saw clients from both organisations receive comprehensive eye examinations from local optometrists and, if required, free prescription spectacles from the Foundation.
Foundation spokesperson, and former Toowoomba Chamber of Commerce CEO, Greg Johnson said, "Toowoomba has the right mix of agencies and schools to enable us to undertake pilot programs which in turn will be replicated across the nation.
"The Foundation's mission is to eliminate poor vision and its lifelong consequences with a goal of reaching out to citizens who simply don't have access to eye examinations or basic prescription spectacles.
Mercy Community Services caters for the needs of the 4,000 refugees and migrants who have made Toowoomba home in the past five years…
"Research shows that 54 per cent of the Australian population has one or more long-term eye conditions, many undiagnosed."
Mercy Community Services caters for the needs of the 4,000 refugees and migrants who have made Toowoomba home in the past five years.
David Barton, the Team Leader at Mercy Community Services Cultural Diversity Hub, said the eye service will meet an important need within the community of refugees. "Unfortunately with the raft of priorities our new citizens have, eye examinations and prescription spectacles simply aren't on their immediate agendas. The Foundation's offer to screen our clients and to provide them with free glasses, if required, is a blessing which will enrich their lives."
People who live will mental illness, will also greatly benefit from the program, according to Toowoomba Clubhouse's Team Leader Darren Marks who said his organisation's clients often feel left behind.
"The Foundation's program sends a clear message that there are organisations out there that do care and who are willing to make a difference. It will be interesting to learn just how many of our 800 active members will have better vision following this initiative."
Long-lasting Impact
Mr Johnson anticipates the Toowoomba pilot programs will "remind people of the need for regular eye examinations, by eye care professionals, and the importance of wearing correct vision aids".
The Foundation plans to undertake screening programs in two Toowoomba primary schools in May, involving over three-hundred children.
Similar programs in New Zealand in past months have identified up to 40 per cent of students requiring a comprehensive vision examination, following screening, with many subsequently needing the free prescription spectacles.
Following the Toowoomba initiative, Foundation personnel will meet with Education and Indigenous Affairs State and Territory Ministers across the country who have indicated an interest in learning more.
Queensland Senator Joanna Lindgren has agreed to be Patron of the Foundation and to bring its national screening activities to the attention of other members of Parliament in Canberra. Senator Lindgren is the grand-niece of the Federal Parliament's first indigenous politician, the late Senator Neville Bonner OA.