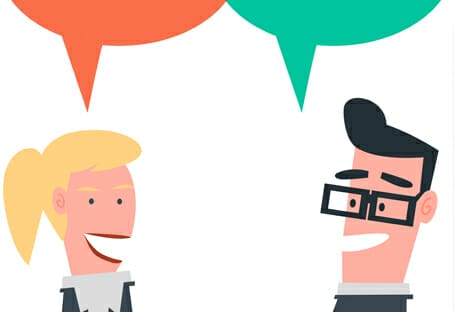 One of the things I hear most often from patients is that they were dissatisfied with their previous practitioner/s. The reasons are varied but it often boils down to communication, continuity and prescribing.
Let's start with communication. Chair-side manner is everything. It seems to me that some practitioners whip through the exam way too fast. In the interest of meeting quickie exam times they cut patients off when speaking in order to get on with the refraction and required assessments. Letting a patient speak and explain their issues, needs and symptoms is critical: It points you in the right direction and helps you determine the diagnostic tests needed. More often than not I can make a tentative diagnosis in the first few minutes of an exam.
A Case in Point
A 55-year-old I've seen for around 17 years came to see me recently. He'd had early cataract surgery three years ago for presumed radiation related cataracts after jaw cancer and as a result has difficulty talking. He explained that his vision quality was becoming hazy. Additionally his near vision was reduced, he'd been experiencing night driving issues, was suffering from disabling glare day and night and noting reduced contrast in general. Based on the symptoms I was already 95 per cent sure he had posterior capsule opacification (PCO) and needed YAG. That proved to be the case. Within minutes I had an email off to the cataract surgeon with attached iPhone images showing the PCO, the drop in visual acuity and a few other bits of info regarding macula integrity, IOPs and so on.
Due to his difficulty with speech he prefers to be contacted by email and I reminded the ophthalmology team of this. Within minutes the ophthalmologist replied explaining his team was onto it. The patient was contacted and the problem sorted. In fact the following email was received a few days after seeing him:
Chair-side manner is everything. It seems to me that some practitioners whip through the exam way too fast
"The results of my capsulotomy yesterday are nothing short of spectacular. I have contrast, sharpness and colour back in my life, my vision is stunning! It's like my whole world has been upgraded to high-definition. I can only guess the deterioration in my vision began shortly after the original cataract procedure because I do not remember my vision ever being this good.
"Thank you all for your great work and to you Alan for the instant diagnosis and referral. My only regret is I didn't do something about it a long time ago. I have been struggling with routine tasks for some time and was afraid the problem was something more sinister. Only after the repair have I realised just how bad I had let it become. Silly me…"
He'll be coming back soon to update his progressive spectacles, in a top end lens and superb rimless titanium frame.
So that doesn't sound like a difficult diagnosis however, in his case, allowing extra time for his consults to get around the speech issue is one of the things that count. Having dealt with him for years we know his needs and there are clear notes on his file to 'only contact by email'.
Continuity
Continuity is critical and in my view this is one of the main strengths that independent practitioners have over the chains. By their nature the chains are often faced with high staff turnover or roster rotations.
Many patients come in exasperated that they saw 'three of four' practitioners in a relatively short period of time. They say they had to tell each practitioner the whole story over and over again; relating to their problems with the prescribed progressives or contact lenses or whatever the problem may be.
I recently received an unexpected compliment from a dispensing colleague who mentioned in a staff meeting that my 'handover' was great and should be emulated: I always discuss the options with my patient, then introduce them to my colleague and in the handover, re-iterate the options discussed. For example I might say:
"Jane, this is Mike. He needs an occupational lens at work and a general progressive for day to day life. He's also interested in discussing photochromic lenses or maybe some Rx sunnies."
The Rx is in the system and the consultation billing done. I don't just dump the patient back into the waiting room and expect osmosis or ESP to get the message across. I also make detailed notes in the consult screen of the practice management system.
The PCO case also demonstrates the importance of excellent communication with the ophthalmologist and their team. An email with a report and explanatory images is actioned as soon as possible and a response and confirmation returned. Dealing with respected, top-of-their game professionals is so important. As the above feedback shows, patients are way impressed, especially when in the past they've been given a scribbled note to 'go to the hospital' or to contact their specialist to get it sorted. Quite often the patient doesn't even remember who did their surgery or how to contact them. This results in a lack of action and the patient then suffers months or years before getting sorted. In this case it was all in progress on the same day and resolved in a matter of days.
Appropriate Referrals
We also need to consider personality types when we refer. Eye care is not just pure science and medicine. Art and psychology are critical aspects to success. Who will a patient best relate to? Do they need an excellent communicator who will hold their hand or are they best off with a 'less talk, more action' type of practitioner? Some prefer to see a female, others a male. Some want a young surgeon while others prefer an experienced, older one.
Another area where I see problems is that all too often refractions are done with no specific recommendations made. For example, a presbyopic patient who has never worn Rx spectacles is upsold into a progressive lens. They were wearing readymade readers but needed a greater range of vision: as their add goes up so the depth of focus is reduced. What they really needed was an occupational lens. They may have a history of motion sickness or Ménière's disease. They come to see me for a second opinion, usually on referral from a friend or colleague who says I will sort them out. They complain of the swim effect, distortion, narrow channel and a sore neck – from lifting their chin to see the VDU screen using their progressive lenses. They say they don't need spectacles for distance vision.
We prescribe an occupational and they're happy.
It also seems that all too often binocular vision issues are ignored. In quite a few cases some convergence training is required. In others maybe one Base-in prism is needed in each eye. Boom! Problem solved.
The bottom line is that it's not difficult to do a great job.
I've always had a philosophy of 'a patient for life' and am happy to say I've been rewarded with amazing loyalty, with patients following me over numerous practices and even countries. Many patients I see have been with me 10, 20 or 30+ years. Others I've inherited have been with the practices I've worked in for sometimes 50, 60 or more years!
Having a long-term history is often helpful with troubleshooting.
Of course there are a few patients who you almost wish wouldn't follow you but they do because you are the only one who can deal with their complex issues. They sometimes try other practitioners but walk into the practice and exclaim for all to hear "I'm so glad I found you again!"
Great stuff. Happy patient, happy optometrist, happy colleagues, happy accountants and a happy tax man.
That's what we call success.
It reinforces the importance of the proper patient pathway we've talked about in the past and will continue to discuss.
Alan P Saks MCOptom(UK) Dip.Optom(ZA) FCLS(NZ) FAAO(USA) is a third generation optometrist based in Auckland, New Zealand and columnist for mivision. He is actively involved in the profession, having served multiple terms as president of Contact Lens Societies and arranged numerous conferences. He has also served on education committees, as examiner in contact lenses and clinical optometry examinations, lectured contact lenses to ophthalmology registrars and written several columns about eye health and the practice of optometry.