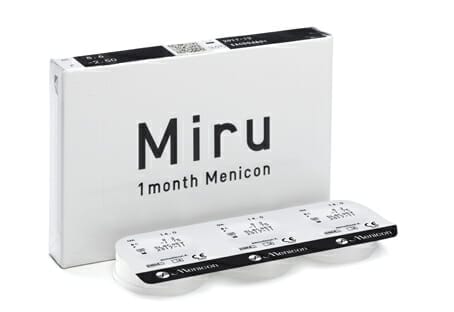 Menicon has launched Miru One Month disposable silicone hydrogel lenses and MeniCare Soft, a multi-purpose solution for soft lenses. When compared with five commercially available silicone hydrogel lenses, Miru One Month asmofilcon A material demonstrated the lowest level of bacterial adhesion to the lens surface.1
Additionally, a greater resistance to lipid deposition was likely to result in lower levels of discomfort, visual disturbances, inflammation of the ocular surface and lens spoilation in comparison to other silicone hydrogel contact lenses examined.2
Menicon has stated that Miru one month silicone hydrogel contacts lenses demonstrated one of the highest levels of oxygen transmissibility (161 Dk/t) when compared to other commercially available lenses, well above recommendations for safe daily and even extended lens wear.2 Miru One Month lenses are available in two base curves (8.30 and 8.60) and powers from +6.00d to -13.00d.
Toric lenses in three cyls and eight axis are now also available.
Contact: Menicon Account Manager (AUS) 1800 639 879
References
1. Vijay et.al. Bacterial Adhesion to Unworn and Worn Silicone Hydrogel lenses.
Optom Vis Sci 2012;89:1095-1106.
2. Menicon data on file.