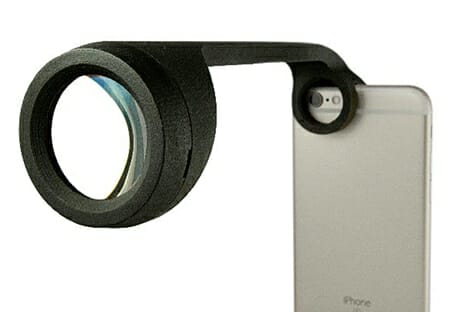 oDocs Eye Care, a NZ based company that creates open source medical equipment for eye diagnoses has launched an updated oDocs Eye Care kit, enabling clinicians, scientists, optometrists and other healthcare workers to place an order online.
The oDocs Eye Care kit comprises a visoClip and visoScope, which together transform an iPhone into an anterior segment and retinal camera. The visoClip Anterior Segment Imaging Adaptor captures high-resolution photos and videos using focused, angled illumination. The visoClip is perfect for visualising acute corneal lesions and is ideal for referrals. The visoScope Retinal Imaging Adaptor adds retinal imaging capability to the iPhone, delivering an effective solution when a direct ophthalmoscope isn't enough. The specialised optics and high quality anti-reflective crown lens provides a clear 50 degree field of view, comparable to that of a conventional fundus camera.
"The oDocs Eye Care kit is the first of its kind. Healthcare providers can now do a comprehensive eye examination in any clinical situation because of its intuitiveness and portability," said Hanna Eastvold-Edwins, CEO at oDocs Eye Care.
Established in 2014 by Dr. Hong Sheng Chiong and Dr. Benjamin O'Keeffe, oDocs Eye Care (Auckland, New Zealand) offers a wide range of products and services designed to reduce the prevalence of preventable blindness by making eye care equipment affordable and accessible. The company open sourced its first adapter and donates half of its profit to the cause.
oDocs Eye Care kit is an update driven by customer feedback and is part of oDocs Eye Care's commitment to deliver the latest product updates in a comprehensive manner. ODocs Eye Care kit is available for pre-order at www.odocs-tech.com.