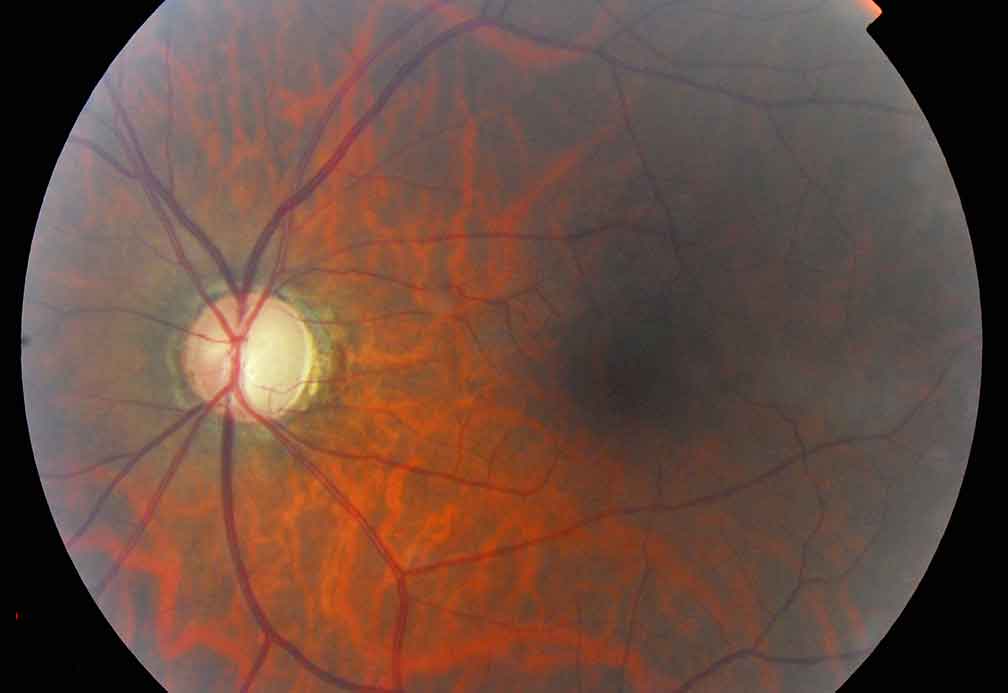 An unexpected case of glaucoma highlights the importance of screening and monitoring the ocular health of our patients.
DM, a 42-year old Caucasian male, presented to the practice for the first time complaining of problems with his vision at distance and near. He reported his vision appeared to have dropped off rapidly over the past three months, especially at night. A clinical psychologist, he found that when he changed focus from his records to the patient, he felt a 'tunnel vision' effect.
DM's previous eye examination had been five years prior, and he had single vision near spectacles of R +0.50DS and L +0.25DS prescribed at the time. This was his first pair of spectacles and he had not been advised of any ocular problems. He was in good health and reported no other ocular history and no family history of any other eye problems.
Vision unaided was R 6/24 and L 6/18.
Subjective refraction gave R -0.75DS (6/15=) L -0.75/-0.25×5 (6/15). A near addition of +2.00DS enabled N6 at near. No improvement was found with pinhole.
External eye examination revealed no abnormalities; the angles were open and there was no evidence of any pigment in the angles.
Mydriatic fundus examination revealed optic nerve pallor and cupping of 0.9 in both eyes (Figure 1a and 1b). Intra-ocular pressures (IOP) were R 30 and L 27 mmHg at 6pm. Central corneal thickness measurements were R 553 and L 550 microns. Visual field examination revealed severely constricted visual fields in both eyes R>L (Figure 2).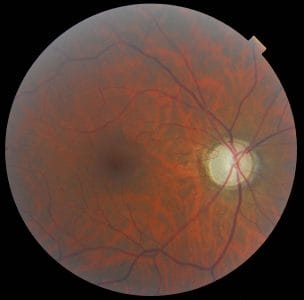 Figure 1a: Fundus photography of DM's RE
I diagnosed DM with primary open angle glaucoma (POAG), prescribed Xalatan nocte and referred him to a glaucoma specialist. Upon review three weeks later, DM's IOP was R 27 and L 23mmHg. His medication was adjusted to Xalacom drops. If medication does not achieve his target IOP after six weeks, then his glaucoma specialist will plan to perform selective laser trabeculoplasty and modify medication until he achieves a target IOP of less than 18mmHg.
An unexpected case of glaucoma highlights the importance of screening and monitoring the ocular health of our patients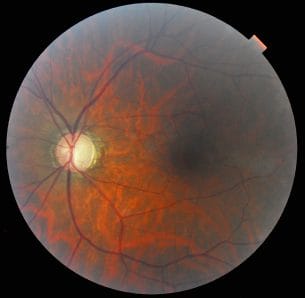 Figure 1b: Fundus photography of DM's LE
(Click here to view Figure 2: Visual field examination revealing severely constricted fields R>L.)
IOP
Intra-ocular pressure is the only known risk factor that can be treatable to slow progression of glaucoma. Thus, the main goal of treating glaucoma is to control IOP.
In managing glaucoma, a target IOP should be set. The Early Manifest Glaucoma Trial (EMGT) found that progression of glaucoma patients with POAG was decreased 10 per cent for each 1mmHg reduction in IOP.1 The Australian NHRMC guidelines for glaucoma management recommend a target IOP of at least a 20 per cent reduction from baseline in mild cases, with a minimum reduction of 30 per cent and below 18mmHg in advanced cases.2 This comes from evidence from studies such as the Collaborative Initial Glaucoma Treatment study (CIGS) and the Advanced Glaucoma Intervention Study (AGIS) which found that lower IOP was associated with reduced progression in visual field loss.3,4
Thus, DM's target IOP was 18mmHg or less in both eyes.
Discussion
The main risk factors for POAG are increased IOP and age. Other risk factors include reduced central corneal thickness, being of African descent, myopia, hyperopia, pseudoexfoliation, sleep apnoea and heart disease.
This case threw me as DM is considered to be at little to no risk for developing POAG. DM is a healthy, educated male who has end-stage glaucoma. He is 42-years old, but his disease has probably been present for the past 5-10 years.
Glaucoma diagnosis is often made late in the disease course, as early cases of glaucoma are usually asymptomatic. As the disease advances, peripheral vision will be lost, but central vision will be preserved until the very late stages. As this process is gradual patients will often fail to notice any changes until the disease becomes extremely advanced causing central vision reduction. For this reason, glaucoma is often referred to as the 'silent thief of sight'.
Subsequently, more than half the patients with glaucoma in the developed world are unaware of the disease.5 Even in Australia, where the standard of optometry is regarded as very high, the Melbourne Visual Impairment Project found that half of the patients with POAG had not been diagnosed previously (Figure 3).6
The NHRMC guidelines recommend glaucoma screening should begin at age 50, five to 10 years earlier if there is a positive family history or if the patient is of African descent.2 These guidelines are based from evidence that prevalence of glaucoma increases significantly with age. Data from the Melbourne Visual Impairment Project and the Blue Mountains Eye Study found the prevalence of glaucoma in the 0–39 and 40–44 group to be 0.00 per cent (Figure 4).6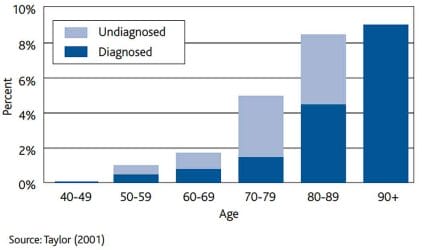 Figure 3. Source Taylor (2001)
DM is an anomaly – he does not even register as a statistic. We, as optometrists, are evidenced-based practitioners, and the evidence suggests that DM is not at risk of glaucoma. However DM is not a statistic, he is an individual, a father, at the prime of his working life, and he will probably go blind.
The progression rate of glaucoma is halved in treated patients compared to untreated patients1 so if DM's disease had been detected earlier, he could have been spared much of the vision he has already lost.
Jessica Chi is the director of Eyetech Optometrists, an independent specialty contact lens practice in Melbourne. She is the current Victorian and National President of the Cornea and Contact Lens Society, and an invited speaker at meetings throughout Australia and beyond. She is a clinical supervisor at the University of Melbourne, and has served on the continuing education committee for the Australian College of Optometry and the Therapeutics Advisory Board for the Optometry Association of Australia.
Optometry in Australia
Recently, there has been much discussion around government funding of optometry in Australia. Government cuts have seen patient eligibility for comprehensive eye examinations increase from two to three years for patients under 65 years of age, a 5 per cent reduction in the Medicare Benefit Schedule and a five-year freeze on the indexed amounts.
This has been disappointing to the optometry community, especially for those who choose to entirely bulk bill consultations. The reaction by optometrists has been mixed. Most have continued to practise as previously, by either increasing the cost to the patient or wearing the cost, while there may be some who reduce testing during examinations or increase the time frame between appointments.
Hopefully this case, and others like it, will highlight the importance of screening and monitoring the ocular health of our patients. The focus should always remain on the patient, regardless of other pressures.
References
1. Leske MC, Heijl A, et al. Factors for glaucoma progression and the effect of treatment, The early manifest glaucoma trial, Arch Ophthalmol, 2003:121:48–56.
2. Australian Government National Health and Medical Research Council Guidelines for the screening, prognosis, diagnosis, management and prevention of glaucoma 2010.
3. Lichter P, Musch D, et al. Interim clinical outcomes in the Collaborative Initial Glaucoma Treatment Study comparing initial treatment randomized to medications or surgery, Ophthalmology, 2001;108:1943 53.
4. AGIS Investigators. The Advanced Glaucoma Intervention Study (AGIS): 7. The relationship between control of intraocular pressure and visual field deterioration, Am J Ophthalmol 2000;130(4):429–440.
5. Quigley H. Number of people with glaucoma worldwide, Br J Ophthalmol, 1996:80:389–93
6. Wensor M, Taylor H, et al. The prevalence of glaucoma in the Melbourne Visual Impairment Project, Ophthalmology,1998:105: 733–9.