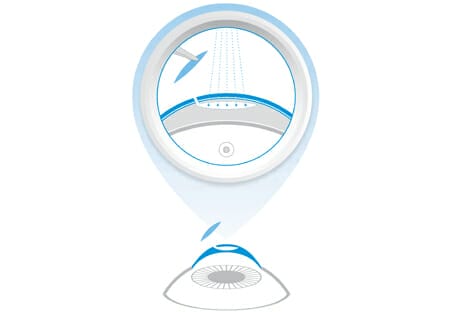 SMILE – Small Incision Lenticule Extraction procedure – has now been performed more than 500,000 times by over 800 surgeons worldwide.
Originally conceived as keratomiluesis by Dr. Jose Barraquer, who is known as the "Father of modern refractive surgery," this procedure can only be performed with Zeiss VisuMax.
SMILE was launched in 2011 however it took a few years, and a number of refinements to surgical techniques to gather momentum. As a result, 175,000 of the total 500,000 procedures have been performed during the last 12 months alone.
According to Katherine Napier, Business Development Manager Medical Technology Business Group at Zeiss, the eyes of patients who undergo SMILE refractive surgery tend to be less itchy and less watery than those that undergo LASIK.
the eyes of patients who undergo SMILE refractive surgery tend to be less itchy and less watery than those that undergo LASIK
Speaking of SMILE, Dr. Frank Howes, the first surgeon in Queensland to adopt the technology said, "The Zeiss Visumax femtosecond laser has brought us the next generation of laser refractive treatment. Refractive surgery progression over the decades has moved from first generation PRK and ASLA, to second generation LASIK, and now the third generation – SMILE, with definitive superiority in safety and range of treatment. SMILE permits the extraction of a Munnerlyn measured lenticule, cut by fast gentle and smooth femtosecond technology, through a 3mm incision, vastly different to the 340 degree flap cut of LASIK. This single factor greatly improves the safety of the procedure, so much so that this procedure implicates the future of LASIK as a refractive procedure. Surface Ablation (PRK / ASLA) is likely to continue as the next in line procedure after SMILE with LASIK falling much lower in the refractive surgery indication profile."
Contact: Zeiss Account Manager