Driving has become essential to modern day living. With the increased number of cars on the road, average commute times are lengthening, which means the time spent driving is also on the rise. Good eyesight is essential for safe driving – even a small loss of vision can affect the ability to read road signs or recognise objects from a distance.
As eye care professionals it's our role to not only diagnose but also educate our patients on the importance of vision and, in this case, how essential good vision is for driving with safety.
So what do patients need to know about vision and safe driving?
Approximately 90 per cent of the information we use when driving is gathered by our vision. Other senses such as hearing, touch, feel, balance and smell provide the remaining information. Road crashes are a leading cause of death in Australia. When it comes to driving safely, patients need good visual acuity, peripheral vision, depth perception and colour vision. For this reason, drivers of commercial vehicles have vision standards for driving which are more stringent than those applied to private drivers.
good night vision is needed to see in low light and also to recover quickly from the glare of oncoming lights
Additionally, statistics have shown that good night vision is needed to see in low light and also to recover quickly from the glare of oncoming lights. Night vision typically deteriorates gradually from about the age of 40.
How Can You Help Your Patients?
Different groups of patients have different needs depending on the amount of time they spend driving and the lighting conditions they are exposed to.
A simple question to ask all patients is, "do you have an issue with sun glare or glare at night while driving?" This question will open a discussion on the advancement of new lens technologies that can assist with glare and make driving safer.
Parents who spend time in the early morning or late afternoon dropping children to sport will particularly benefit from glare reducing driver eyewear. Specialised driver eyewear should also be a priority for sales representatives, taxi and truck drivers, who spend long hours on the road.
How to Optimise a Patient's Driving Vision?
The first thing to establish, having maximised your patient's vision via refraction, is to identify the light conditions they will mostly be exposed to i.e day time, dusk or night driving.
Day Time Drivers
Day time drivers are exposed to direct sun glare as well as reflected light from window glass, the car bonnet and road surfaces. Polarised lenses provide improved contrast sensitivity, allowing drivers to more quickly see a child, bicycle, pedestrian or car in the shadows of trees or buildings.
Standard photochromic lenses do not work as well for driving because the UV rays which activate the photochromic molecules are absorbed by the car's windscreen.
However, drivewear technology polarised photochromic lenses are activated by both UV and visible light, which allows the lens to darken in a car, with a response proportional to the brightness levels encountered. This makes these lenses ideal when driving in variable light conditions.
Dusk and Night Time Drivers
Driving at dusk and night time results in reduced contrast and light levels. Pupils dilate between four and 7mm and any minor refractive error will no longer be masked. Because of this, drivers may complain about a lack of visual comfort and confidence during dusk and night time conditions. Optimising the prescription and conducting the refraction in a darkened room will assist in identifying this. Choosing anti-reflection coatings and optimising the prescription will greatly improve the safety of your night time drivers.
Lens Designs
Customised lens designs such as aspheric designs and customised progressive lenses provide technological advantages that can also optimise driver safety. For example, Zeiss has developed a range of spectacle lenses which claim to provide sharper vision with better colour and contrast perception to assist driving.
Today we have more options and technologies at our disposal than ever before to make our patients safer on the road. Asking the right questions, identifying the patient benefits and prescribing a solution which will help make driving safer and more enjoyable is part of our responsibility and duty of care.
Jim Papas is an optometrist with extensive experience in contact lenses. A practice partner of eyeclarity, he is an expert in retail, business strategy and brand development. Jim has won multiple awards for customer service and commercial innovation, including the 2015 Australian Retail Innovator of the Year award. His Melton eyeclarity practice won The Melton Business Excellence Award for the best Retail Business for 2016.


Hastings Optical
The Drive 21 progressive lens design features: a wide clear area of binocular vision in the distance; adjusted power distribution for driving; a wide corridor and soft transitions for comfortable driving vision; low values of unwanted astigmatism to improve dynamic vision; high precision and high personalisation with Digital Ray-Path Technology; clear vision in every gaze direction; and a corridor length of 20mm.
Also available for driving is a distance biased multifocal, alpha H65, available in minimum fitting heights from 14mm to 20mm to fit any frame size.
Available in all indexes including Transitions, Polarised and DriveWear.
Contact: Hastings Optical (AUS) 02 6584 3577


Tokai
Driving at night is easier with the Tokai Night Drive Lens. Made from a new 1.6 lens material it blocks wavelengths of light that produce glare while selectively transmitting wavelengths around 510nm which we need for night visibility. For day time driving Tokai has an extensive range of polarised and transition lenses.
Contact: Tokai (AUS) 07 3012 9422

Zeiss DriveSafe Lenses
The Zeiss DriveSafe Lens portfolio is a new lens product category for daily use. Zeiss DriveSafe Lenses have been specifically designed to meet the visual needs of wearers who want to feel safer and more comfortable when driving with their everyday lenses. Zeiss
DriveSafe Lenses are available in both single vision and progressive
lens designs.
Contact: Zeiss Account Manager

Transitions
With most windscreens filtering UV rays, photochromic lenses do not typically activate in cars. However, Transitions XTRActive lenses – the darkest everyday lenses in the Transitions range – react to both UV and visible white light, providing moderate activation and glare protection behind the wheel.
Contact: Transitions Account Manager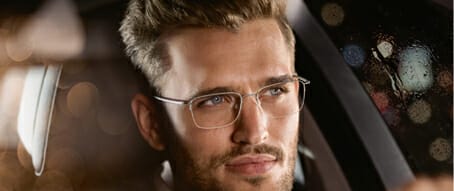 Rodenstock
Every driver knows their vision can be restricted in the event of heavy rainfall, fog or snow. Driving at dusk with the glare of oncoming headlights also poses a real challenge for many people.
Coming soon from Rodenstock is Rodenstock Road – a new lens solution for drivers that will enhance road safety with specially developed single vision and progressive lenses.
Contact: Rodenstock (AUS) 02 9748 0988

Essilor
When it comes for drive wear, the Essilor group has a broad range of lenses to suit your patients' needs:
Transitions Xtractive lenses deliver the most comfortable vision, darkening even from behind the windshield. These lenses are available in three colours with Varilux S.
Xperio polarised lenses block intense glare from reflections on the road. According to a Essilor, a study found that the reaction time of drivers wearing Xperio was improved by one third of a second, which mean a vehicle could be stopped seven meters faster at 80km/h – the length of an intersection.*
Dominant eye technology used in Varilux S3D and Varilux S4D favours the leading dominant eye: wearers experience gaze shifts that are so quick and automatic, vision is truly reflexive.
Contact: Essilor Account Manager


Hoyalux iD MyStyle V+
Hoyalux iD MyStyle V+ is a fully personalised progressive lens design
that considers the right and left prescription as individual components when calculating the required binocular lens design.
Unique Binocular Harmonisation Technology ensures the correction is appropriate at every point of the lens, according to the exact requirements of each eye.
Hoyalux iD MyStyle V+ offers each wearer crystal clear vision in a split second, putting everything in instant focus, and can even be tailored specifically for someone who may spend hours behind the wheel, offering the clearest and most stable vision possible.
Contact: Hoya Account Manager
Reference
* Survey lead by an independent third party in the USA in 2009, measuring survey contrast sensitivity and reaction times with polarised and tinted lenses in a driving environment.

Prizm Technology
Oakley Prizm™ lenses is a revolutionary technology that enhances detail for optimised performance. They provide unprecedented control of light transmission resulting in colours precisely tuned to maximise contrast and enhance visibility.
Contact: Oakley (AUS) 03 8598 3100