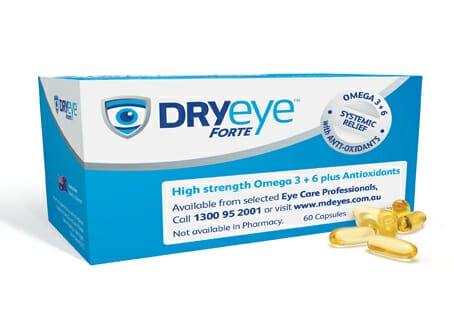 DRYeye Forte is a patented high strength dry eye capsule that provides systemic relief and anti-inflammatory support for dry eye patients.
Working from the inside out, this science-based soft-gel formula contains EPA and DHA from premium concentrated fish oil, GLA from Borage oil, Vitamin D3, Vitamin E and the powerful antioxidant gamma-Tocopherol. These high quality ingredients help target the root causes of dry eye and support a healthy tear film by providing important nutrients that cannot be easily obtained from diet alone.
DRYeye Forte is ideal for dry eye conditions including those associated with Blepharitis, MGD, Sjögren's syndrome, contact lens wear, environmental factors and LASIK surgery. Affordably priced for patients, DRYeye Forte is not sold in pharmacy or grocery stores and generous wholesale pricing is available to support your practice. MD EyeCare is a proud sponsor of Optometry Giving Sight, The Eye Surgeon's Foundation, and Sight for All. All products are Australian owned and made in a world-class manufacturing facility.
Contact: MD Eyecare (AUS) 1300 952 001 or (NZ) 0800 443 652