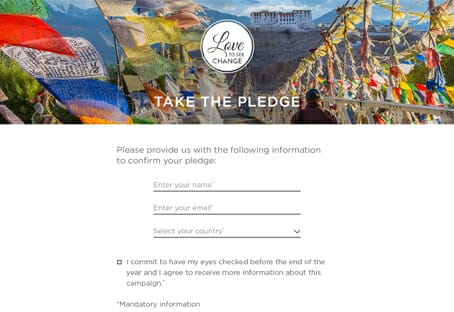 Essilor Group has announced its continued support of World Sight Day (October 13), pledging to donate $1 for up to 100,000 people worldwide who commit to having their eyes checked. World Sight Day is an annual event set up by the World Health Organization in 1998 to draw international attention to visual impairment issues.
Funds raised by Essilor's 'Love to See Change' campaign will contribute to a selection of initiatives aimed at bringing good vision to underprivileged or underserviced populations around the world. People who make the pledge to have their eyes checked will be able to choose the initiative they want Essilor to support on their behalf. The campaign starts on World Sight Day and will last until end of the year.
Poor vision is the world's most widespread and underestimated disability. It affects 2.5 billion people worldwide, and according to the WHO, costs the global economy $227 billion each year in lost productivity among adults who need eyeglasses.
As well as raising money to support vision initiatives, Essilor hopes the "Love to See Change" campaign will raise awareness of the importance of regular eye checks and of the global public health issue that uncorrected refractive error represents.
"Essilor is committed to see change for the 2.5 billion people in the world who are not yet equipped with the vision correction they need by developing new business solutions and supporting strategic philanthropic initiatives," said Jayanth Bhuvaraghan, Essilor's Chief Mission Officer. "Through this pledge, we hope to encourage everyone to commit to love their eyes, spread the word and join us in creating the change that is needed for the whole world to see clearly."
The campaign is supported by a dedicated website: www.lovetoseechange.com, available in six languages, which enables people to take the pledge and choose the initiative they would like the Essilor Group to support on their behalf.
Essilor Group will run a number of other fundraising events on World Sight Day, including free eye checks in various public locations across some forty countries to raise public awareness on the importance of good vision for all.
[/vc_column_text][/vc_column]