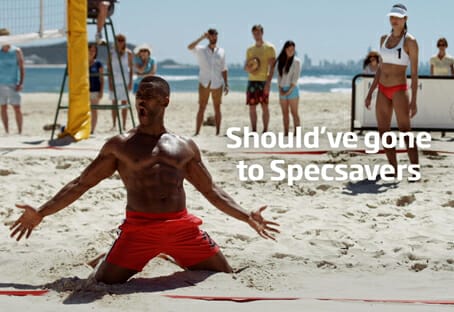 Specsavers has been recognised at the 2016 Franchise Council of Australia 'Awards for Excellence', winning the 'Excellence in Marketing' award for 2016. The award recognised Specsavers' outstanding 'Beach Volleyball' marketing campaign initially launched by the franchise in December 2015.
The campaign, filmed in Queensland, features a beach volleyball player who mistakes a seagull for the volleyball with predictable consequences. The submission noted that the computer generated images of the seagull were used to create the stunning visual effect and heart-stopping moment that grabbed the audience's attention – and had a significant impact on sales.
The initial campaign was backed by a AU$2 million media spend including TV, video-on-demand and digital media as well as a 12-page catalogue distributed to 2.3 million homes.
After collecting the award at the Canberra awards dinner on Tuesday 11 October, Specsavers Marketing Director Stewart Roussel paid tribute to Specsavers "six hundred optometry and retail store partners who have started up a Specsavers business since we launched in 2008. Their faith in our ability to build the Specsavers brand in Australia and New Zealand has allowed us to produce campaigns such as this – combining humour and very clear messaging to positively impact sales and ultimately, franchisee profitability. A big thank you goes to them from myself and the whole Specsavers marketing team'.
This is the second time Specsavers has won the 'Marketing Excellence' category and the fourth year in a row Specsavers has won a prestigious FCA award, with 'Franchisor of the Year', 'Social Responsibility', and 'Franchise Innovation' awards also being received.
The award win comes two months after Specsavers was recognised at the Australian Retail Awards with the 'Retail Store Shopfit Award 2016' as the outstanding retail outlet design project in Australia over the past year.