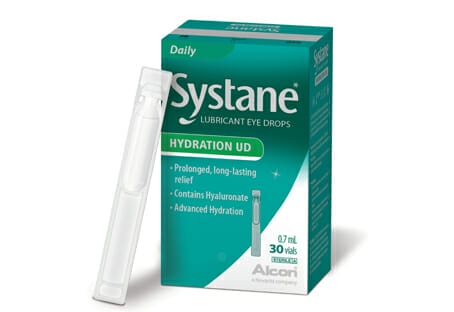 Alcon Australia has launched Systane Hydration Lubricant Eye Drops, a unique dual polymer formula containing hydroxypropyl guar (HP-guar) and hyaluronic acid (as sodium salt) which acts as a 'bandage' to allow restoration of the damaged ocular surface.
The combination of HP-Guar and hyaluronic acid as the sodium salt, (a naturally occurring compound of the body) attaches to cells on the corneal epithelium and entraps water for prolonged protection and hydration.
Systane Hydration Lubricant Eye Drops can be used for dry eye patients who need advanced hydration and lubrication, allowing for restoration of the ocular surface.
This addition to the Alcon Systane portfolio is available as a preservative-free unit dose.
Systane Hydration Lubricant Eye Drops can be used for dry eye patients who need advanced hydration and lubrication
Contact: Alcon Laboratories representative
References available upon request. 160110SYSHA NP4A21602434368