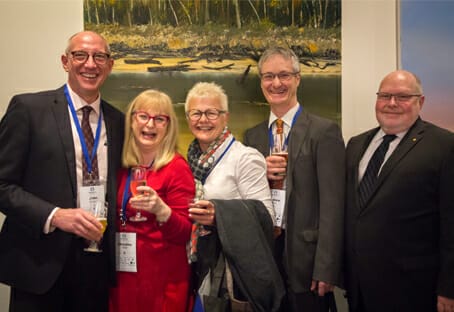 The 12th Tasmanian Lifestyle Congress (TLC) built on its previous successes with record numbers of delegates and exhibitors attracted to Optometry Tasmania's annual education event, many of them for the first time.
The decision to move the conference from the smaller Old WoolStore to the picturesque Hotel Grand Chancellor in Hobart was timely with a total of 131 delegates (up from just over 100 in 2015) eager to hear from lecturers that included Dr. Simon Chen, Professor Joanne Wood, Professor Bang Bui, Dr. Graham Lakkis, Narelle Hine and Margaret Lam. TLC once again included the Australian Low Vision Seminar with visiting New Zealand Low Vision specialist Naomi Meltzer as the keynote speaker.
Twenty-four companies exhibited, giving Tasmanian business owners and optometrists access to the latest in equipment technology. Among them were Menicon, Alcon, BOC, EyeQ Optometrists, Heidelberg and OptiqueLine.
CooperVision sponsored the contact lens breakfast and congress dinner, at which optometrist Andrew Maver was awarded a AU$3,000 Tasmanian Optometry Foundation scholarship to support his attendance at the 12th International Low Vision Conference in The Hague in June 2017. Additionally, Susan Sluce was awarded a certificate of merit for her contribution to optometry in Tasmania and position as a director of the Tasmanian Optometry Foundation.
You'll pick up the skills easily, all you need is the confidence to get underway
Indepth Lecture Program
Optometry Tasmania's Congress Program Director, Andrew Hogan, said this year's line-up of speakers presented an impressive depth of information with important key messages. "Margaret Lam presented the Keith Mackriell lecture, providing an excellent overview of keratoconus management. Many optometrists feel daunted at the prospect of this area however as Margaret pointed out, it is not difficult to get started, it's just a case of understanding the basics. You'll pick up the skills easily, all you need is the confidence to get underway," said Mr. Hogan.
Professor Bang Bui delivered a fascinating presentation on glaucoma pathogenesis introducing the concept of measuring cerebral spinal fluid pressure and blood pressure as well as intraocular pressure. This was dovetailed by a presentation by Dr. Graham Lakkis who spoke about measuring visual fields. A second presentation by Dr. Lakkis broached the controversial topic of prescribing oral medications. Dr. Lakkis said many common eye conditions, which optometrists are able to diagnose, required management with oral medications, yet optometrists are not qualified to write the prescription. Dr. Lakkis pointed to many States of America where optometrists are qualified to prescribe oral medications and said this was an international precedent local optometrists should aspire to.
Dr. Simon Chen presented two well-received lectures, the first on the power of smartphones for ocular photography. Dr. Chen said he no longer used high end equipment for anterior segment imaging, preferring instead to take the images – and even video footage – using his iPhone through a slit-lamp. Mr. Hogan said this presentation was fascinating. "It was as much a presentation about anterior eye conditions as it was about how to take the images," he said. A second lecture by Dr. Simon Chen covered the topic of ocular trauma, and commenced with gruelling images of a patient who had been shot with a harpoon gun. Dr. Chen told the story of the gun piercing the patient's eye, brain and sinus. "We saw images of Simon operating on the eye, a neurologist operating on the patient's brain and an ear nose and throat surgeon operating on the patient's sinus," said Mr. Hogan, adding that only Dr. Chen's humourous presentation style could lighten the moment.
Farewell to Geoff Squibb
TLC was a chance for Geoff Squibb, outgoing CEO of Optometry Tasmania to say his farewells to the many Association members and suppliers to the profession he has come to know over ten years in the role. Mr. Squibb said optometry in Tasmania had been strengthened over ten years with most optometrists in the State now registered with Optometry Australia and the majority having therapeutic qualifications. He said although the arrival of corporates had changed the face of optometry it had also broadened the business for practices through awareness activities. To his knowledge, just one independent optometry practice had been established in Tasmania in the past decade, numbers of optometrists practicing in Tasmania had increased from 62 to 84 during his tenure as CEO.
Mr. Squibb welcomed his successor, Johnathon Jones to the role of State Manager, Optometry Tasmania.
TLC 2017 will again be held at the Hotel Grand Chancellor on August 25 – 27, 2017.