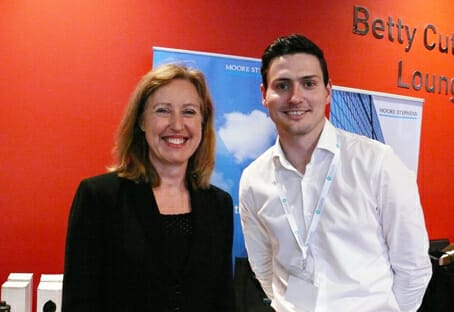 The Australian College of Optometry welcomed a record number of optometrists to its national conference at the Melbourne Cricket Ground.
Each year, the Australian College of Optometry's (ACO) national conference delivers an independent education program presented by leaders in the field to facilitate the latest clinical knowledge that supports high standards of patient care. This year, a broad cross section of optometry topics attracted a larger number of delegates than in previous years with participants coming from outside Victoria and also from overseas. Feedback from delegates was extremely favourable with one participant describing the experience as "an excellent, well-rounded conference with high quality speakers."
Speakers
Hobart-based ophthalmologist Associate Professor Nitin Verma AM, delivered Saturday's keynote address. This philanthropist and (former) recipient of 'Hobart's Citizen of the Year' related anecdotes from his professional odyssey that included numerous global destinations.
[/vc_column_text][/vc_column]
Associate Professor Nitin Verma AM… related anecdotes from his professional odyssey
Dr. Joseph Reich – whose literary prowess and artistic flair complement his ophthalmological skills – alerted delegates to ophthalmic conditions that warrant immediate attention. He also allayed fears when confronted with certain problems that are seemingly urgent, but do not necessitate referral.
Associate Professor Alice Pébay from the Centre for Eye Research (CERA) affirmed awareness of CERA's place at the forefront in the field of stem cell research to treat some debilitating visual diseases. Alice cautioned against extreme optimism, but left delegates confident about future developments.
Dr. Simon Skalicky drew upon his clinical expertise in glaucoma, his academic appointments and his role on the Expert Advisory Panel for Glaucoma Australia to acquaint delegates with the most effective medications and innovative techniques to treat the insidious pathological disorder.
Elective Sessions
Two concurrent elective sessions offered attendees the chance to listen to Dr. Dermot Cassidy's clinical experience about the differential diagnosis of hyperaemic eyes or A/Professor Verma initiate the exchange of very interesting views about retinal vascular diseases.
Rachel Holden, an optometrist who is also an accomplished comedian, had the audience in raptures during her breakfast session on Sunday morning. Rachel recounted her fascinating journey from Winnipeg to Darwin to Adelaide with plenty of other interesting destinations along the way. She certainly reinforced the notion that laughter is the best medicine.
Dr. Heather Mack, Head of the Visual Electrophysiology Laboratory at Eye Surgery Associates, delivered Sunday's keynote lecture. Heather successfully managed to demystify the complex topic of electrodiagnostic imaging and explain how it can be incorporated into clinical practice.
Dr. Ming-Lee Lin explored the extremely relevant issues that relate to the role of immunology in combatting ocular disease and the necessity for its adequate regulation.
A/Professor Verma's final address on Sunday afternoon considered a variety of cases that revealed the importance of thoroughly taking a patient's history, intently listening to symptoms, carefully searching for signs that are not immediately obvious and closely monitoring subtle changes.
Associate Professor Wilson Heriot delivered the closing lecture on visual loss, covering subjects that included the management of central retinal vein occlusions, vitreous traction and macula holes.
Collaborative Care Symposium
Chris Katopodis, Dr. Donald Collie and Dr. Morton Rawlin revisited the theme of collaborative care when they explored the constructive ways that an optometrist, ophthalmologist and general practitioner can participate in the enhanced management of patients. Roman Serebrianik, Head of Primary and Specialist Eye Care Services at the Australian College of Optometry, led a discussion session between the speakers and members of the audience which generated an active discussion.
ACO Innovations
The ACO took the opportunity to introduce some respected staff members at the event. Dr. Adrian Bruce, Lead Optometrist, Contact Lenses at the ACO, facilitated a discussion which showcased the multifaceted role of the ACO. Ho Wah Ng, Manager of Visual Functions Clinic, illustrated the ACO's commitment to collaborative clinical management of contact lens patients at the Eye and Ear Hospital. Dr. Josephine Li, Manager of Community Eye Care Services at the ACO, discussed the ACO's public health ethos by discussing the provision of optometric services to patients who cope with different forms of intellectual disability. Professor Michael Ibbotson, Director of the National Vision Research Institute, described some interesting projects that are being undertaken at the National Vision Research Institute, such as the bionic eye.
The ACO was once again represented by two leading staff members – ACO's Director of clinical services Assoc. Prof. Sharon Bentley and lead optometrist of low vision services Mae Chong. During their elective sessions, they filled attendees with awe as they described in detail the range of innovative electronic visual aids and mobile phone apps. These devices offer significant assistance to patients with clinically low vision.
Supported by major sponsor Moore Stephen, exhibitors at the ACO's conference included Designs for Vision, Device Technologies, Good Optical, Opticare, Tomato Glasses, Guide Dog Victoria, Vision Australia and Pacific Vision. Delegates were able to network, build partnerships and review the latest equipment during the breaks and the Saturday cocktail hour which followed the day's sessions.
The ACO is already planning for the 2017 conference, stay tuned for more details.