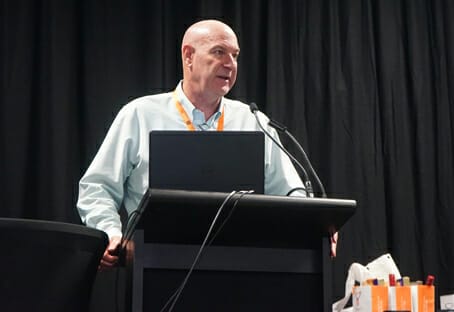 Educational keynote speakers, industry forums, and the fun of a team-building scavenger hunt… there was a lot packed into one-and-a-half days at the 9th Eyecare Plus National Conference on the Gold Coast in October.
While the official title of the conference may have been "elevate", the strong sub-theme was change.
After kicking off with an AGM Dinner on the first evening of the conference and an official welcome from Eyecare Plus Chairman Justin Durkin, the conference sessions began with an Optometry Leader's Forum, chaired by MC Adam Spencer, on the subject of "Today and Tomorrow: The Optical Industry".
Justin Durkin, Eyecare Plus Deputy Chair Dale Rolfe, Optometry Australia CEO Genevieve Quilty, Essilor's Craig McFarlane and John Bartlett had discussions around key topics in optometry today. The message from the leader's forum was that change is occurring quickly and optometrists need to think about Medicare, competition, marketing, technology and supply chain options. Ms Quilty answered questions regarding health fund rebates, while Mr McFarlane and Mr Bartlett provided perspective from the global optometry market.
… the goal posts have moved. You either move with them if you want to stay relevant, or you lose relevance
Retailing coach Kevin Hennah picked up on the theme of change with his keynote presentation on Rethinking Retail. Using a plethora of slides to illustrate the best and worst of retailing practice, Mr Hennah challenged conference participants to maintain their relevance.
"The internet has moved the goal posts, yet many businesses are still kicking in the same direction… the goal posts have moved. You either move with them if you want to stay relevant, or you lose relevance. It is that simple.
"Change is inevitable. It comes down to how you respond to it," Mr. Hennah said.
Romancing the Customer
An expert on coaching businesses to increase sales and customer numbers through merchandising strategy, innovative use of space and sales driven store design, Mr Hennah worked with The Body Shop in the 1990s, and has consulted with leading international brands and small businesses since 1999.
He challenged Eyecare Plus members on five key points: creating a strong, memorable brand; using interesting and creative window displays; using visual merchandising and store layout to make profit; paying attention to detail and creating an experience that is worth talking about.
Mr. Hennah said optometrists should avoid the "me too" approach and find inspiration not from competitors, but from other unrelated industries. He said retailers needed to "romance" the customer, drawing them into the store and providing an experience.
While this took time and planning, it was something that could be achieved by small independent businesses, and not just something left to large corporations, he said.
Business advisor and commentator Damian Morgan led a forum profiling successful case studies from within the Eyecare Plus family. Soojin Nam talked about the development of her Eyecare Kids brand as an example of niche marketing. Andrew Greer discussed how he turned his practice profit around after Specsavers opened in Tamworth, with a huge commitment to marketing spend. Nick Hansen has also had increased competition in Orange but has managed to keep ahead by building his brand and standing out by offering behavioural optometry services. After attending a High Performance Symposium, Glenn Vessey became motivated to start marketing his practice and has not looked back. Sara Black explained how renovating her practice enabled her to increase her new patient ratio, despite being in a shopping centre that has every major corporate competitor.
Picking up the conference subtheme of change was the second keynote speaker, Holly Ransom, CEO of Emergent, who provided conference goers with insights into how millennials work and think – or, to put it more bluntly "how crusty old optometrists can work with bright young things".
Millenials Pick up the Pace
Businesses, she said, needed to recognise that workforces were changing and becoming increasingly casualised with people taking on "portfolio careers", working at a number of places and locations, or wherever there was an internet connection.
People want flexibility and agility, Ms. Ransom said, and how small businesses adapt is an important consideration to not only hiring people but to keeping them in the medium to long term.
The pace of change had its own challenges, she said. Ms. Ransom told that conference that it took 75 years for the new technology of the telephone to reach 50-million people. Television took just 13 years to reach 50-million people. By contrast, Facebook had 50 million users after just 18 months, and Pokemon Go reached the 50-million mark in just eight days.
She said the pace of change flowed through into the expectation that millennials have in other areas. Younger consumers have short attention spans, they want feedback quickly and they want things digitally.
Millennials were the trendsetters, she said, but older generations followed. What millennials pick up become the new norm within 18-36 months.
Ms. Ransom said it was important to engage with millennials on their terms and not expect them to conform to traditional ways of doing things.
She said understanding the differences in generations is the key to a productive and harmonious work place.
And the Winners are…
As part of its annual conference, Eyecare Plus announced the winners of its three major awards: the Sales Growth Award, the Most Efficient Practice Award and the Best Practice Award.
The Sales Growth Award is based on percentage growth for the past financial year compared to the prior financial year. Finalists were Eyecare Plus stores in Hillsdale Mulgrave, Cronulla and Beenleigh. The winner was Eyecare Plus Eastgardens.
The Most Efficient Practice Award is based on sales per full time equivalent optometrist for the previous financial year. The finalists were Eyecare Plus stores in Wilsonton, Alexandra Hills, Raymond Terrace and Wagga Wagga. The winner of the Most Efficient Practice was Eyecare Plus Charlestown.
The Best Practice Award is based on practice accreditation scores for the previous financial year. Congratulations to the winner, Eyecare Plus Jesmond, with finalists from Eyecare Plus stores in Miami, Toronto, Lake Munmorah and Buderim.