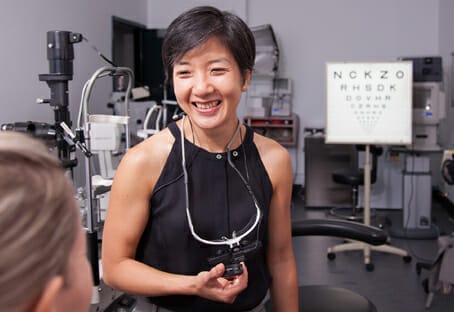 Associate Professor Lyndell Lim from The Centre for Eye Research Australia (CERA) is one of five recipients of the 2016 Ramaciotti Health Investment Grants.
These grants, worth up to $150,000, are awarded to early career scientists to support translational health or medical research with a path to clinical application within five years.
Associate Professor Lim leads the Clinical Trials Research Centre at CERA. Her main research interests are clinical studies in the field of uveitis and ocular immunology, and diabetic retinopathy. Her team runs both investigator initiated and sponsored clinical trials that aim to find new treatments for a variety of ophthalmic disease.
Associate Professor Lim received a grant for research that will improve cataract surgery outcomes in patients with diabetic macular oedema.
Cataracts and diabetic retinopathy are leading causes of vision loss in Australia
"Cataracts and diabetic retinopathy are leading causes of vision loss in Australia and both conditions often co-exist," said Associate Professor Lim.
"Determining the best treatment for patients with diabetes-related eye disease undergoing cataract surgery is a vital area for research and I am thrilled to have been awarded this grant," she said.
Previous Ramaciotti Award winners have developed the world's first cervical cancer vaccines and the Cochlear implant. These awards highlight the significant impact that philanthropy can have on the wellbeing of millions of people.
The Ramaciotti Foundations are among the largest private contributors to biomedical research in Australia and have provided essential support to some of the nation's most remarkable scientists since 1970.
Professor Derek Hart of The University of Sydney led the Ramaciotti Scientific Advisory Committee which directed Perpetual, the trustee of the Clive and Vera Ramaciotti Foundations, in selecting the recipients.
Professor Hart said: "We had an extraordinarily difficult time selecting from the outstanding array of applicants. The five projects chosen are expected to make a major contribution in translating novel preclinical advances into clinical practice."
"We look forward to seeing the impact of the grants on these significant research undertakings."
This year's medal and grants bring the total funds distributed by the Ramaciotti Foundations to over $57 million since 1970.