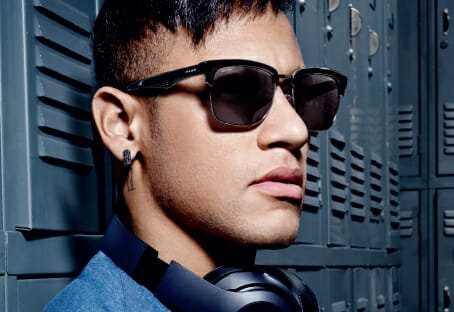 The Italian lifestyle brand Police is synonymous with daring, metropolitan street style. Thirty-three years young, this bold and defiant brand is remains a family owned brand and its sunglasses and spectacles are distributed to 100 countries worldwide.
The Police brand is a rare example of an international eyewear brand that has been owned and driven, right from the start, by a family company. The De Rigo brothers – Ennio and Walter – founded their first eyewear company, De Rigo Vision, in 1978 in the Belluno area, the cradle of Italian fashion eyewear. In 1983 they launched Police, which sits alongside a stable of house brands including Lozza, Sting and Lozza Sartoriale as well as international fashion brands such as Furla, Escada, Lanvin, Dunhill, Nina Ricci and Chopard.
Although Italian through and through, the Police brand is inspired by the strong urban spirit of America, and in particular New York City. Over the years, Police frames have been worn by ambassadors including Bruce Willis, George Clooney, David Beckham, Antonio Banderas and the Brazilian football star, Neymar JR.
Police Icons
Iconic Police frames include the Glory and Neymar Jr. Glory, with blue mirror lenses and a distinctive double profile around the lenses, is a classic aviator sunglass and an iconic Police model. Both the blue mirror lenses and the double profile are signature design elements of Police sunglasses in the late '80s and early '90s. The futuristic Neymar JR was released in 2014. This sunglass features a double colour finish applied to the temples, the front piece and the lenses. Police was one of the first brands to introduce these particular split colour lenses (called DUO lenses) to the mass market. The design is completed by shiny metal decorations on the front piece and double bridge.
Offering a modern and innovative new take on these elements was the key to creating a distinctive new collection
The 2017 Collection
The 2017 Police collection of sunglasses and spectacles is the first to be designed by De Rigo Vision's new Creative Director Enrico Furlan. It's a collection that, as you'd expect, embodies the brand's strong heritage while anticipating new trends.
Speaking of the approach he took to his first collection, Furlan said, "I wanted to begin my work by examining the distinctive features of Police that have underpinned the success of the brand since the 1980s," he said. "Offering a modern and innovative new take on these elements was the key to creating a distinctive new collection that remains consistent with the Police world, reflecting its bold and daring character."
Furlan, who also works in close contact with the licensing partners of Police watch, jewellery, perfumes and small leather goods lines, has an in-depth knowledge of eyewear. For over 15 years he worked for companies in the business such as Filos-Metzler and Safilo, for fashion brands such as Prada and, most recently, for over seven years at Dolce and Gabbana, where he was Eyewear Design Manager.
"I developed the new Police collection in accordance with three main guidelines: a strong brand identity, represented by every single product in the collection via a series of highly distinctive elements; notable attention to detail, with high levels of research even in the most straightforward models, and a clear stylistic positioning in four clusters, in accordance with the target."
He described this target as men, women and juniors with "a genuine, daring, original, urban and fashion conscious approach".
A Clear Influence
Furlan's influence is immediately evident in the new models. The men's collection has been completely refreshed and remodelled. Masks and models with ultra-flat lenses are joined by more traditional frames with temples that stand out for their highly innovative construction and materials; the details inspired by Police's heritage express the brand's modern new personality and are a source of additional value.
The women's collection has also been revamped with the brand's new logo and a touch of real femininity. In an explosion of gutsiness new and oversize shapes have been explored, along with camouflage and floral colours, as well as temples in glitter-effect rubber.
Consistency across the brand is important to Furlan who said as a general principle, design concepts applied to sunglasses are also applied to optical ranges.
When it comes to manufacturing, much of the Police collection is produced in De Rigo's homeland, while some styles are made elsewhere. Contemporary materials are a given, including memory titanium alloys (elastic memory) – an extremely lightweight, flexible titanium alloy that 'memorises' the original manufactured shape and returns to it even after being bent – and PEI, a high performing resin, with low weight, high flexibility and resistance to heat and bending. In the industry PEI is called "the titanium of the plastics".
The 2017 Police collection, designed by Furlan, was unveiled at Silmo in Paris during September.
Police is distributed in Australia by De Rigo Vision (formerly L'Amy). Contact: (AUS) 02 9428 1500.