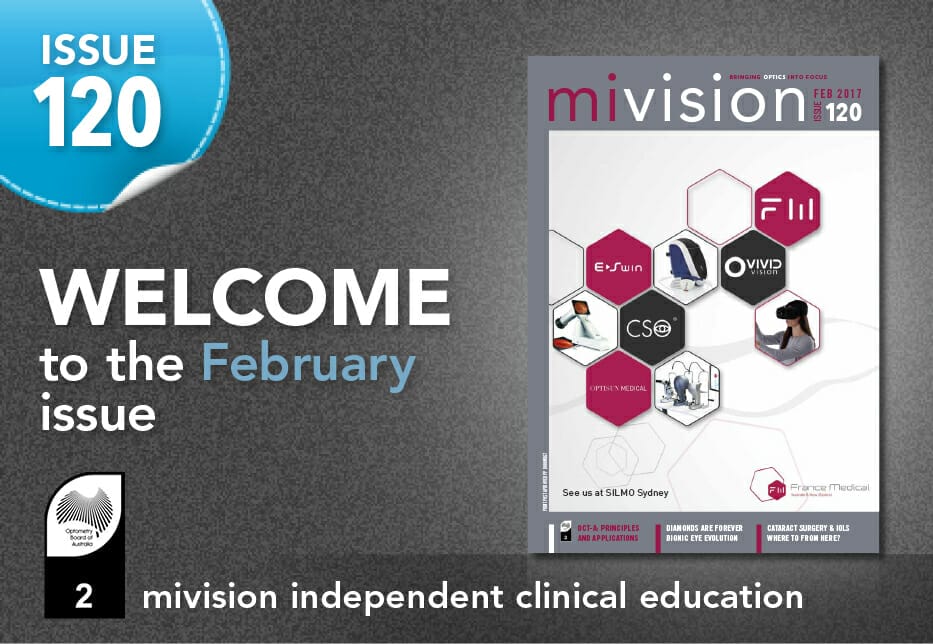 Welcome to the first issue of mivision for 2017.
Australia is an extraordinary country, with an eye care sector absolutely committed to improving global eye health as evidenced by the recent announcement that Brien Holden Vision Institute has joined Microsoft and other global universities to form the Microsoft Intelligent Network for Eyecare (MINE). This collaboration will apply artificial intelligence to help eliminate avoidable blindness. You can read about it in our lead news story.
Equally exciting is progress on a diamond bionic eye device underway via a partnership between National Vision Research Institute (NVRI), the University of Melbourne and a Canadian Australian start-up company i-Bionics. Melanie Kell spoke to Professor Michael Ibbotson from NVRI about this project for our lead story.
Our feature this issue is not for the faint hearted as Dr. Joe Reich delves into the history of ophthalmology. Did you know that ophthalmology was once practised at stalls on the outer edge of town fairs by barber surgeons? The barber surgeon's day job was to cut hair – medical treatment was a sideline.
If you're ready to get started on your CPD for 2017 we have the perfect entry point
If you're ready to get started on your CPD for 2017 we have the perfect entry point. Dr. Anmar Abdul-Rahman, describes the enormous potential for optical coherence tomography angiography to manage retinal and optic nerve vascular disease. Esther Euripidou writes our second education article on managing reluctant patients, specifically children with selective mutism, people with ommatophobia and those patients who really must face up to handing in their drivers' licence. Esther's article made me think back to my time with challenging patients and the importance of communication in the patient pathway. I learnt a few new terms too.
Our ophthalmology column this issue is written by specialist surgeons, Drs. Michael Lawless, Gerard Sutton and Dean Corbett who share their views on SMILE surgery, cataracts and IOLs.
For fashion this issue, we spoke to Hans Stepper, one of the statesmen of eyewear design who demonstrates his capacity to look forward with new strategies for success.
Achieving practice success often necessitates changing the behaviours of patients and/or staff. While challenging, it's not impossible, as long as the behaviours you're aiming to change require the least effort (for the subject) and generate the greatest return (for your practice). In this issue our business feature taps into the knowledge of global experts on behavioural change, among them Australia's own Adam Ferrier. It's well worth a read.
No doubt you are aware that last year mivision's founding editor and co-publisher, Mark Cushway stepped back to focus on his health. Mark, who lives with Cystic Fibrosis, was fortunate to undergo a double lung transplant just before Christmas. We're very pleased to let you know that following a grueling five-hours in surgery, he is well on the road to recovery, feeling re-energised and, with new lungs, very much looking forward to pushing the boundaries of life with his wife and daughter. As always, Mark has the Last Word in this issue.
Enjoy.