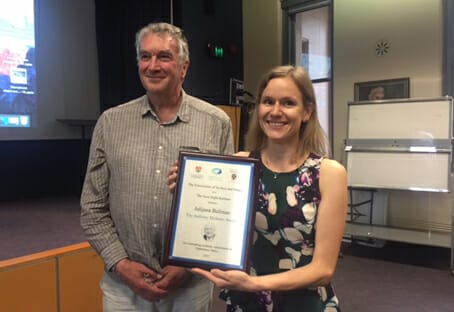 In December 2016, 18 students attended a two-week objective structured clinical examination (OSCE) course and were immersed in practical aspects of ophthalmic anatomy, physiology and optics. The annual Practical Ophthalmic Science Course includes students from the University of Sydney and the University of Otago. It was held at the Save Sight Institute and Sydney Eye Hospital.
With a theme of 'cutting edge basic science technology', students also presented on adaptive optics, OCT angiography, measuring the posterior cornea curvature, new biometry formulae, wavefront aberrometry and optic disc imaging. Basic sciences, wet labs, hands on tutorials and seminars with invited expert clinicians and scientists were included in this course. It forms one of the core units of study for the Graduate Diploma and Master of Medicine programme in ophthalmic basic science.
The next ophthalmic basic science practical course will take place at the University of Otago in Dunedin in July 2017.
Prof. Anthony Molteno Prize
The Molteno prize is one of three awarded to students enrolled in the aforementioned course, aimed at medical graduates seeking admission to the RANZCO training scheme and graduates from other scientific disciplines pursuing a career in the vision sciences. The majority of the course is taught online and consists of papers in three main topics, anatomy, physiology and optics.
There are three prizes available to students enrolled in the programme.
The Adam Lockett Award for Ophthalmic Anatomy
The Frank Billson Prize for Ophthalmic Physiology
The Anthony Molteno Prize for Ophthalmic Optics
The 2015 winner of the Molteno prize was Dr Julijana Baltinas. She completed her internship and residency at Sydney's Royal Prince Alfred Hospital (RPAH) and has moved to London to spend some time at Moorfield's Eye Hospital. She recently submitted the final part of her Master of Medicine (Ophthalmic Science) which is a research project on the clinical features and outcomes of patients with acute retinal necrosis. Her prize was presented to her by Associate Professor Gordon Sanderson from the University of Otago.