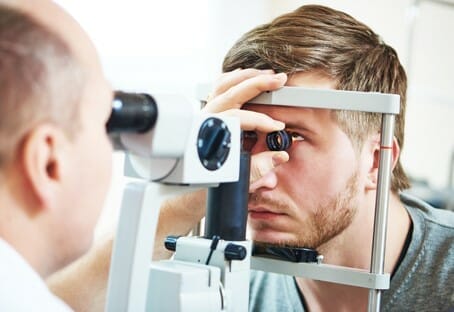 Men are more likely than women to neglect their eye health and eye safety, yet far more comfortable than women with the idea of gene therapy to correct conditions like colour blindness, according to reports recently released.
According to Optometry Australia, Medicare statistics reveal that of the 8.67 million optometric services provided in 2016, women received around 57.6 per cent of those services and men, 42.4 per cent.
Men between the ages of 45 and 74 years of age used the least level of optometric services (around 1.84 million services) compared to those provided to women in the same age group (around 2.40 million).
Optometry Australia's resident optometrist, Luke Arundel, said, "vision loss prevents healthy and independent ageing. When you consider 75 per cent of vision loss is preventable or treatable, having regular eye examinations with an optometrist is critical to having good vision for life."
Men Also Neglecting Eye Safety
Mr. Arundel said another eye health area in which men need to improve is eye safety, citing the fact that in 2016, men accounted for 83 per cent of the 11,078 of cases registered on the Medicare database in which optometrists removed a foreign body embedded in the eye.
"While more men than women may require this type of treatment due to male gender skews across certain occupations (in particular trades and labouring) and home duties such as maintenance, renovating and gardening, it does signal that Australians also need to be taking eye safety more seriously," said Mr. Arundel.
Men Favour Emerging Technologies
While they may not be so disposed to eye exams and safety eyewear, findings from the HCF Barometer Survey1 revealed that men seem to be far more comfortable with the idea of emerging healthcare technologies including personalised medicine and gene therapy than women. In fact, men are almost twice as likely to see the benefits of gene therapy outweighing the risks and are more in favour of using personalised medicine to treat illnesses than women.
The HCF Barometer Survey, which looks at how ready Australians are to welcome the future of health, asked specifically about attitudes towards testing an individual's genetic fingerprint to create personalised medicines, and altering specific DNA through gene therapy. The results reveal a stronger sense of optimism among Australian men, with women being more likely to consider the psychological and ethical implications.
Fourty-seven per cent of men said they would fix colour blindness with gene therapy, compared to 39 per cent of women. Of the 34 per cent of Australians who agree or feel neutral that the benefits of gene therapy outweigh the potential risks, men are far more likely to agree (41 per cent) compared to women (26 per cent).
And 29 per cent of men are more likely than women (17 per cent) to believe ageing is a disease that should be managed with new gene therapies.
Men are more in favour of using gene therapy to correct genetic defects in their children to prevent potential illness (47 per cent vs 36 per cent).
Interestingly, women are more likely to see the potential risks of personalised medicine, including unnecessary procedures in the healthcare system (48 per cent vs 39 per cent) and reduced quality of life or increased anxiety (41 per cent vs 31 per cent).
HCF's Chief Strategy Officer, Sheena Jack, said understanding how Australians feel about emerging healthcare technologies and how far they are willing to go to manage their health is important.
"It is interesting to note that we are divided across gender lines on some of the more contentious issues around the future of medicine. At the same time, it is also interesting to see the issues that we align on.
"For example, while there is a difference between the views of men and women about the benefits versus risks of gene therapy, we tend to come together and agree when there are clear long term health benefit of advanced medical treatments."
The survey also revealed that the cost of personalised medicine and gene therapy is an important factor for consumers. "One of the major concerns of Australians when thinking about the future of medicine is the rising cost of health and unnecessary procedures in the health system, which closely reflects current concerns about the healthcare system today. While it's impossible to predict exactly what the future of healthcare looks like, we will need to explicitly consider cost implications if new treatments such as personalised medicine and gene therapy are to be introduced more into health services."
Men's Health Week, 12 – 18 June 2017
Men's Health Week runs from 12–18 June 2017, making this the perfect time to encourage men and their families to have meaningful conversations about the factors that keep them healthy in body and mind.
References:
1. The HCF health Barometer ran between 13 to 18 October 2016 and includes data from 1,207 respondents to a survey.