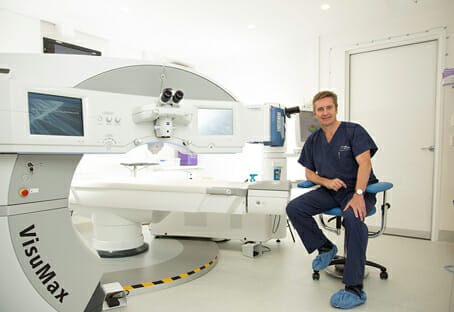 Last month marked the 20th anniversary of Vision Eye Institute's Chatswood practice – two decades characterised by some of the greatest advances in ophthalmology to date. The clinic's three founding partners – Dr. Chris Rogers, Clinical Associate Professor Michael Lawless and Professor Gerard Sutton got together to reflect on some of the key events that have taken place in this fast-changing industry, and to consider where this industry may be headed next.
Ophthalmology has come a long way in the past 20 years; significant and remarkable advances in technology, more informed patients and collaborative working relationships with optometrists and other health care professionals have all combined to advance patient outcomes.
According to Associate Professor Michael Lawless, one of the greatest advances in eye care has been in the evolution of diagnostic imaging technology.
"Access to these machines has given us greater certainty of patients' diagnoses and allowed a more targeted management approach," he said. "The clarity of detail today is just so much better compared to when I first started in practice. Now we can do back-to-front imaging, which enables us to more easily identify and address the disease process. Optical coherence tomography is a good example – it's been around for about five or six years and has become the standard tool for investigating retinal conditions. It's integral to any practice and provides a lot of metrics."
The big question is whether ophthalmologists will become obsolete
Professor Gerard Sutton said high-quality images have also been a game-changer in the delivery of ophthalmic services in developing nations, an aspect of the profession he and many of his colleagues are passionate about.
The Evolution of Laser
Another major advance has been the evolution of laser and interestingly, it was this technology that brought the doctors together in the first place. Having run solo practices in Sydney, Dr. Rogers and A/Prof Lawless joined forces to buy Australia's first excimer laser (with Dr. Peter Cohen) in 1991, which they initially had to set up at The Mater Hospital. Within the same week, Dr. Cohen, Dr. Rogers and A/Prof. Lawless performed the very first photorefractive keratectomy surgeries in Australia.
When Professor Sutton joined Dr. Rogers and Lawless, the partnership evolved into the Chatswood practice, became a world-renowned refractive centre and the milestones in laser continued.
A/Prof. Lawless was the first Australian surgeon to perform first-generation LASIK in NSW in 1995, while Prof. Sutton became the first Australian surgeon to perform LASIK with the Intralase femtosecond laser (2004) and the first Sydney surgeon to perform the third-generation procedure, SMILE (2014). "The technology keeps getting better so more and more people are getting their refractive errors corrected with laser," said Prof. Sutton.
However, it's not the excitement of discovering and introducing new technologies so much as the opportunity to change lives that drives the trio. According to Dr. Rogers, patients with cataracts have also benefitted greatly since the introduction of laser-assisted cataract surgery in 2011. "We bought the (Alcon) LenSx platform quite early on – our group was actually the fourth in the world and the first in the Southern Hemisphere to have this technology."
Indeed, in February 2011, A/Prof. Lawless was televised live in Budapest performing the first laser cataract surgery by an Australian (and only the third surgeon in the world to perform this procedure). "It was both daunting and incredibly exciting at the same time," he recalled.
Six months after their purchase, the surgeons at Chatswood had collectively performed the most femtosecond laser-assisted cataract surgeries in the world – a remarkable feat but never the end goal.
"We were always driven to do the research, gather the data and make it available globally – and that's the achievement we're proudest of," said Prof. Sutton. "There's no question that laser surgery is now established in practice. Improvements in technology have resulted in laser procedures that are very quick, cause minimal discomfort, have a significantly lower complication rate and allow a faster post-operative recovery. It's a far cry from where we used to be."
Hand in hand with advances in laser has been the evolution of intraocular lenses. From single distance to multifocal and now trifocal lenses, the end visual result is edging closer and closer to that produced by the natural lenses of our eyes, says A/Prof. Lawless. "Our ability to correct refractive errors at the same time as removing cataracts has changed the lives of so many patients. More people are getting their cataracts operated on earlier or even having refractive lens exchange. What's holding us back now is the availability of synthetic lenses that truly replicate the elasticity and movement of our natural lenses so that we can change our focus in a seamless manner. But this will come with time."
Prof. Sutton says laser technology has also advanced corneal surgery – as Australia's first surgeon to perform a corneal transplant using a femtosecond laser, he has first-hand experience. "Managing keratoconus is a big interest for me and has driven a lot of my research. At one point, I think we were even performing more corneal transplants than Sydney Eye Hospital."
Better-informed Patients
More informed patients are changing the way ophthalmologists manage their clinics today. "Back when laser eye surgery first came on the scene, I spent a lot of time talking about the ins and outs of the procedure, which is understandable given how new it was – people weren't ready for it yet," said Prof. Sutton. "Fast forward to today and most of my patients have already done their own research and are expecting to book in for surgery after the consultation. I just make sure that they're suitable for surgery, know their options and understand exactly what's involved, including potential risks."
Dr. Rogers said older patients often bring younger family members to consultations. "They come in with their children, who are more internet-savvy and can look things up online prior to the appointment. The children also ask a lot of questions – they just want to know that mum or dad is getting looked after properly."
Centre Stage for Multidisciplinary Care
It's well accepted that multidisciplinary care is important for optimising patient outcomes and Dr. Rogers says the field of ophthalmology is no different. "Best-practice care stems from a truly holistic approach. Optometrists are the first point of contact for many patients and it is up to them to decide when to refer patients for further investigation or management. In return, it's our duty to make sure our referrers are kept informed about their patient's management plan and progress. Optometrists can also manage certain patients in the community setting so we've got to ensure that the profession is making the most of all the avenues. It's got to be a two-way street for patients to come out on top."
"Whatever we can do to make it easier for patients is ultimately what we need to make happen," added A/Prof Lawless. "We need to know what optometrists value in terms of education and resources to assist the referral process. Vision Eye Institute runs regular CPD events, including our annual state conferences and a refractive co-management program for referrers. We develop resources and have dedicated referrer liaisons to get regular feedback so we can adapt our content and activities as required."
Looking Into the Crystal Ball
So, what does the future hold for ophthalmology?
All three doctors agree the future will involve increasing use of robotics and automation in all ophthalmology procedures. "Technology will continue to improve and technicians will obtain diagnostic images, which will be screened using sophisticated algorithms," said Dr. Rogers. "Ambiguous cases will be sent to a small, centralised team of doctors for review, and surgery will become more robotic.
"Many ophthalmic services will be performed in the retail optometry setting… the big question is whether ophthalmologists will become obsolete."
A/Prof. Lawless believes routine use of peri-operative eye drops will become a thing of the past. "These drops are expensive and patients don't take them properly. I think we'll see them being replaced with an injectable product or perhaps an inlay. In terms of laser vision correction, there's a place for all three procedures – SMILE, LASIK and PRK – for the foreseeable future."
Stem cells are a big talking point and driving a lot of research, said Prof. Sutton. "Our bioengineering centre at Sydney University is looking at ways to grow entire corneas, thereby surpassing the need for transplants. More broadly, it will be challenging to remain at the cutting edge of technology, and the quality of patient care will continue to dominate."
The Driving Force
At the heart of Vision's growth has been a united interest in driving clinical research, says Prof. Sutton. "Our philosophy was to keep striving to be the best and we kept hiring people with a similar mentality. We're better now than we've ever been before, in terms of patient care, surgeons and staff." Dr. Rogers adds that the idea was always to fund the research with income derived from clinical work.
Over the years Dr. Rogers and A/Prof. Lawless have served on Vision Eye Institute's Board of Directors. Dr. Rogers retired from practice in 2014 and A/Prof. Lawless resigned in 2014 as the longest-serving medical director, although he continues to practice and stay involved with the business. Professor Sutton also continues to practice with the organisation.
Large Group Practice Supports Culture of Patient-centricity
Vision Eye Institute's history is an interesting read. Initially established in 2001 as a private ophthalmic group consisting of three consulting clinics and two day surgeries in Victoria, it later grew to include practices in Townsville, Brisbane and the Gold Coast and a day surgery in Sydney. In December 2004, the company listed on the Australian Stock Exchange (ASX) and expanded to cover the Eastern Seaboard, including Chatswood. It was delisted from the ASX in 2015 after being acquired by Jangho Group Company Limited.
Today, Vision Eye Institute operates fourteen consulting clinics, nine day surgeries and six laser suites in Australia, which are staffed by 32 doctor partners, 19 associate doctors, 25 visiting medical officers and 422 support personnel.
Dr. Rogers said joining Vision Eye Institute (or Vision Group Holdings as it was called back in 2005) back in 2005 was not a decision taken lightly. "There were certainly many questions on our part. We were actually speaking to three other groups at the same time, but felt that Vision best matched our style of practice. Medical sovereignty is the cornerstone of the company's clinical values. The business side is completely separate and removes the stress that comes with the day-to-day running of a practice. I was able to focus on my patients and work after we joined."
A/Prof. Lawless and Prof. Sutton said the opportunities they sought related to large group practice, rather than being part of a corporate company per se. "It was about being able to create an environment with like-minded people, share and discuss complex cases, access the latest equipment and technology, conduct research and accept academic positions," said A/Prof. Lawless. "The high cost of overheads and specialist ophthalmic equipment means these are not all feasible options for smaller/solo practices, which may actually be more dependent on turning a profit to survive. And we wouldn't be where we are today without the expertise of our other partners at Chatswood – Drs. Colin Chan, Tim Roberts, David Ng, Simon Chen and Jeff Friedrich."
Prof. Sutton admits he wouldn't have been able to take on the chair (professorship) if Chatswood wasn't part of a group practice. "I also wouldn't be able to do as much research or run charity projects in Myanmar and Cambodia. Many of my colleagues within the company are in a similar position – we volunteer in our own time. It's an incredible opportunity to help disadvantaged communities."
Investing in Valuable Resources
They agreed that perhaps one of their most valued resources, made possible as a result of being part of a large group practice, is their full-time research coordinator, orthoptist Dr. Chris Hodge.
Having started in clinical practice, he now helps oversee all of the research projects at Vision Eye Institute, an opportunity he embraces with a passion. "Because of our size, we have a fantastic opportunity to gather large internal data sets and evaluate protocols and new techniques in a statistically relevant way," said Dr. Hodge. "Our doctors can evaluate their own practice quickly and methodically and we can do the same for the organisation as a whole – it's a great situation for everyone, including patients.
"Apart from participating in external trials, our doctors are also proactive in running their own research studies. For example, we're currently recruiting for a multicentre trial examining glaucoma treatments and the functional effects they have on patients' lives."
Dr. Hodge revealed that these studies have additional benefits for future research. "Through their university affiliations and peer-reviewed scientific publications, Vision Eye Institute ophthalmologists contribute directly to government funding. Over the past five years, the total number of research publications from partners has exceeded 150 articles in local and overseas journals."
And so the dream lives on.