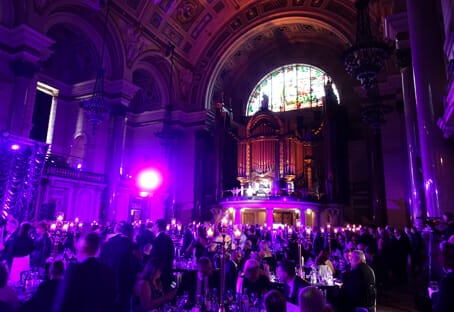 Findings from the latest Dry Eye Workshop, the use of orthokeratology to control myopia, contact lenses to deliver drugs… these were just some of the highlights at the 40th British Contact Lens Association Conference.
This year, the British Contact Lens Association (BCLA) celebrated its 40th conference anniversary in Liverpool from 9 –11 June.
More than 1,000 delegates from across the globe gathered together at the Liverpool Arena and Convention Centre to hear experts in the field of contact lenses and anterior eye, share the latest research and innovation, with key topics being dry eye, myopia control and orthokeratology. Multiple lecture streams were held during this three-day conference, which catered to all skill levels from novice to expert.
Associate Professor Jennifer Craig, Professor Lyndon Jones and Professor James Wolffsohn presented the latest from TFOS (Tear film and ocular surface society) DEWS II report, and the exciting findings from their last meeting. If you don't know who TFOS is, they are the group of experts from throughout the world that gather together to discuss and define dry eye and create a clinical guide from evidence based science. They gave us the new definition and classification of dry eye, and detailed the diagnosis and management of this complex condition over lectures and live demonstrations on stage.
Brian Tompkins put on a brilliant show in true 'Brian Tompkins'-fashion, to share his passion and to bring the fun back into the field
Myopia Control
Myopia is a growing epidemic throughout the world, hence controlling myopia was also a key focus during the conference. Global thought leaders in these sessions including Dr. Janis Orr, Professor Pauline Cho, Professor Randy Kojima, contributed to a range of presentations and hands-on workshops delivering everything from the why, the how and the what, to control myopia with. Over one and a half days, experts discussed the implications of myopia including the implications of not intervening, and the methods in which to control myopia, with a strong focus on orthokeratology and its safety.
BCLA partner sponsor Coopervision also presented on the effectiveness of their dual-focus one-day soft contact lens for myopia control, with promising results, further adding to our knowledge and barrage of options against myopia. Industry representation was strong throughout the conference, with key sponsors including Alcon, Johnson and Johnson, Topcon and Menicon presenting their science throughout, as well as contributing to an impressive, diverse trade fair.
Looking to the Future
There were also a series of rapid quick fire presentations, including the latest from the European Dry Eye Network, emerging technologies and science. Prof. Jones presented an update on drug-delivery contact lenses, stating that these would be available in the very near future. Exciting times.
Outgoing president Brian Tompkins put on a brilliant show in true 'Brian Tompkins'-fashion, to share his passion and to bring the fun back into the field. His presidency ended in an extravaganza at the gala dinner held at the stunning Great Hall of St George's Hall, but not before he put on a cabaret show on stage. He handed the reins over to Keith Tempany, who will no doubt continue the excellence of the BCLA.
Australian Optometry Recognised
This was the first BCLA since the passing of Professor Brien Holden, and his presence was certainly missed. Fittingly, a tribute to his legacy was given. Another notable Australian, Dr. Kate Gifford was awarded the inaugural BCLA president's award for her excellence and dedication to the profession. Three Australians also received their BCLA fellowship, David Stephensen, Stephen Vincent and myself (Jessica Chi).
However, all good things must come to an end, and after an intense, exciting weekend of knowledge exchange, networking, contact lenses and fun, the conference came to a close. BCLA will be back in Liverpool in 2019.