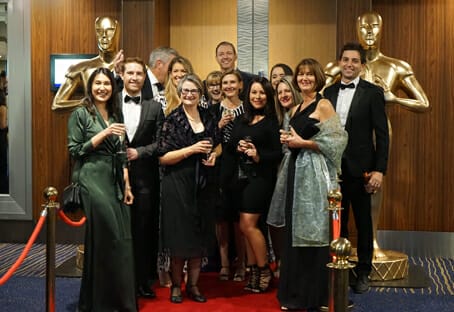 EyeQ optometrists, practice managers and dispensers were treated to a high energy, interactive conference in Sydney in June. With many of the presentations delivered by EyeQ's own people, delegates benefited from relevant, practical take-home messages that could be put straight into action.
A heartfelt story, demonstrating the personal and professional satisfaction that can be derived from optometry, was the perfect start to a long weekend of professional development at Brighton Le Sands in Sydney's south.
EyeQ Executive Chairman Ray Fortescue told the story of a young mother who had come in for an eye test because she was experiencing headaches. Upon discussion, he learnt about the personal challenges she faced bringing up a four-year old boy diagnosed as autistic. "She said it had never been possible to have her son's eyes tested, but I asked her to bring her son in and she did," said Mr. Fortescue. He described the boy's focal vision as just past his nose. "He hadn't learnt to speak because he couldn't see lips move, he was terrified, he wouldn't leave his mum's leg, and he had no social skills, because (due to his vision) kids would just pop into his vision out of nowhere. It was tragic.
"I gave him glasses and within a matter of weeks he started to blossom. He learnt to speak and became a chatter box. He developed into a lovely young man and took up a career in information technology. In fact he was never autistic, just severely myopic."
treat every patient as a family member, and when you're doing the right thing, the financial benefits will flow
"I didn't ask her to bring her son in to make money, I did it because I care. We care about our patients, we become friends and we genuinely make a difference."
Mr. Fortescue encouraged delegates to "continue to make the difference, to go outside the box and make sure you know what else is going on in your patient's life… treat every patient as a family member, and when you're doing the right thing, the financial benefits will flow."
Presentations were also made by EyeQ team members including founders Peter Rose, Mark Flanders, Mark Koszek and Tony Ireland, Chief Business Development Officer Lily Wegrzynowski, franchise associates Adrian Cornale and Chris Weston as well as EyeQ Marketing.
Addressing emerging technologies, Mr. Ireland spoke about online booking and review software and a trial underway at three EyeQ practices across the country. He said it was increasingly evident that online booking programs, "save staff time, decrease no shows and possibly drive new patients".
Buyer Coaching
An interactive workshop helped eye care professionals navigate the fine line between selling and coaching patients to make the best purchase decision.
Abbie White from SalesSpace stressed the need to understand what patients value and find important during the decision-making process. She provided practical examples of questions that can be asked to determine a patient's values and identify any constraints in the purchase making process:
"What is your frustration with… (your glasses / your contact lenses / your eye health etc)." This determines the need;
"What is most important to you about… (eye care / contact lenses / sunglasses etc)." This determines priorities;
"Have you ever had… (contact lenses etc) and what did you like about them / what were your frustrations?" This ascertains previous experiences, along with preconceived ideas and fears that need to be overcome;
"What would you like to see done differently?" Ms. White said the answers to all these questions would lead to the best solution for the patient.
She went on to explain that 70 per cent of people buy to solve a problem and the decision to purchase is based on emotion and justified on logic. However, decisions made this way can lead to buyer remorse. Your approach at this point will determine whether you are a sales person or a buyer's coach. "A sales person gets the sale and takes the person to the till. A buyer's coach ensures the patient is happy and, before they take payment, asks whether there is anything else they want to know… this is about building credibility and establishing the connection and that is critical… we want to be seen as professionals and we want those customers to come back again for years and to refer others to us."
Trade and Party
The EyeQ national conference included an extensive trade exhibition at which delegates could explore the latest in eye health technology and products. Additionally, a black-tie dinner, themed 'a Night at the Oscars' and hosted by 'Harry Sparkle' provided the perfect occasion to acknowledge 33 of EyeQ's 100+ team members who have been with the group for more than ten years.
Ms. Wegrzynowski said feedback from the conference confirmed it was "the best ever" staged by EyeQ, with opportunities to network with colleagues, to earn CPD points for the first time and to take away useful information that could immediately be put in to action.