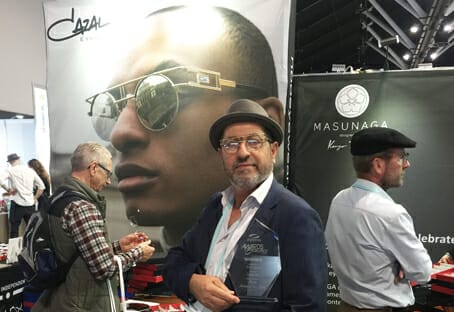 The optometry sector is looking strong and Australian consumers have an appetite for interesting, colourful eyewear, even at a price, according to exhibitors showcasing their new wares at ODMA17.
Back in Sydney for the first time since 2011, ODMA17 was packed with eye wear and eye care companies, big and small, from Zeiss, Essilor and VSP Australia through to Jono Hennessy Group, Noo Eyewear, Clic and Bolon.
The champagne flowed, eyewear designers and distributors showed off their latest collections and equipment distributors demonstrated the latest technologies to eye care eye practitioners eager to be at the forefront of frame fashion, lens technology and clinical outcomes.
Hot in Fashion
The best stand over 54sqm2, went to De Rigo Vision Australia, a first time ODMA exhibitor and the newest optical subsidiary to enter the Australian market. With house brands such as Police and Lozza, and fashion brands Furla, Escada, Chopard, Lanvin and Dunhill, the De Rigo stand was a constant buzz of activity. De Rigo Vision Australia took the opportunity to launch the Spring/Summer 2018 sunglass collections ahead of Europe for the first time. Mark Holloway, Managing Director, was delighted with the response to the new collections and said, "it was the best sunglass release we've ever launched in Australia".
Production of eyewear has come so far but if you're not pushing the boundaries you get left behind
Eitan Levy from the boutique distributor Noo Eyewear was excited to be at ODMA. With his Manusunga sunglasses taking out ODMA's best sunglasses award, he was faced with plenty of interest. "I see the smiles of the people, the atmosphere is nice, I have a new collection that is fresh, I think ODMA17 will be amazing," he said as visitors started flowing through the doors at the International Convention Centre, Darling Harbour.
Robert William Morris enjoyed talking to visitors about Black Label, his fastest growing collection in the Australian market. He said optometrists were increasingly aware of the need to provide interesting eyewear for their patients. "Australia is likely to follow England where, for the first-time consumers are being more demanding and, although loyal to their optician, feel empowered to ask for their prescription if there are no frames that appeal to them. People want to be pushed a little outside their comfort zone, they want to be given the confidence to wear something more fashionable, not boring," said Mr. Morris.
Hans Stepper, creator or Stepper Eyewear was happy to be back in Australia for ODMA17. He said the opportunity to analyse the market and educate his distributors and customers about Stepper was invaluable. "Stepper moves very easily through the shops – we don't go into extremes (in design) and sometimes people say we are too boring, but once they are in the shop they go easily."
Simon Ponnusamy from AM Eyewear was enjoying being back in the country to meet up with his customers. Now based in Amsterdam where he can service his strong European clientele with collections customised to each market, he said after 15 years he still loves designing eyewear. "What I love the most is overcoming challenges – working with optical engineers to do things that have never been done before. Production of eyewear has come so far but if you're not pushing the boundaries you get left behind," he said.
Mondottica had a small but powerful presence in the Design Gallery. Here they launched a stunningly colourful Marimeko range, Zoobug (a range designed by an ophthalmologist for children and recently bought out by Mondottica), as well as the Spine and Joules. They also showcased the latest from Christian Lacroix, which is now being distributed to select optometry practices.
Ugly Fish also took the opportunity to launch several new collections at ODMA17, including unbreakable scriptable, polarised AnkleBiters for four year olds and Bratz – for three to 12 year olds as well as unbreakable adult frames and a collection of fashionable safety frames.
VSP Australia (formerly GenOp) took the opportunity to launch its new brand with an impressive stand at the very front of the exhibition space. Brad Saffin, Managing Director of VSP Australia, and Nicola Zotta, President of Marchon Eyewear who'd flown in from the United States, were keen to highlight that the new brand was to bring the Australian business in line with its global parent and would not impact customers. VSP Australia is now aligned with 24 health funds who drive their members to its 350 independent partner optometrists. The company recently launched its TechShield Blue lens, invested almost AU$2 million in state of the art lab facilities within its new premises in Banksmeadow, and is investing in a new IT system. This, Mr. Saffin says, confirms its commitment to the local market. On the fashion side of things VSP Australia launched the brands Etro and Marni at ODMA17. "We're very excited about the brands we have and we feel we have the opportunity to expand them further as well as leverage the technical innovations coming from the global market for the local market," said Mr. Saffin.
Lenses
Rodenstock went to great lengths to attract customers to its stand to find out more about its new Road lenses. A simulated road race gave speed demons the opportunity to test their road handling skills and benchmark their speeds against others on the leader board – a la Top Gear.
In a show of its commitment to the independent optometry market Essilor had a strong presence at ODMA. At Nikon, a cleverly branded 'boutique' enticed customers inside where they experienced an elegant retail display and learnt all about the new, expanded portfolio of lenses on offer. Nikon's Andie McKie, who looks after Eyecare Plus said, "potentially now, an optometrist could run their lens business with a full Nikon offering".
Technology
Heidelberg, at the very front of the hall, took the opportunity to showcase its new 'Spirit', a simplified OCT designed for busy practices. Carey Hazelbank said, "you can train anyone to use it quickly and easily, its highly automated so requires minimal decision making from the operator, but still gets results that you can be really confident in."
The party was at Designs for Vision, where all those working the floor came outfitted in plaid shirts, jeans and mullet wigs (at least we hope they were wigs)… anything to win over an audience.
Education
Upstairs in the convention centre, ODMA17's Vision Summit attracted strong crowds with optometrists eager to hear from the likes of Dr. Rolando Toyos who spoke on intense light therapy, Professor Fiona Stapleton who spoke about safe contact lens and dry eye; A/Prof Gerald Liew who presented on diabetic macula oedema and neovascular age related macular degeneration; and Professor Stephanie Watson who spoke on corneal cross linking and stem cells.
On the exhibition floor, a steady stream of speakers addressed small but interested crowds on a diversity of practice management topics while on level five dispensing and practice marketing were hot topics of conversation.
ODMA17 Awards of Excellence
This year's ODMA Awards of Excellence, judged by a special independent panel of industry members Professor Fiona Stapleton, Grant Hannaford and Peter Hewett, were awarded to:
Optical Frames – Women
Tiger Vision – Nicola Finetti Model NF 819
Optical Frames – Men
Healy Optical – Lafont; Theme Model 500B1 Takada
Sunglasses
Noo Eyewear – Meteor; Masunaga by Kenzo Takada
Children's Frames
European Eyewear – Titanflex Kids Model 830076 30 41-22
Lens Design
Essilor – Special lenses
Lens Coating
Rodenstock – Solitaire Red Sun
Optical Instruments
Optimed – Eidon; Truecolour Confocal Scanner
Product Environment
MYM Group – POS Von Arkel 18 Unit Display Case
Accessories
Hilco – Leader Rx-able Swim Goggles
Stand Award Winners
Best stand over 54sqm2: De Rigo Vision Australia
Best stand 54sqm2 and under: Stepper Eyewear Australia
Best shell scheme stand 18sqm2 and under: Special Agent