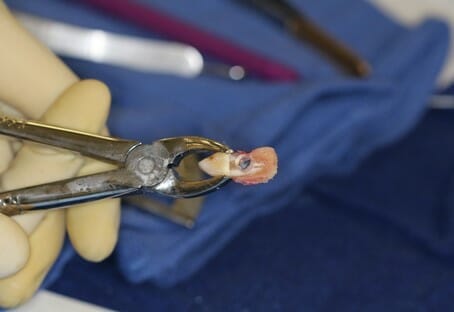 The first patients to be treated in Australia with an Osteo-odonoto keratoprosthesis (OOKP) are 20/25 and can read part of the 20/20 line, according to Dr. Greg Moloney, Staff Specialist, Corneal, Sydney Eye Hospital. Dr. Moloney performed the procedure, which involves removing the patient's own tooth, implanting it into the cheek, then implanting it into their eye.
Dr. Moloney was speaking to optometrists at a Contact and Cornea Lens Society meeting in Sydney. A specialist in corneal transplantation and ocular reconstructive procedures, he became interested in OOKP during a fellowship in Canada when he encountered a patient who had lost all vision due to Stevens Johnson syndrome.
"An OOKP procedure was proposed for him but no one possessed the training locally. I began to reach out at that stage to enquire about becoming trained in the surgery."
He said the surgery takes place in two phases, with each phase taking around seven to eight hours. Phase one involves the removal of a patient's tooth (or segment of bone if teeth are not suitable) to house an optic or cylindrical lens. The tooth/lens combination is then transplanted into the patient's cheek and left for three months to gain a vascular supply and tissue coating. Phase two commences after three months. The tooth/eye combination is removed from the cheek and transplanted onto the front of the patient's eyeball.
"Visual results as good as 20/20 are not uncommon"
Dr. Moloney said the risks of OOKP include total loss of vision from glaucoma, infection or significant haemorrhage. There is also the risk of bleeds during the second half of the procedure when the eyeball is fully open for several minutes. "Because the tooth comes from the patient's own body rejection is not an issue. Teeth can be borrowed from living related donors, but in these situations inflammation with rejection of the tooth is more likely to occur," he said.
Long known, rarely performed OOKP was invented by the Italian surgeon Dr. Strampellin in the 1960s, however it is rarely performed because it is only required in rare cases – suitable patients are those who have bilateral blindness due to severe corneal scarring from chemical or thermal burns, trauma, drug reactions or autoimmune disease.
"A few surgical centres for the procedure have developed worldwide, with decades of clinical results now available for analysis. The largest analysis of results from the original centre in Rome demonstrated retention of useful visual acuity in 80-90 per cent of 234 patients 10 years after the surgery," Dr. Moloney said. "Visual results as good as 20/20 are not uncommon."
"There are many reasons why Australia has not adopted this surgery previously including that as a community, we have all been waiting for something less invasive to offer patients, however, a more elegant solution to severe corneal scarring simply has not presented itself."
He said prior to the Sydney Eye Hospital keratoprosthesis program being established patients were referred to Singapore.
Now that the program is established, Dr. Moloney anticipates performing just two to four procedures a year. These will all be on adults because, he says, results for children have not been encouraging to date, perhaps because the teeth are not yet mature.
Much of the cost of the Sydney Eye Hospital keratoprosthesis program is covered by charitable donations from the Sydney Hospital Foundation.