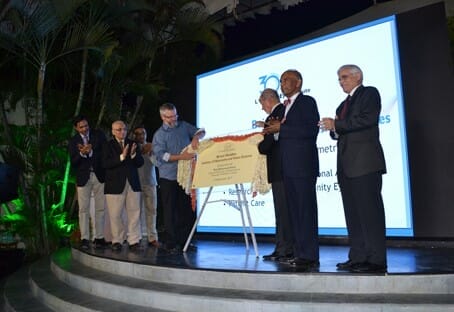 The work of Professor Brien Holden has been recognised and remembered with the opening of a new Institute at L V Prasad Eye Institute (LVPEI) in India.
The Brien Holden Institute of Optometry and Vision Sciences (BHIOVS) was opened during the second World Congress of Optometry (WCO) and International Association of Contact Lens Educators (IACLE) meeting at the Hyderabad International Convention Centre, 11–13 September 2017.
The Institute, which is to be directed by Dr. Shrikant Bharadwaj, will be an umbrella organisation for all activities of optometry – education, research, patient care and human resource capacity. The ten-year old Bausch and Lomb School of Optometry, ranked as the best in India, will be part of it.
Professor Kovin Naidoo, Chief Executive Officer of the Brien Holden Vision Institute in Australia, said naming the Institute after Professor Holden was a great honour. "Brien and Prof. Nag Rao (Dr. Gullapalli N Rao was Founder and Chair of L V Prasad Eye Institute) took their early friendship and developed it into a mutually beneficial partnership for LV Prasad Eye Institute and the Brien Holden Vision Institute that has spawned research, education and public health collaborations that have benefitted people and eye care practitioners in India and other parts of the world.
"Brien believed passionately in the potential of India and loved the country and its people and his contributions to eye care have been memorialised in this naming," he added.
Speaking at the Institute opening, Dr. Gullapalli N Rao said "Dr. Brien Holden… was a visionary leader and one of the most influential optometrists of his generation. His career was spent inspiring scientists and healthcare professionals globally with his vision for everyone, everywhere. We will continue to do the good work and take his legacy forward."