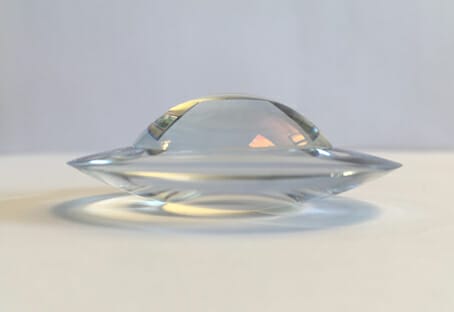 Essilor has announced a special lens service to help independent eye care professionals improve the vision of all, including people with exceptional or unique visual needs, such as high ametropia, specific pathologies and other special visual needs. Some seven million people worldwide have extreme ametropia that cannot be corrected with ordinary lenses. Per country their numbers may be small but their need is great.
The special lens service is grouped into two offers:
• Essilor Exceptio range: an extensive pre-defined range from spheres -40D to + 30D and
• The on –demand range: the creation of unique and custom-made solutions for extreme ametropia (from spheres -108D to + 70D) or challenging occupational vision environments.
Lenses are crafted at Essilor's Special Lens Laboratory (SL lab) in eastern France where 90 expert craftsmen use their unique know-how to develop effective solutions for patients with high ametropia, specific pathologies and other special visual needs.
The lenses are often made by hand and require many hours work by a specialist combining the latest optics expertise with specific manufacturing techniques to create a truly personalized solution. Essilor has achieved a number of industry firsts over recent years including – a -108D cyl 6.00 lens for a photographer in Slovakia, a +35 D prism lens for a wearer in the Czech Republic and most recently a +7OD lens for a wearer in Australia.
A training program is available to advance industry understanding of the power and possibilities of special lenses and enable eye care professionals to improve eyesight, whatever the visual needs they encounter.
Essilor's special lens offer received the Excellence in 'Lens design' category award during the last ODMA fair in Sydney.
Watch Essilor Special Lenses video here
Contact: Essilor Account Manager