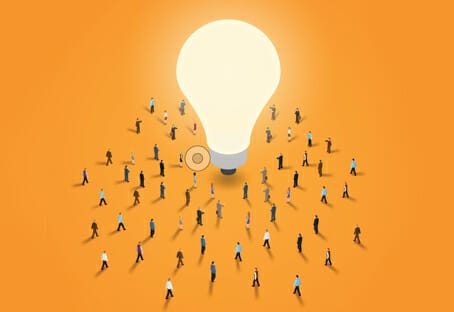 A co-ordinated multimedia marketing campaign is enabling Eyecare Plus practices across central and northern New South Wales to reach new and existing patients via television, radio and digital marketing. It's an effort that would be inconceivable for an independent practice to achieve on its own.
Eight years ago, 6.9 per cent of Australians (14+) didn't watch any commercial TV on a normal weekday, with little difference between age groups. Fast forward to today, and that number has almost doubled, with 14 to 34-year-olds the most likely to be turning their back on TV and older Australians also enjoying fewer viewing hours.
The reasons are numerous – poor programming being one of them, but the main reason, of course is the plethora of media now available and the multitude of devices from which to access that media.
Internet streaming and downloading content on-demand; subscription video on demand including Netflix, Stan, Presto, Quickflix and Foxtel Play; are all competitors to the traditional mediums of television, radio and newspapers. Facebook, Instagram, Twitter, websites and e-newsletters are competing with direct marketing, telemarketing and printed newsletters.
a lot of practices don't have the time to build complex, multi-media campaigns… we gathered the practices and pooled resources…
But it's not a case of choosing one medium over another in an effort to communicate your message, to reach across age groups and demographics, it pays to be across all channels.
With this in mind, Jodie Green, Marketing Services Manager at Eyecare Plus, worked with 27 regionl practices located in central and northern New South Wales to execute a multimedia campaign strategy she hopes to roll out across more localised practice groups, and even those in Australia's larger cities.
"We held a strategy workshop and discussed ways in which practices could market themselves in a highly competitive space dominated by corporates," she said.
"What we found is that a lot of practices don't have the time to build complex, multi-media campaigns. It's perceived as too expensive and all too hard, so it often gets left in the too hard basket. So, we gathered the practices and pooled resources to do some cluster marketing activity."
Ms. Green said clarifying the campaign strategy and finessing the details wasn't simple. "Our practices are all independent – they have their own practice names, and their particular demographic with products, pricing and special offers to suit. That means the campaigns we run on behalf of a cluster of practices are unable to communicate specific product messages or offers. Instead they need to focus on brand awareness and communicate our clinical focus."
Comprehensive Cover
A campaign creating awareness of digital eye strain – and Eyecare Plus' ability to help patients manage it – commenced with radio and digital placements in early September. This campaign was followed up in October by a 'Use It or Lose It' campaign and television was added into the marketing mix. This campaign is aimed at prompting patients to make use of their health insurance before the end of the year.
"Television isn't cheap, even in regional areas, and so it is important to be selective with placement. We targeted prime time spots from Sunday to Wednesday, which is when we get most of our online bookings – indicating that's when people are thinking more about their health."
Radio, web banners and television advertising were part of the campaign packages, as was collateral for in-store display, all of which carried the same look and feel to maximise patient recall of the messages.
For Eyecare Plus practice owner Dale Rolfe, participating in the cluster marketing campaigns has helped build brand awareness and promote growth.
"We really didn't do any marketing before we joined Eyecare Plus – we issued recall letters and put the occasional ad in our local paper, which we found to be a waste of money," said Mr. Rolfe, adding that the barriers to initiating more marketing were cost, time and expertise.
"Now, by contributing a relatively small amount of money, alongside the other practices, we've got an ongoing series of highly professional campaigns that position Eyecare Plus as the biggest provider of optical services in our region. It enables us to promote our brand efficiently while keeping our independence. As a single practitioner, we would have struggled to do something like this properly.
Practice owner Peter McKay agrees. "We're able to leverage off the national office's knowledge about what's happening in other markets and across the Eyecare Plus membership, and their marketing expertise – they know what works best, timing for campaigns and so on.
"Doing this on my own would use up all my resources – I wouldn't be able to benefit from cost efficiencies we've gained for direct mail and media buying and, rather than spend time with patients, I would be working with developers building landing pages for my website and social media platforms.
Both Mr. McKay and Mr. Rolfe say marketing campaigns are effective ways to build business. "What I have noticed, is that as a result of marketing campaigns with Eyecare Plus, we have achieved consistent growth over the past five years, which would otherwise have been unachievable in the current market," said Mr. Rolfe.
Simon Lewis, General Manager of Eyecare Plus, said he is looking forward to extending the cluster marketing opportunity to Eyecare Plus practices in both metro and regional areas. "Our plan is to help other cluster groups run continuous branding campaigns on television and radio with localised digital marketing taken up by individual practices to build long-term patient loyalty and communicate specific offers."
Getting the Hang of Digital Marketing
Digital and social media marketing is very new to many in optometry however both Ms. Green and Mr. Lewis agree that is an increasingly essential part of the marketing mix. "We're working hard to help practice owners understand its importance and how to get the most value out of it with workshops, bootcamps and one-on-one training," explained Mr. Lewis.
Ms. Green said practices often don't realise that one of the strengths of digital and social media is the ability to be extremely targeted in your approach. "You can reach out to existing customers, new customers, specific age groups, even streets to ensure the money you spend reaches people most likely to visit your practice as opposed to one in the neighbouring area. However, as we explain to our members, when posting organically, it is important to localise their message, rather than blast out the broader branding messages we communicate through paid media."
"I have spent time helping practices become familiar with functionality of platforms like Facebook; and I help them set up their own social media presence, and plan and implement specific campaigns. We also look at other Eyecare Plus sites to see what works well for others – sharing experiences across the membership is one of our most important philosophies."
By engaging in social media, Ms. Green says Eyecare Plus practitioners are able to gain credibility and build loyalty. "Social media isn't always about promoting special offers, it's about communicating stories of the young patient who is so happy because wearing glasses for the first time helps him play with his friends, or the teen who, having started to wear contact lenses, is able to participate in competitive sports; or the older person who has regained independence having been equipped with a low vision device."
Mr. Lewis said social media is also a powerful way to demonstrate your passion for the local community. "A practice owner I know who is in a beachside suburb posted an image of a beautiful local headland, with the message 'great sunrise'. This reinforces the practice as part of the community people connect with."
Consistent, regular and relevant posts are essential to maintaining and growing relationships with your patients, as is assigning a dedicated person to the task. "The practice owner should not be in control of social media – they've already got too much on. I'd recommend getting one of your staff members on board – perhaps someone who is willing and who is already active on their own private social accounts, and give them the flexibility to be creative with their uploads – funny images, community stories and links will all engage and keep your patients coming back.
"Of course relevance and appropriateness are paramount. Look at other practices to see what they're uploading and what's attracting the attention of their patients, monitor your own posts to determine what creates engagement and be ready to change. What gains traction one day, won't necessarily attract interest the next," said Ms. Green.
Reference
roymorgan.com/findings/6646-decline-and-change-commercial-television-viewing-audiences-december-2015-201601290251