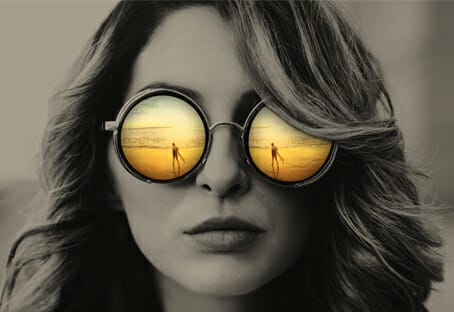 Antipodeans are renowned for their sense of adventure and sporting prowess. We punch well above our weight in these arenas, starting very young and carrying on well into old age.
For many people, balancing work, pleasure, fitness and training means they are often at it before the sun has risen or after sunset, and they won't be stopped by inclement weather. Climatic conditions can range from extreme heat and cold to wind, dust, sea spray and snow. Many of these conditions include high levels of UV and infrared exposure.
Understandably, the category of sports and adventure sunglasses has evolved into specialised versions to suit a variety of activities like cycling, golf, water sports, skiing, motorsport etc.
A growing number of emmetropic sunglass wearers have become accustomed to the benefits of sunglasses protecting their eyes from wind, dust and bugs, minimising exposure to allergens and reducing dry eye. Additionally, those who need a prescription to use their sporting apps, or clearly see into the distance, also often require untinted Rx eyewear or photochromic options in addition to their regular sunnies.
the category of sports and adventure sunglasses has evolved into specialised versions to suit a variety of activities
It's a topic of conversation you may overhear among Lycra-clad cyclists, while they enjoy a long macchiato at their trendy local coffee shop and admire each others' bikes, cycling apparel and eyewear!
Insights
Cycling and triathlons are the 'new golf', according to Greg Rule, 'El Presidente' at Pursuit Sports Australia, which supplies Rudy Project. "The biggest age group for cyclists is 38 years and above, which means there's a growing need to consider sports prescriptions to see their training devices such as a heart rate monitor, Strava, iPhone, etc. Many consider a photochromic lens, and from Rudy's perspective it's one lens tint for all conditions, because a lot of training is done early in the mornings."
Mr. Rule said the Rudy Project Rydon is "one model that is now a classic and will be around for another 100 years. There are five prescription options from clip-ons, direct clips and docking systems that go up to -11.00D as well as direct in-frame Rx options in their top-of-the line, made in Italy eyewear".
Field of Vision and Tints
A wide field of vision can give sporting patients the competitive edge, as can the appropriate tint for the activity or conditions. Hoya Lens Australia recently launched a new range of high base curve lenses under the Sportive Brand. National Training and Development Manager Ulli Hentschel, said, "The new Sportive lenses feature full back surface freeform designs which provide greater freedom in lens design and decentration than the existing Sportive Range. This allows for larger effective diameters.
"We also have a new range of contrast tints especially designed for sports… "People often start their activities very early, often in the dark. Even a 20 per cent tint can be too dark. By having photochromic Sensity applied to our sports lenses, patients can have a clear lens to protect their eyes from wind and bugs. As the sun rises, these lenses change colour and provide glare protection."
Nupolar polarised options can be perfect for everyday wear and when you're on the water, however as Mr. Hentschel sensibly cautioned, "Understanding what kind of device a cyclist, pilot or fisherman may be using is an important factor when considering polarisation as it may make viewing their cycle computer, GPS or fish finder difficult."
Suhana Lye, Head of Brand Communications at Oakley and Arnette, agrees that choice of lens can make all the difference to performance. "Prizm makes everything look vivid and vibrant to reveal nuances that would normally be missed by the naked eye," she told mivision.
The modern generation is used to high-definition vivid, enhanced imagery, making it easy to understand why Prizm is one reason for Oakley's popularity.
Comfort and Durability
For those into sport and adventure, comfort and durability is as important as lens quality. Mako's special TR90 frames reduce twisting and provide a durable lightweight option for added comfort, explains Dominic Wiseman, Mako Australia's Marketing Manager. Of course as much emphasis goes into lens selection. "Four-wheel driving enthusiasts often have shade on small forestry tracks. The copper and rose tints provide comfort and glare protection without 'deadening' the available light". He went on to add, "Our photochromic lenses are perfect for any hiking or sport where light levels can change regularly. The brown with blue mirror and plain brown are also excellent all-rounders. Rx options are available. The eight base frames are excellent at reducing peripheral light but are also comfortable and fashionable. We use 12+ layers of anti-reflective coating on the inner lens surface reducing internal glare and also offer an internal scratch resistant mirror."
Mako currently sponsors outdoor adventurers including fishermen, car racers and surfers.
Performance History
Mark Blackadder, director of the 'Make Your Mark' group, agents for Vuarnet, shared an interesting historical anecdote, which demonstrates the performance potential that a great lens can deliver.
In 1957 Roger Pouilloux, an avant-garde optician and ski enthusiast revolutionised the world of sunglasses by inventing a lens capable of protecting him on the slopes and the streets, while offering superior depth perception in overcast weather. In 1959 Roger gifted a pair of his sunglasses to French ski champion Jean Vuarnet as a token of his admiration. Jean Vuarnet went on to win the downhill skiing gold medal several months later in the 1960 Winter Olympics in Squaw Valley. Sharing passion and vision, Roger and Jean teamed up and formed the renowned sunglass brand, Vuarnet, named after the ski champion.
It takes a week to craft a Vuarnet lens, through 17 steps, at its French factory, thus ensuring optical clarity. Vuarnet's natural mineral glass lenses, while inherently scratch resistant, minimise distortion and provide high-resolution precision, with 100 per cent UV protection and, uniquely, block 98 per cent of infrared rays – which many sunglasses do not absorb. Chemical tempering enhances safety.
For those patients planning to enjoy winter in the European alps, this could be just the thing.
On Your Bike
Specialised eyewear is essential for a multitude of sports and adventure activities and it pays to be familiar with the unique needs of each. Your personal experience competing in a particular sport such as sailing, cycling, skiing, walking, climbing, flying and so on will give you an excellent inroad to the community. Your experience assisting patients at the top of their game in pursuits such as shooting will help too. If you're not familiar with the needs of a particular sport, spend time with your patient to discuss their requirements and talk to your lab as well as specialised adventure and sports eyewear suppliers to come up with the ideal solution – both your current patients and those in the future will be happy that you did.
Remember, new patients attracted through specialised channels will, in all likelihood, come to consider you for their regular and occupational prescription eyewear.
You'd have to be a couch potato not to hop on your bike and take a piece of the action!
Essilor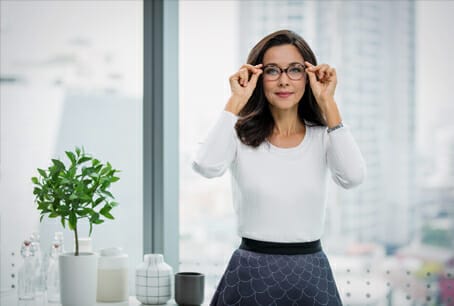 Essilor's Stylistic Wrap Lenses are tuned for outstanding performance in wrap frames, with crisp vision by Wave 2.0 technology. Need to block injury? Do it with Airwear, available in single vision and progressives.
Xperio polarising cuts glare and offers 100 per cent UV protection as well as enhanced contrast and true colours for better reaction times.
For shooters, recommend Shooter orange and Shooter yellow physiotints, which are available on request.
For ultimate performance, add a silver, gold or blue E-Mirror on the front plus Crizal Sun UV on the back for E-SPF 50+ UV protection.
For the patient who really breaks a sweat, Optifog means clear vision all the time, with no fogging up.
Essilor's new "build-your-own" sun lens – SolarFlair – is also now available.
Contact: Essilor Account Manager
Nike Performance
Nike brings three leading vision innovations to the athlete: advanced high-precision sports optics, progressive frame designs, and engineered lens tints. Complement your patient's sporting lifestyle with a customised pair of Nike Performance sunglasses with patented Max Tint Technology. Select from a range of tints scientifically tuned for specific environments to enhance natural colour perception and help deflect glare; among them Nike Max golf tint, (makes green easier to read and the golf ball visually pop) and Nike Max speed tint, (engineered for runners facing both direct sunlight and the harsh light reflected off asphalt).
View the complete range with the official lens simulator at nikevision.com/us/en/lens-simulator.
Contact: VSP Australia Account Manager
Hoya
New Hoya Sportive is designed for larger, high curved fashion and sport frames. Theses lenses provide wide fields of vision at all distances thanks to their outstanding optical performance and high curvature and continuous protection from dust, glare and sun. Hoya Sportive can be combined with contrast-enhancing tints from Hoya's Special Sphere series, Sun Style, Sensity Photochromic range or NuPolar premium polarised.
Developed specifically for active wear, Special Sphere tints in yellow and orange; green; brown and copper; and purple reduce the amount of visible blue light that reaches the eye, enhancing contrast and improving visual accuracy, depth perception and ensuring 100 per cent protection from UV.
Contact: Hoya Account Manager
Opticare
Polarised lenses improve contrast, colour, depth perception and overall visual acuity. NuPolar polarised lenses also block blinding glare that reflects from horizontal surfaces such as pavements, water and snow, and they're a top performer when it comes to polarising efficiency, heat stability, film adhesion and colour consistency.
NuPolar polycarbonate lenses offer excellent impact resistance, making them ideal for sports lovers.
Available in prescription single vision, progressives, multifocals and non-prescription planos; in grey, brown, green, gradient grey, gradient brown and lab-tinted light grey. Demo units are available.
Contact: Opticare (AUS) 1800 251 852
Rodenstock
Rodenstock sports lenses are personalised following comprehensive, individual analysis of the total vision system, taking into account the interplay between the spectacles and the eye using Rodenstock's patented Eye Lens Technology.
Patients who wear Rodenstock SunContract sports lenses enjoy greater contrast and natural colours, particularly in very bright light.
Rodenstock ColorMatic IQ Sun lenses adapt to all light situations in a record-breaking time
Solitaire Protect Sun 2 coating optimises UV protection by providing protection from both back surface and front surface UV as well as all the qualities of a premium AR coating.
Rodenstock lenses come with a six-month satisfaction guarantee and a 24-month guarantee on the function and durability of the lenses.
Contact: Rodenstock Account Manager
Zeiss
Zeiss Individual Sport lenses offer clear, distortion free vision for leisure and sport. These durable, lightweight lenses are optimised for position of wear to deliver natural vision in all directions. Large blank sizes and a flexible base curve selection make them suitable for a wide range of sports eyewear.
Zeiss Individual Sport single vision or progressive lens designs are available in lightweight lens materials with tinted, polarised and photofusion options to suit a wide range of lifestyle requirements.
Contact: Zeiss Account Manager
Younger
Transitions Drivewear is the world's only sun lens that seamlessly changes to three different colours, and lightens or darkens tint density to suit current light conditions.
In bright sunlight, the lens is a dark brown colour with 90 per cent density. When driving or in overcast conditions the lens is copper in colour with approximately 75 per cent tint. In low light conditions it is an olive colour with 63 per cent tint.
Transitions Drivewear is always polarised, making it ideal for driving by eliminating blinding glare that can dangerously inhibit vision. Copper was the chosen colour for driving because it enhances the recognition of primary colours, particularly red and green. On the road, this results in excellent traffic signal and car brake light recognition, as well as removing excess light.
Transitions Drivewear also excels in all outdoor activities including cycling, fishing, golf, running and hiking.
Providing 100 per cent UV blockage, Transitions Drivewear is available in a wide range of prescriptions in high impact Trilogy Trivex material and polycarbonate, along with 1.50 hard resin.
Contact: Younger Optics (AUS) 08 8241 9800