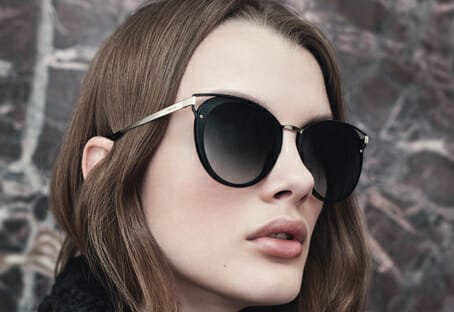 The Prada story is a remarkable one of growth and influence across all spheres of life, from haute couture to accessories and eyewear, from sports to the arts and even confectionery.
The Prada brand is one that's synonymous with all things luxury. Established by Italian visionary Mario Prada in 1913, its successful global growth and expansion in the modern sense is due to the winning combination of creativity, technical know-how and business acumen of its current leadership team; Mario's granddaughter Miuccia and her husband Patrizio Bertelli.
Miuccia is well known for her avant-garde approach to design that has often led to new trends. Patrizio, on the other hand, trained as an engineer before moving into the world of fashion, establishing a small company producing belts and bags in the Tuscan city of Arezzo.
Together they have taken Mario's business in luxurious luggage, accessories and other goods, and developed a fashion empire that's renowned for its men's and women's clothing, footwear and leather goods, fragrances, eyewear, and even confectionery (Since 2014, Prada has owned 80 per cent of the historic Milanese pastry and sweets shop, Marchesi 1824).
Beyond fashion, fragrances and confectionery, Miuccia and Patrizio have stepped into the world of art, establishing the Prada Foundation
The Prada Group's distribution network extends across 70 countries, and includes 622 Prada Epicentres – stores which are directly owned by Prada.
Products are made in 13 company-owned sites, 11 of which are located in Italy, one in United Kingdom, one in France, and by a network of "carefully screened" external contractors.
Beyond fashion, fragrances and confectionery, Miuccia and Patrizio have stepped into the world of art, establishing the Prada Foundation with significant art galleries in Italy. Patrizio has also put Italy on the international map as serious contenders in sailing – Prada sponsored the Luna Rossa team in the 2000, 2003, 2007 and 2013 America's Cup campaigns. Patrizio's team won the challengers' selection series (the Louis Vuitton Cup) in 2000 and reached the final in 2007 and 2013.
Indeed, Miuccia and Patrizio have been counted among the world's 100 most influential couples in years gone by, and it's easy to understand why.
Prada Eyewear
Miuccia first began designing and manufacturing eyewear in 1997. Within the stable today, there are two categories of eyewear: the first for lovers of high fashion and the second for those who enjoy a sporty lifestyle.
The many interests of Miuccia are drawn upon to inspire Prada's collections. As Prada has said; "Careful observation of and curiosity about the world, society, and culture are at the core of Prada's creativity and modernity. This pursuit has pushed Prada beyond the physical limitations of boutiques and showrooms, provoked an interaction with different and seemingly distant worlds, and introduced a new way to create a natural, almost fashionless fashion."
The new Spring/Summer 2017 Prada eyewear collection for women stands out with its stylistic blend of sophisticated elegance and avant-garde design. In essence, it's a melting pot of vintage inspirations and conceptual structures, revisited with a modern flair.
Unveiled at Prada's Spring/Summer 2017 womenswear fashion show, the Prada Hide special collection, for instance, draws inspiration from the 1970s sports world. Oversize wrap-around frames feature flat, subtly gradient-effect lenses that highlight rather than conceal the eyes. The clean, linear profiles reflect the intention of conveying modern, refined elegance.
New optical frames for men and women within the iconic Prada Journal project stand out with their elegant, essential aesthetic, enhanced by exotic detailing. For the first time the frames are made from metal, confirming the project's constant stylistic evolution.
Prada's new Spring/Summer 2017 eyewear for men features tapered profiles and clean lines. Iconic models of the past, such as the Prada Teddy sunglasses, are revisited in a new clip-on version.
Prada Linea Rossa
Sailing, tennis, vintage car competitions and skiing were the lifestyle sports that first inspired the Prada Linea Rossa eyewear collection, the designs of which are characterised by an unmistakable 'red stripe'. These frames reflect the design of Prada's high fashion collections, yet they're cleverly reinvented and manufactured to be lighter, stronger, and more suited to a sporting lifestyle.
Within the new Spring/Summer 2017 Prada Linea Rossa release, for example, is the L.J. Silver collection, which features a futuristic wrap-around shape that perfectly reflects the 'athleisure' inspiration behind the runway looks. Rubber coating on the temples, applied at high temperatures via an injection-moulding process, makes the glasses strong and ensures a perfect fit, while the emblematic hole on the temple tips allows for the use of a neoprene string.
The Prada Linea Rossa Spectrum collection also boasts a sporty edge with its pilot-shaped front, characterised by a double bridge and sharp profiles, emphasising the design of exposed lenses that are connected to the frame with highly visible screws.
Prada and Prada Linea Rossa eyewear is available to independent optometry outlets from Luxottica.