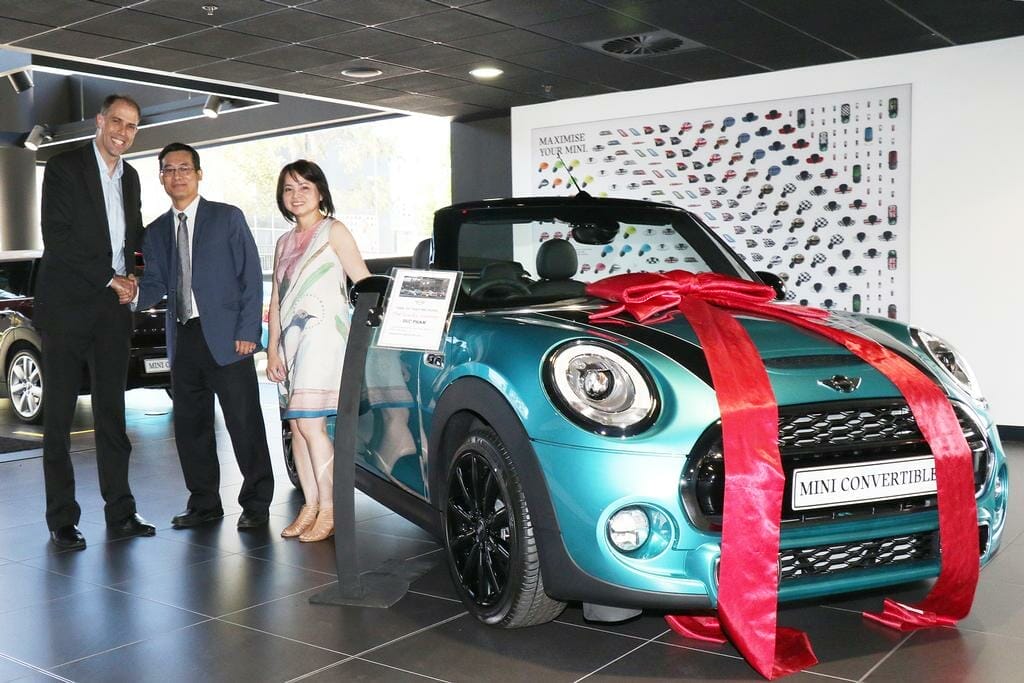 Transitions Optical has announced the winner of its 'Win a Mini' competition which ran from May until August in Australia this year.
Duc Pham – optometrist and owner of Duc Pham Optometrist in Bankstown, New South Wales – was drawn as the random lucky winner, scoring himself a Mini Cooper Convertible, a AU$2,000 Visa Gift Card and ten $50 Coles Myer Gift Cards.
"When I got the phone call, I couldn't believe it. I actually thought it was a joke," said Mr. Pham. "I kept saying 'I don't believe you'. I've never won anything in my life, and now I've won a car! I just can't believe it."
"Duc didn't believe me at first," remembers Stuart Cannon, Transitions Optical General Manager for Asia Pacific. "I kept assuring him he'd won the Mini, that I was serious. It was a memorable and feel good moment."
The Mini was not only coveted by eye care professionals; there was also rivalry between the Transitions Optical Business Development Managers. "We all wanted an eye care professional to win in our own territory," said Kaushik Mohile, Transitions Optical Business Development Manager for NSW and ACT. "So there was a lot of friendly competition between my fellow Transitions team mates.
"I had only visited Duc a month or so prior encouraging him to enter the competition. I'm not only happy that an eye care professional won in my territory, I'm so pleased it was Duc because he's a long-term supporter of Transitions who is genuinely passionate about the product."
I kept saying 'I don't believe you'. I've never won anything in my life, and now I've won a car! I just can't believe it
The 'Win a Mini' competition was run by Transitions Optical to celebrate the launch of the 'Live the Good Light' campaign. Every time an eye care professional ordered Transitions everyday lenses from any laboratory, they were eligible to enter the competition. Mr. Pham ordered his Transitions lenses from City Optical. "We received over 17,000 entries from eye care professionals. To be honest, we were blown away by the response," said Mr. Cannon. "Makes us wonder what we will do next!"
When picking up his new car, Mr. Pham said, "I'm going to remember today for the rest of my life. I've been recommending Transitions for over 24 years and it's incredible to think I've won by recommending them to my patients. Even though I've known for a few weeks, I still can't believe I am here today picking up my brand new car!"