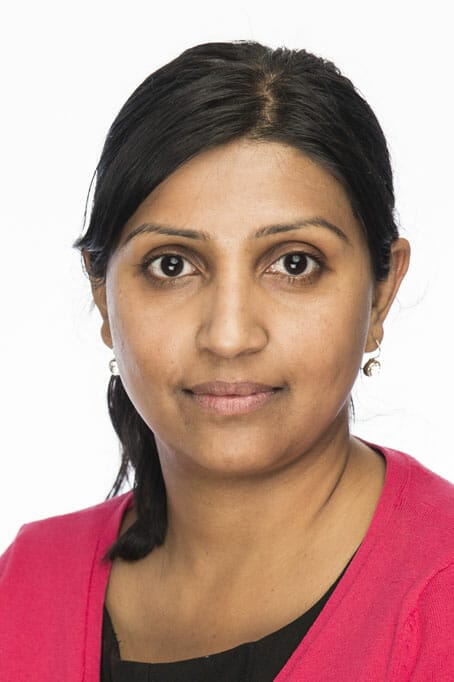 Associate Professor Bamini Gopinath (University of Sydney), and Dr. Lauren Ayton (Centre for Eye Research Australia), are among a number of health and medical researchers to be granted funding by The Australian Government today (17 November). The Government announced an additional $70 million in research funding over the next five years from 2017-18, for Australian health and medical researchers to help boost their research capability and to find innovative, practical solutions for better health care.
This investment is being made through the Turnbull Government's Medical Research Future Fund (MRFF) Next Generation Clinical Researchers program.
This program will boost the talent and capacity of Australia's health and medical research workforce by increasing the scale of existing fellowship schemes offered by the National Health and Medical Research Council (NHMRC).
In a statement, the Hon. Greg Hunt, Minister for Health and Minister for Sport, said building researcher capacity is vital to Australia's continued success as a global health and medical research leader and innovator.
"Fellowships encourage leading researchers in the early to middle stages of their careers to remain in the competitive research arena. It's about supporting the next generation of Australia's researchers.
"Expansion of fellowship schemes was recommended by the independent Australian Medical Research Advisory Board, which advises the Government on the best use of MRFF funds.
"The Next Generation Clinical Researcher program increases the funds available to researchers through three NHMRC fellowships schemes."
MRFF disbursements amounting to AU$8 million were announced in October with a further allocation of $1.79 million announced on 17 November.
Ten MRFF Translating Research into Practice (TRIP) Fellows will use the funds to work on a broad range of health issues, from suicide prevention to age related macular degeneration and chronic kidney disease and to translate theory and laboratory work into improved health care practice and outcomes for patients.
Additionally, 12 TRIP fellowships funded by the NHMRC were announced, worth a total of $2.15 million.
These TRIP fellowships will increase the number of opportunities for Australia's talented researchers to continue their important work.
In his statement, Mr. Hunt said the further $70 million for fellowships into the future would "ensure Australia has the research capacity to maintain its global research powerhouse status.
"Translation of research into clinical practice is crucial to improve the health outcomes of all Australians and the operation of our health system."
Advancing Eye Health
Among recipients was Associate Professor Bamini Gopinath, University of Sydney, who received an NHMRC Funded TRIP Fellowship commencing 2018 ($179,118), for her project, 'Implementing and evaluating a telephone-delivered dietary intervention for age-related macular degeneration (AMD) patient'.
A/Prof. Gopinath said research into dietary modifications that may prevent or slow the progression of AMD are important. "Age-related macular degeneration (AMD) is a leading cause of blindness. Dietary modifications are important in preventing AMD and slowing its progression. Yet, patients have inadequate explanation from eye care clinicians, as well as information and knowledge regarding diet and AMD. Telephone coaching is proven to improve adherence to dietary recommendations. Hence, my TRIP Fellowship aims to improve dietary behaviours of AMD patients by implementing and evaluating an evidence-based intervention, which has a two-pronged strategy: 1) ensures the correct information on diet and AMD is passed onto the patient; and 2) provides telephone coaching and support to facilitate and enhance adoption of dietary recommendations specifically for AMD.
"The Fellowship will also ensure that I will build my experience and confidence to navigate future implementation research and economic analysis," she said.
Dr. Lauren Ayton, honorary Senior Research Fellow at the Department of Surgery (Ophthalmology) at the University of Melbourne and the Centre for Eye Research Australia, was awarded a 2018 NHMRC Translating Research into Practice Fellowship ($179,118), from the Medical Research Future Fund Next Generation Clinical Researcher Program. Her project is entitled "Improving Patient Management Pathways in Age-Related Macular Degeneration".
Dr. Ayton, who is currently working overseas with the Bionic Eye program in upstate New York (affiliated with Harvard and Cornell Universities), said "The funding from the NHMRC is wonderful, and I am honoured to be a recipient of this prestigious Fellowship. The funds will enable me to continue previous work with Professor Robyn Guymer at CERA, to develop novel training methods to upskill optometrists on the newest advances in age-related macular degeneration. These programs will ensure optometrists are aware of the latest diagnostic and management protocols for AMD, providing the best outcomes for their patients".