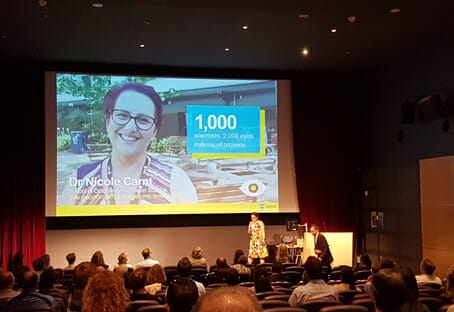 Personalised medicines, based on an individual's genetic code, may one day improve treatment of corneal disease, according to Dr. Nicole Carnt from University of New South Wales School of Optometry and Vision Science.
Dr. Carnt was one of several researchers to present on a variety of research projects at a UNSW Faculty of Science Scalable Research Presentation in late November. She described the clinical research she is undertaking for her PhD, looking at the genetic code of five cytokines, highlighted from animal models, in 90 patients and 185 healthy controls.
Dr. Carnt said although the cornea is just 0.5mm thick, it is "an amazing tissue" and "the most innervated part of the whole body… that's really primed for fast action".
She described the anatomy of the cornea and its response to infection. "When needed, inflammatory cells will stream into the cornea from the surrounding tissue, and if the stimulus is sterile, such as toxin coughed up by some bacteria, inflammation is quite regular, but if it is infectious… the infection is messy," she told the audience.
It's these "messy" infections that require intense antibiotics to treat, which can result in severe inflammation, leading to scarring and permanent vision loss. Steroids are used to treat the inflammation, which, as Dr. Carnt articulated, is like "taking a sledgehammer to a brick wall to remove a single brick". This approach runs the risk of further problems, such as increased ocular pressure and cataract.
Research has found that patients over 30 years of age have worse outcomes following treatment of infection and that in animal models of disease sex is becoming recognised as important biological variable in outcomes.
By collecting the diseased ocular tissue, which is easily accessible via a swab of the eye surface and tear samples, Dr. Carnt hopes to find solutions for personalised medicines that will treat eye infections more effectively and without the risk of further complications.
Highlighting the sophisticated equipment available at the University, which facilitates multiplex immunoassays and single cell sequencing to analyse small samples, as well as the potential to access Quantum computing in the near future to model disease, Dr. Carnt said, " we are really on the path towards personalised medicine for eye infection".
However, she said there are challenges. "The eye is in constant apposition to the environment, which means it is prone to fluctuation, and small samples are prone to degradation."
She said results to date from her research have been promising, and international developments are demonstrating the potential for personalised medicines. "Google has invested in a contact lenses that measures glucose in diabetics and there is a dry eye test using cytokines that is commercially available," she highlighted, as examples.