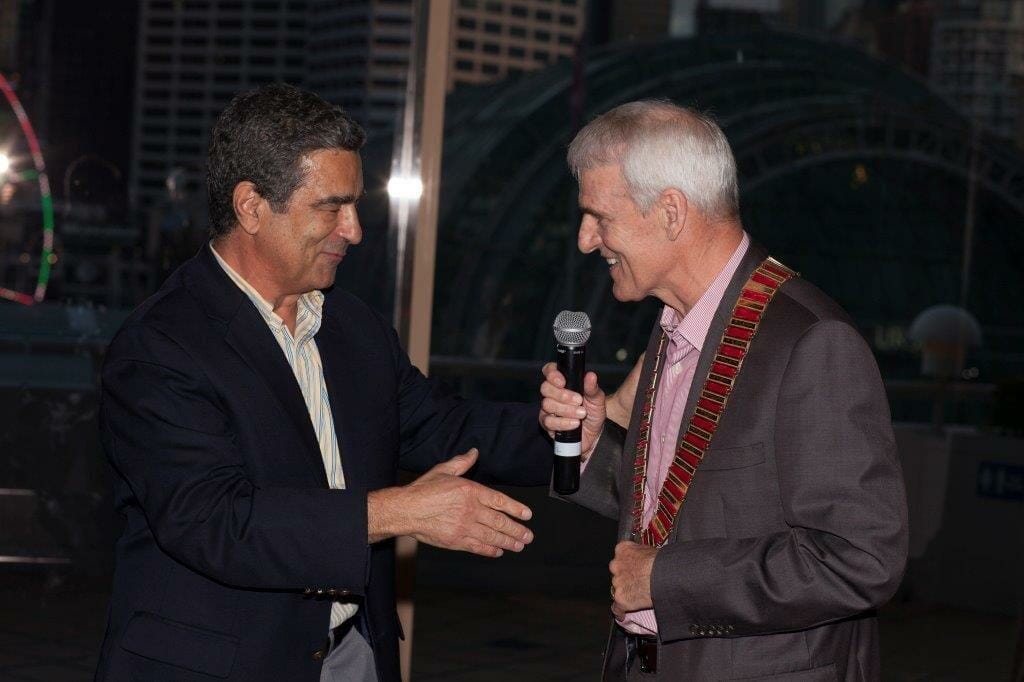 Luke Cahill has taken over from Christine Craigie as the new president of Optometry NSW/ACT.
Mr. Cahill, the 47th president of the NSW/ACT Division Council, took over from Ms. Craigie who has served 20 years on the NSW/ACT Board and was the second-longest serving president in its 113 year history, behind the legendary George Bell.
Mr. Cahill took over the reins after the annual general meeting on 20 November at Rydges Hotel, Camperdown as part of a CPD event. Other appointments were new councillors, Giuliana 'Jules' Baggoley and Peter Herse.
Mr. Cahill has served on the NSW board for three years including two as vice-president and previously served on the Optometry WA board for 12 years while practising in Western Australia.
"I joined the board because I have always been a fairly passionate supporter and believer in optometry and its peak body Optometry Australia, and if you are passionate and can help, support and improve things, you need to be on board," he said.
Optometry NSW/ACT CEO Andrew McKinnon said Mr. Cahill had had a varied career in optometry and related fields, including clinical work with both private and corporate organisations, before moving into industry, where he now heads the Medical Affairs division in Asia Pacific for Johnson & Johnson Vision.
"Luke is taking a very forward looking approach to his presidency, with his focus already on how the association can help members prepare for and thrive in a future which will involve massive technological change for all health professionals, not just optometrists," Mr. McKinnon said.
Varied Career Nationwide
Mr. Cahill graduated from the University of New South Wales in 1981 and has worked in three states including more than 20 years as a consulting optometrist, mostly with Laubman and Pank.
After graduating he practised for five years in Adelaide, Mount Gambier and Port Pirie, travelled overseas then locumed in Sydney before moving to Western Australia to practise in Perth for 16 years.
He has worked as a consulting optometrist, practice manager within groups, professional services manager for Laubman and Pank in WA, and as national professional services manager for the Luxottica group in Adelaide and then Sydney before joining Johnson & Johnson in 2009.
"I've probably had a bit of a different career from many optometrists. I've managed practices, worked in professional services and had contact lens and corporate roles, so it's a bit of a broad brush but I've seen different aspects of optometry and optometrists which is an advantage," Mr. Cahill said.
He has also served on a UNSW Visiting Committee, representing the contact lens optical industry.
Relevant to members
His first duty as president was writing to members.
"It's all about the members. It's very important to make sure we are relevant to members and provide value by understanding what they are going through, their needs and wants, and do what we can to assist and respond," he said.
"We ran future of optometry workshops with members and surveyed them to get an understanding of their difficulties, concerns and opportunities. The workshops created three areas of interest with sub-committees formed, headed by board members but also comprising other members.
"The three areas are emerging technologies, health funds and specialisation.
"It's good to know members' concerns and what needs to be worked on. Big ticket items include CPD – this will be a big area of focus and we have successfully trialled regional CPD meetings building relationships with GPs and pharmacists, and these will continue.
"We are also working collaboratively with NSW Health to try to gain more opportunities for optometrists to participate in public health including community health and public hospitals, and are looking at the roles optometrists play in primary and secondary eye care. There is a lot to look forward to."
Tribute to Christine Craigie
Mr. Cahill and outgoing president Christine Craigie were part of the same graduating class at UNSW. She became the NSW/ACT president in 2012 and during this time was a key figure in gaining state therapeutic registration of optometrists in NSW, especially glaucoma management.
"Chris joined the council in 1997 for the second time, after an earlier period served during the '80s, so this annual general meeting marked her 20th consecutive year serving our profession through direct involvement," Mr. McKinnon said. "This is apart from her leadership roles with ProVision, the NSW Optometrists Registration Board, which she chaired, NSW Health, the Agency for Clinical Innovation and others too numerous to mention.
"Although not quite retiring – Chris will stay on as immediate past president – the division owes Chris a deep debt of gratitude for her selfless commitment to the profession and her endless enthusiasm and energy during her time as president and on the council."
Ms. Craigie reflected on her time as president and achievements of the board.
"Our NSW/ACT Board put our optometrist members central to all our decision making," she said.
"We analysed our data and listened to the feedback from our members about our Super Sunday programs over the past five years to deliver the program they wanted to attend, as evidenced by our 600 optometrist event in May 2017 and our maximum sell out of each of the state conference venues for each year before that, during my term as president.
"We have taken events to the 'bush', across a large geographic state and we create an event in Canberra each year so our ACT members can easily participate and stay included.
"We created the first optometry-led lecture event for health professionals including GPs, pharmacists and optometrists around regional centres in NSW.
"We have worked with the NSW Agency for Clinical Innovation to create better outcomes for public patients, and collaborated on creating a model for eye care delivery. This is in pilot currently at Westmead Hospital.
"As a State Council we have created and solely financed initiatives such as the 10 Minute Tute that all Optometry Australia members in Australia benefit from.
"We have screened Parliamentarians' eyes in the foyer of NSW Parliament House over many years using our retinal camera in our state and allowed our equipment to be borrowed by other states for similar programs.
"Our board brought an "independent thinker" perspective to collective discussions, because of the broad spectrum of practitioners around our table, from early career optometrists through to rural optometrists and all modes of practise optometrists in between, including a Head of School from UNSW.
"Our board developed a good working relationship with the Minister of Health and the Department and had meetings over issues of mutual concern. This happened because of perseverance and optometrists donating many hours to arrive at a result."
Attribution
Article and photograph supplied by Optometry Australia