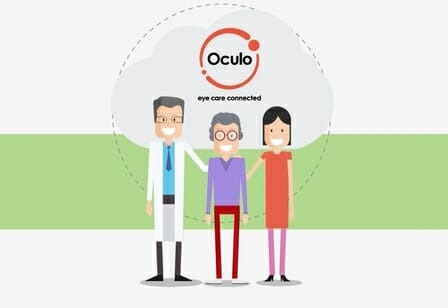 Oculo, the Australian medical communications platform that improves the way optometrists and ophthalmologists care for patients, has partnered with Glaucoma Australia, signed a multi-year agreement with Specsavers and added The Optical Store to its portfolio of users. The platform is now used by over 1,600 optometrists and 420 ophthalmologists around Australia to manage more than 150,000 patients.
Announcing the partnership with Glaucoma Australia, Oculo's CEO Dr. Kate Taylor said clinicians would now be able to use the platform to refer people with glaucoma and their families to Glaucoma Australia for education and support.
"This is important both for patient care and to promote the central role of optometry in primary eye care," said Dr. Taylor. "Oculo is an inclusive system that facilitates quality care for eye patients. We are very pleased to be able to extend that service through the partnership with Glaucoma Australia." She said.
Annie Gibbins, CEO of Glaucoma said, "Working with Oculo, who have a vision for connecting eye care, is a good fit with our mission to eliminate glaucoma blindness. We are now more equipped to detect, diagnose, treat and support approximately 150,000 people who are currently unaware they have glaucoma."
Multi-year Agreement Signed with Specsavers
In another milestone achievement for Oculo, Specsavers has made a multi-year commitment to use the medical communications platform. The agreement covers both Australia and New Zealand, with Oculo launching in New Zealand in the second quarter of 2018.
Speaking of the agreement, Peter Larsen, Optometry Director for Specsavers said, "Oculo is a fundamental component of our ability to measure clinical activity and outcomes. Through Oculo, we can access data on detection, referral and diagnosis rates to further improve clinical standards and contribute to transforming eye health in Australia and New Zealand". "For example, Specsavers-wide Oculo data will provide us with the evidence-base to show how we are closing the gap on undiagnosed glaucoma in Australia and New Zealand. That sort of information has not been available before and helps not just us and our optometrists, but also government and other health stakeholders. It adds value because it allows us to specify the impact we are making on patient wellbeing."
The Optical Company Joins Platform
The Optical Company (TOC) is also looking forward to enhancing patient care, having added its portfolio of 38 optometry stores to the network. TOC's brands include Kevin Paisley, Stacey & Stacey Optometrists, nib Eyecare Centres, Prevue Eyewear, OCO, The Optical Warehouse, and their newest addition, Level 28.
Colin Kangisser, TOC's CEO, said the association with Oculo would enhance patient care in-store and contribute to growth through further store acquisition. "The Optical Company's core values are to deliver premium quality eyewear and optometry care. Communication and collaboration are an important part of our professional commitment to patients," he said.
"There is so much innovation in eye care – the technologies available for diagnosis and management are really exciting," said Dr. Taylor. "So more than ever, it's important to use technology to enhance clinical communication so that practitioners can share digital information to increase the quality and efficiency of patient care… We believe that secure electronic communications are the standard of care that patients should expect. The ability to share clinical information and images in real-time helps to prevent patients from getting lost in the system."